The Personal Values report explains the why behind people's everyday decisions by uncovering what makes us the most human – our values. Use these insights to inform everything – your go-to-market strategy, your customer segmentation strategy, your content strategy, and more.
Our Personal Values attributes are based on the work of social psychologist, Shalom Schwartz, who created the "Theory of Basic Human Values." Schwartz proposes that there are universal, basic values across cultures that reflect people's motivations and guiding principles in life. 
How to Use This Report
Let's see how we use the Personal Values Report to understand our target audience and develop the right creative for them. Imagine that you are a Marketing Analyst for a bank and your goal is to promote your bank's credit card to millennial bachelors who like to travel. The Personal Values Report will help you gain a better understanding of what values this audience shares and what kind of messaging is likely to resonate with them. 
1. Create an audience for millennial bachelors who like to travel
We'll create an audience of Males aged 25-34 who are Single and travel domestically and internationally.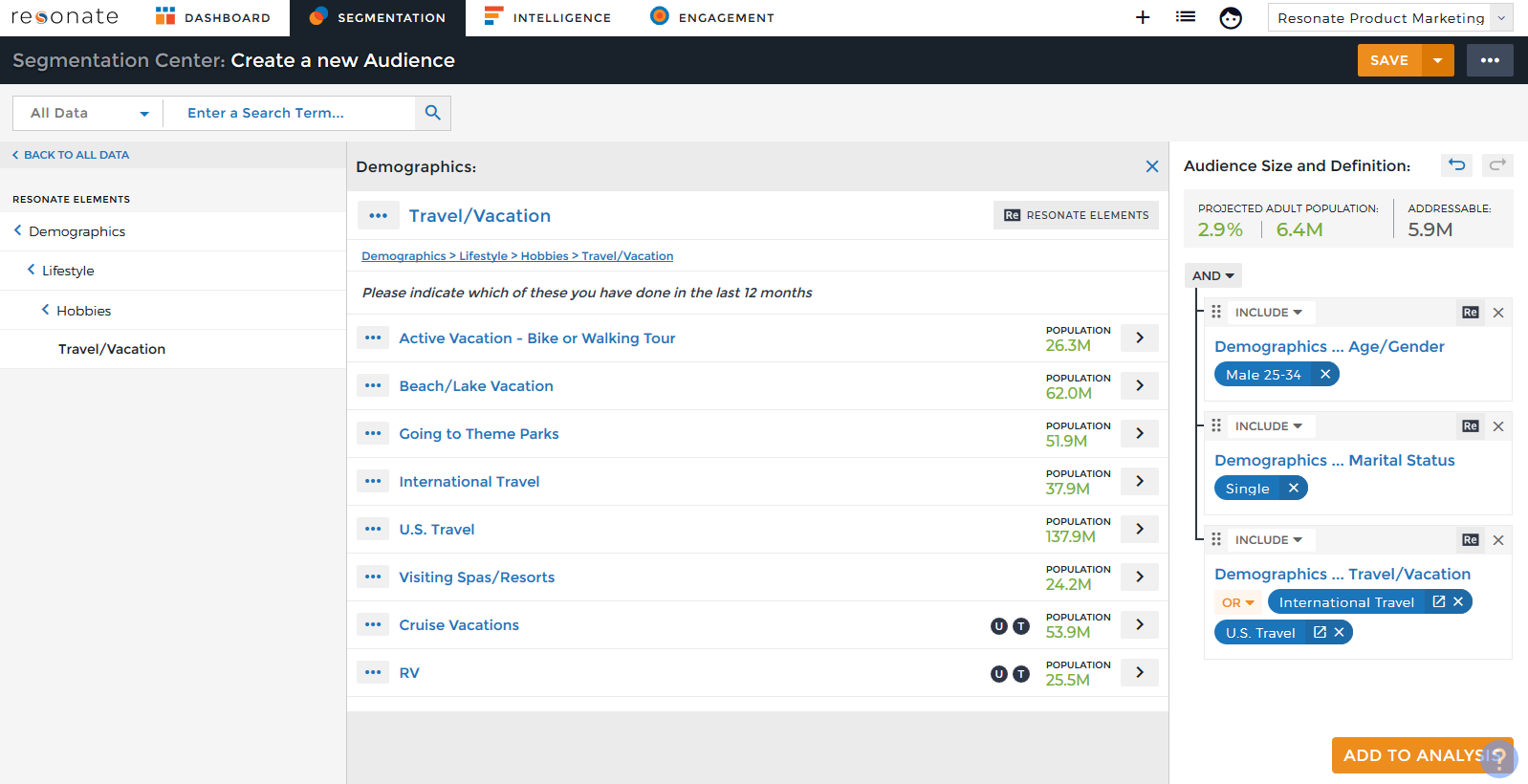 So our audience definition looks like this: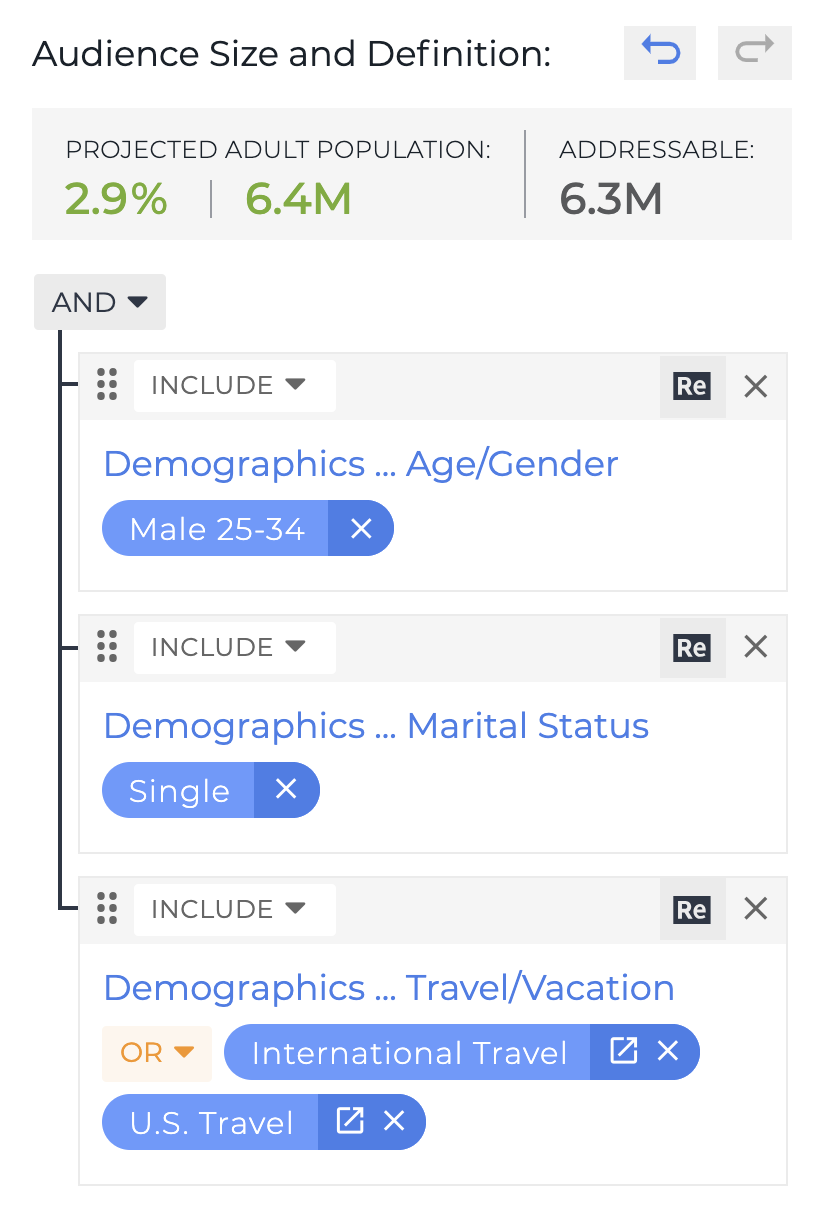 2.  Personal Values Report 
Add this audience to your analysis.  When viewing an analysis in Intelligence Center, from the Reports sub-nav, click Personal Values.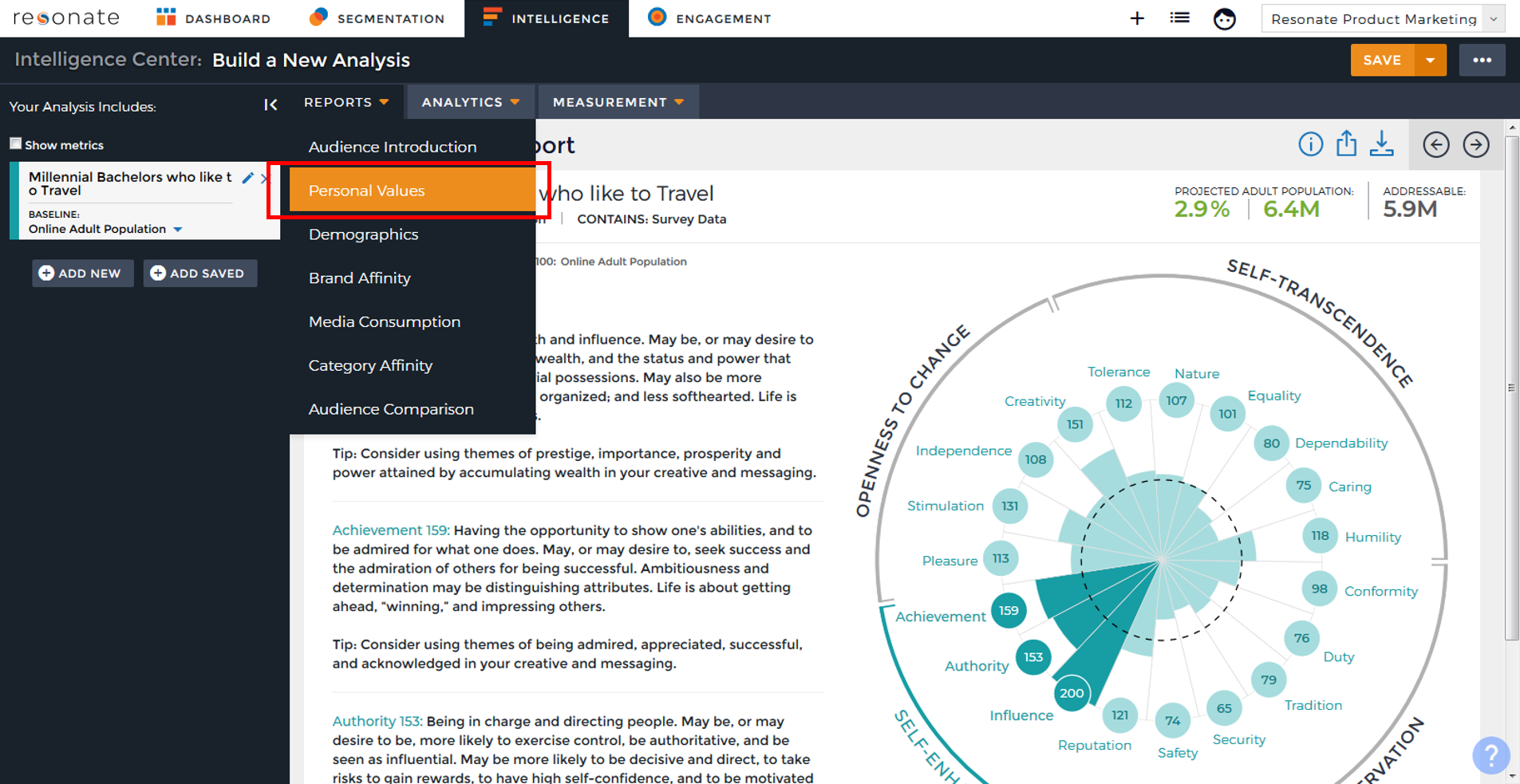 The Personal Values report will appear and will list the top 3 personal values for those in your audience.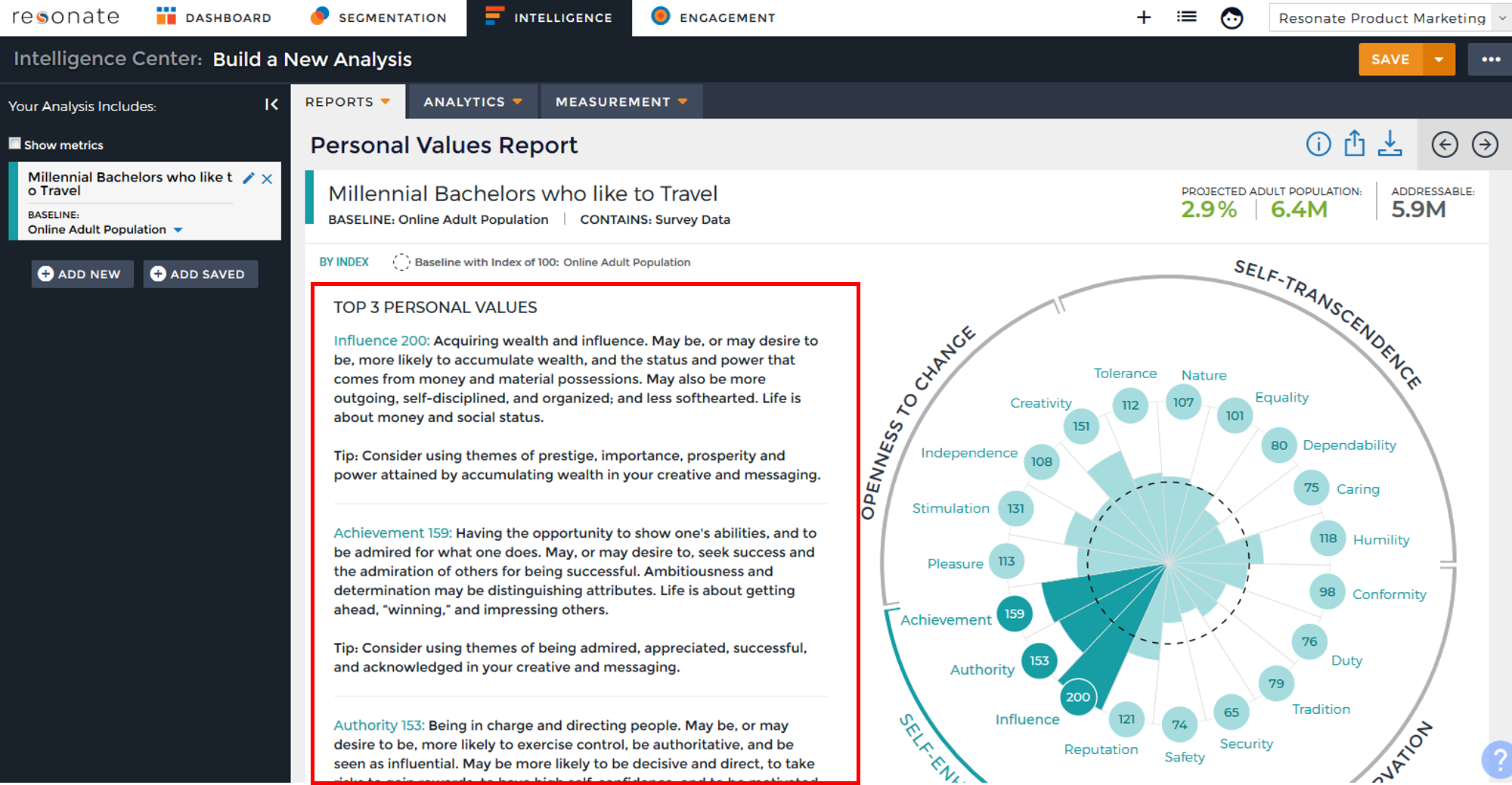 3. Interpret the report
The report shows us that the top over-indexing personal values for Traveling Millennial Bachelors are Influence, Achievement and Authority. All three values are in the Self-Enhancement quadrant, which is characterized by values conveying self-interest, and self-protection. You can learn about each quadrant and each personal value in the Glossary.  Click the i icon at the top of the report to view the glossary.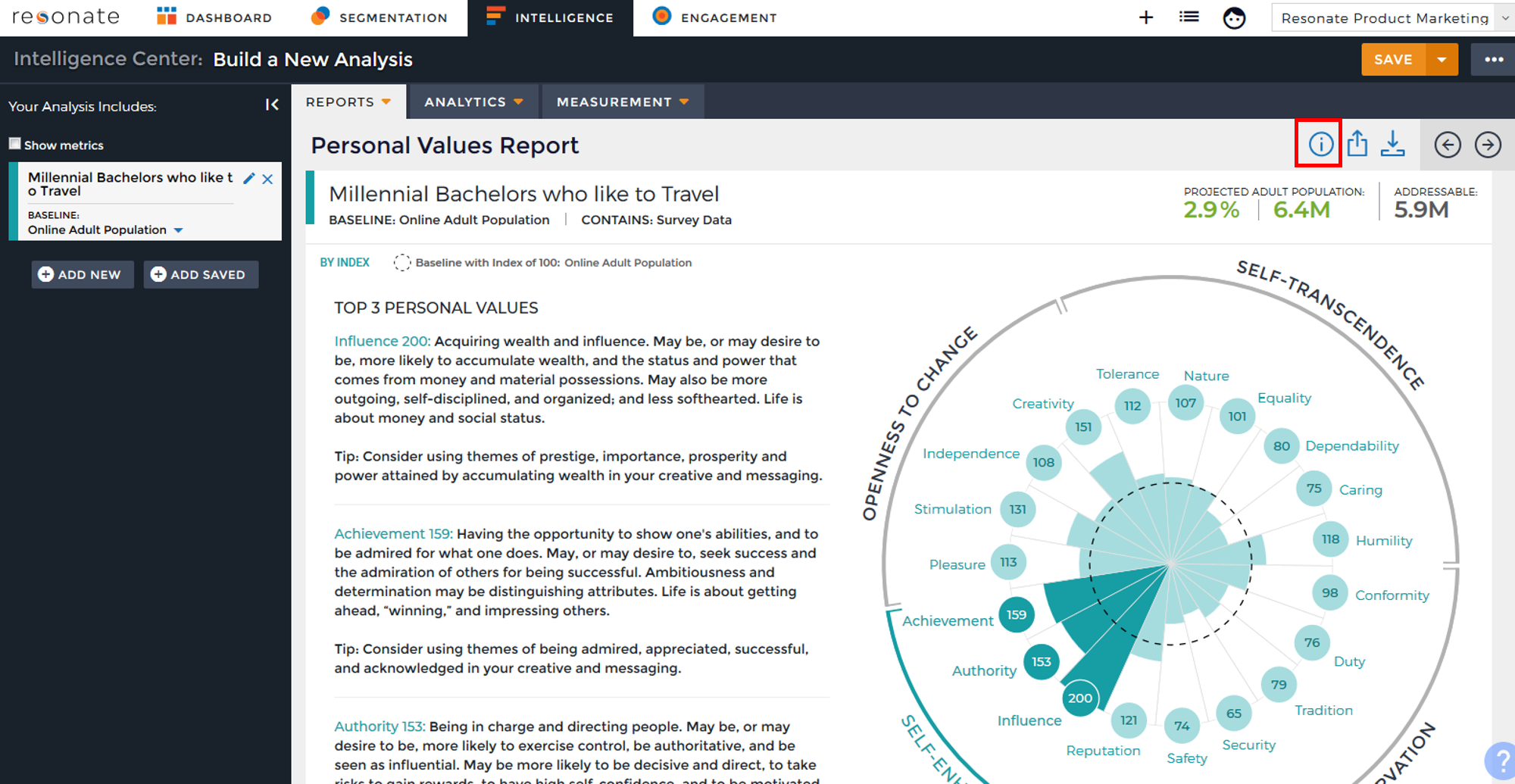 Note that the highest-indexing value for our audience is Influence. Traveling Millennial Bachelors are 100% more likely to be driven by Influence than the average adult online. The report informs us that this means that this audience has a strong motivation to acquire wealth, status and power. The tip suggests that we use themes of prestige, importance, and power attained through wealth in our messaging.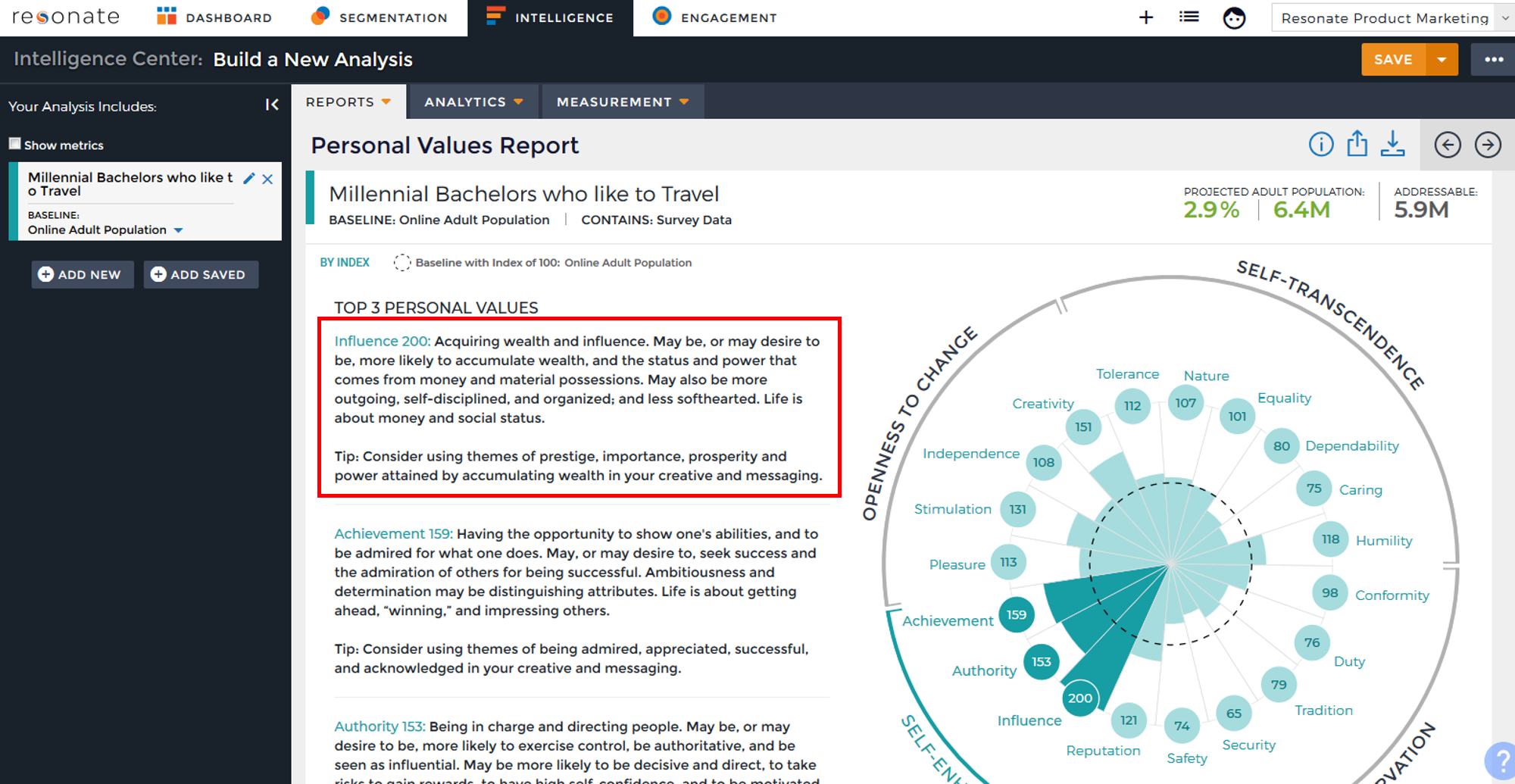 By examining the lower-indexing values, we can also learn what our audience isn't concerned about. Traveling Millennial Bachelors aren't driven by Tradition or Security, so we should avoid these concepts in our marketing. 
For a further explanation of each quadrant and personal value, read our In-Depth Glossary - Personal Values Report article.
Export
To export - click the download icon at the top right of the page.  A .png per audience in your analysis will be exported, as well as a Glossary that helps further explain the data and metrics used in the report. These exports are designed to be shared, are "presentation-friendly," great for new business pitches, sharing insights with your colleagues, or reports to your boss to make you look good.  
Share
You can easily share a png of the report by clicking the share icon at the top right of the report.
Glossary
For more information on the data and metrics used in the report, click the i icon at the top of the report to view the Report Glossary.  The glossary will be exported when you choose to export this report. 
Arrow Buttons
On the top right of the report are arrow buttons. Click them to flip to the next report that's in the Report sub-nav. You can also use the arrow keys on your keyboard - perhaps our favorite feature yet! Especially as we add more reports, this will make it even easier to tell a story with your data. 
Benefits
A holistic understanding of your consumers is vital to the success of your marketing efforts. The Personal Values Report helps you understand audiences and help identify and develop the messaging that will resonate with them. Evaluate your current messaging in light of this report. See what shoppers of specific brands are like. Identify similarities and differences among your consumers and your competitor's consumers, then adjust your messaging to win over your competitor's shoppers.