The Media Consumption Report provides you with a comprehensive report to help you understand what an audience watches (show & networks, streamed shows), how much time they spend online, on social media and in front of their TVs, and what apps they use on their mobile devices.
How to use it? Use this report to make better targeting and ad-buying decisions and gain a better understanding of your audience. Determine which magazines and newspapers to run ads in - either in print or online. Confirm your social media marketing strategy is encompassing the highest indexing social networks for your audience. And understand what sort of mobile apps your audience uses regularly.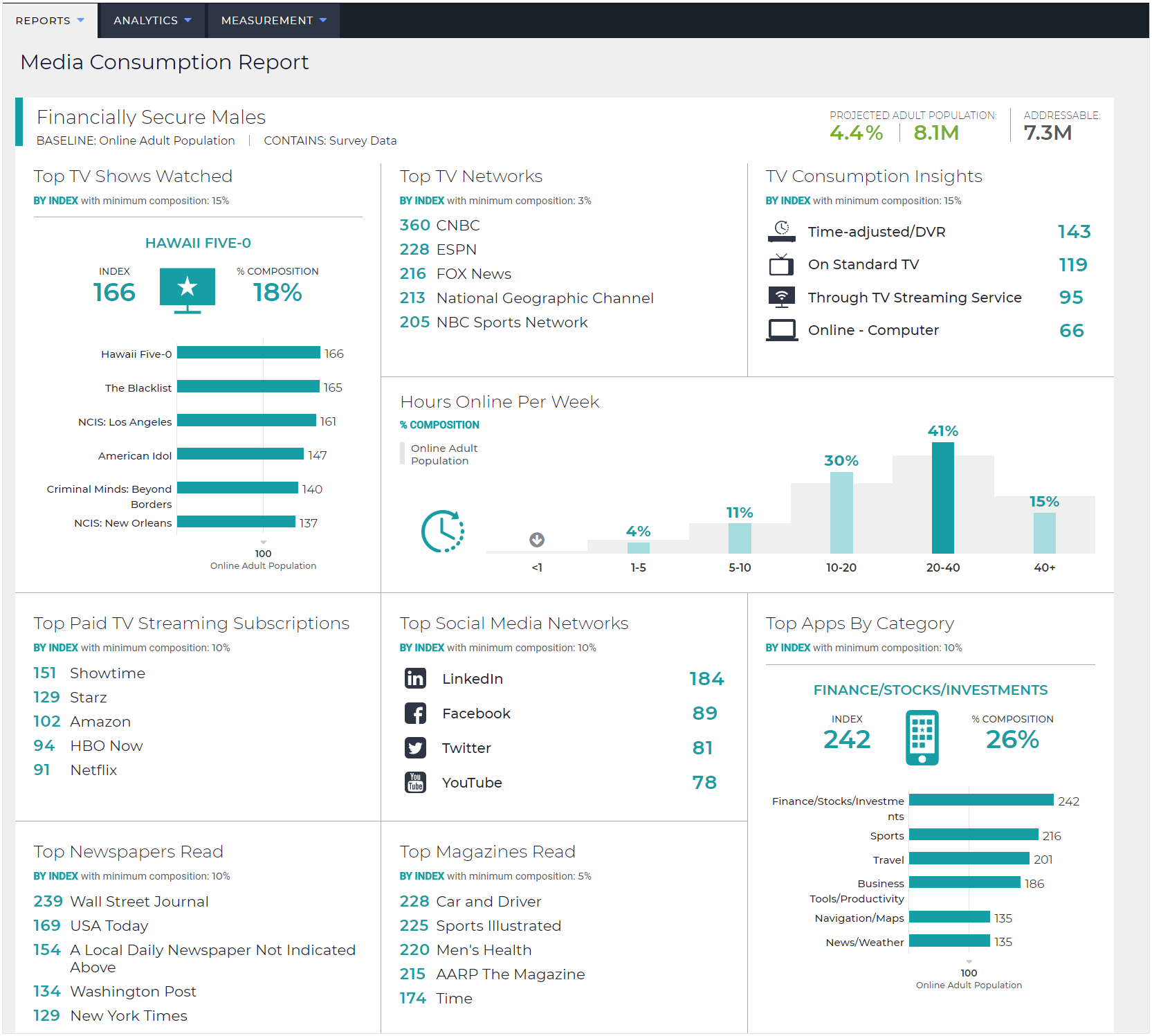 The report includes the following information about an audience:
Top TV Shows Watched
Top TV Networks
Top Streaming Devices
Hours Online Per Week
Top Paid TV Streaming Subscriptions
Top Social Media Networks
Top Apps by Category
Top Newspapers Read
Top Magazines Read
Note that the default Minimum Composition changes by report component.

Export
To export - click the download icon at the top right of the page. A png per audience in your analysis will be exported, as well as a Glossary that helps further explain the data and metrics used in the report. These exports are designed to be shared, are "presentation-friendly," great for new business pitches, sharing insights with your colleagues, or reports to your boss to make you look good.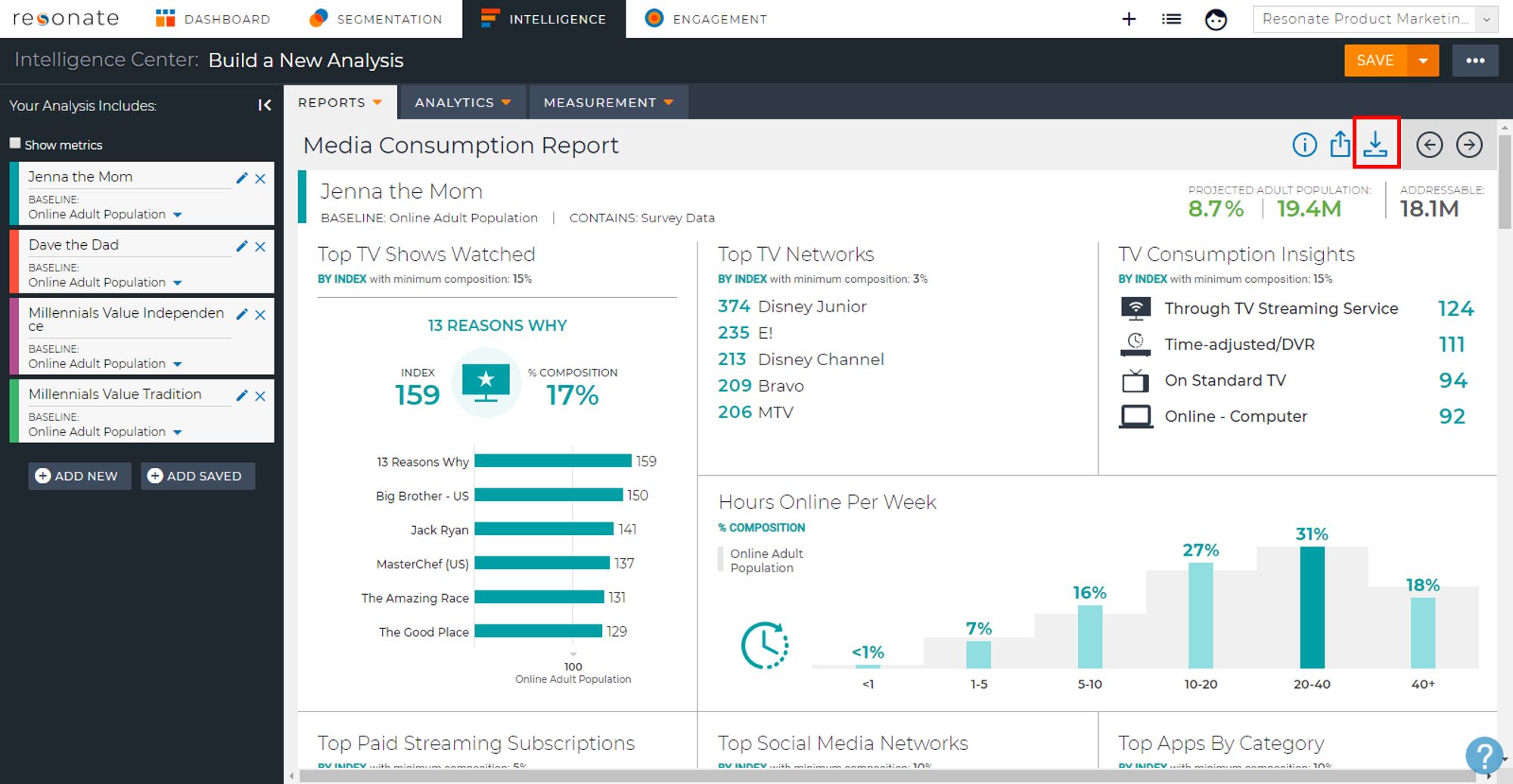 Share
You can easily share a png of the report by clicking the blue share icon at the top right of the report.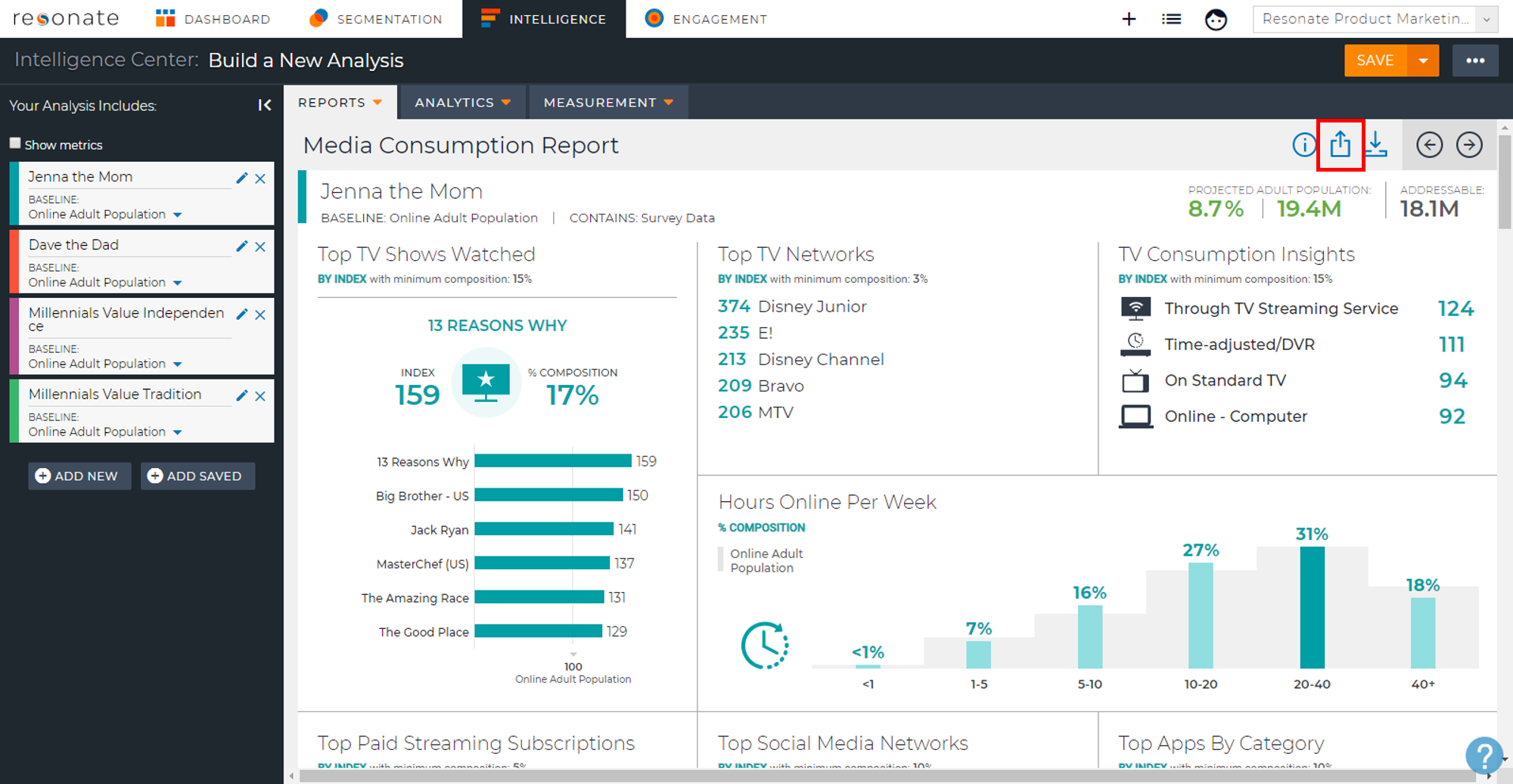 Glossary
For more information on the the data and metrics used in the report, click the i icon at the top of the report to view the Report Glossary. The glossary will be exported when you choose to export this report.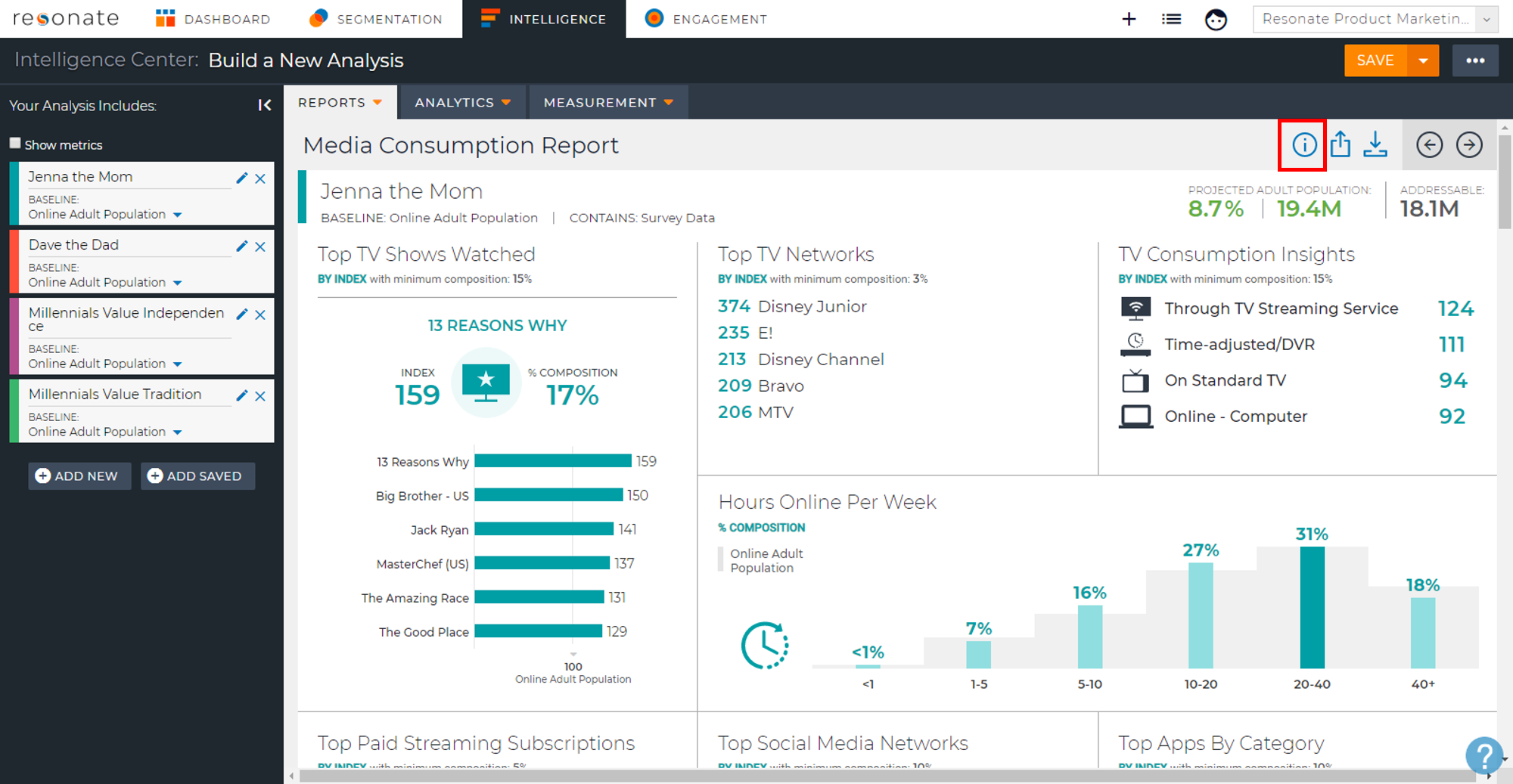 Arrow Buttons
On the top right of the report are arrow buttons. Click them to flip to the next report that's in the Report sub-nav. You can also use the arrow keys on your keyboard - perhaps our favorite feature yet! Especially as we add more reports, this will make it even easier to tell a story with your data.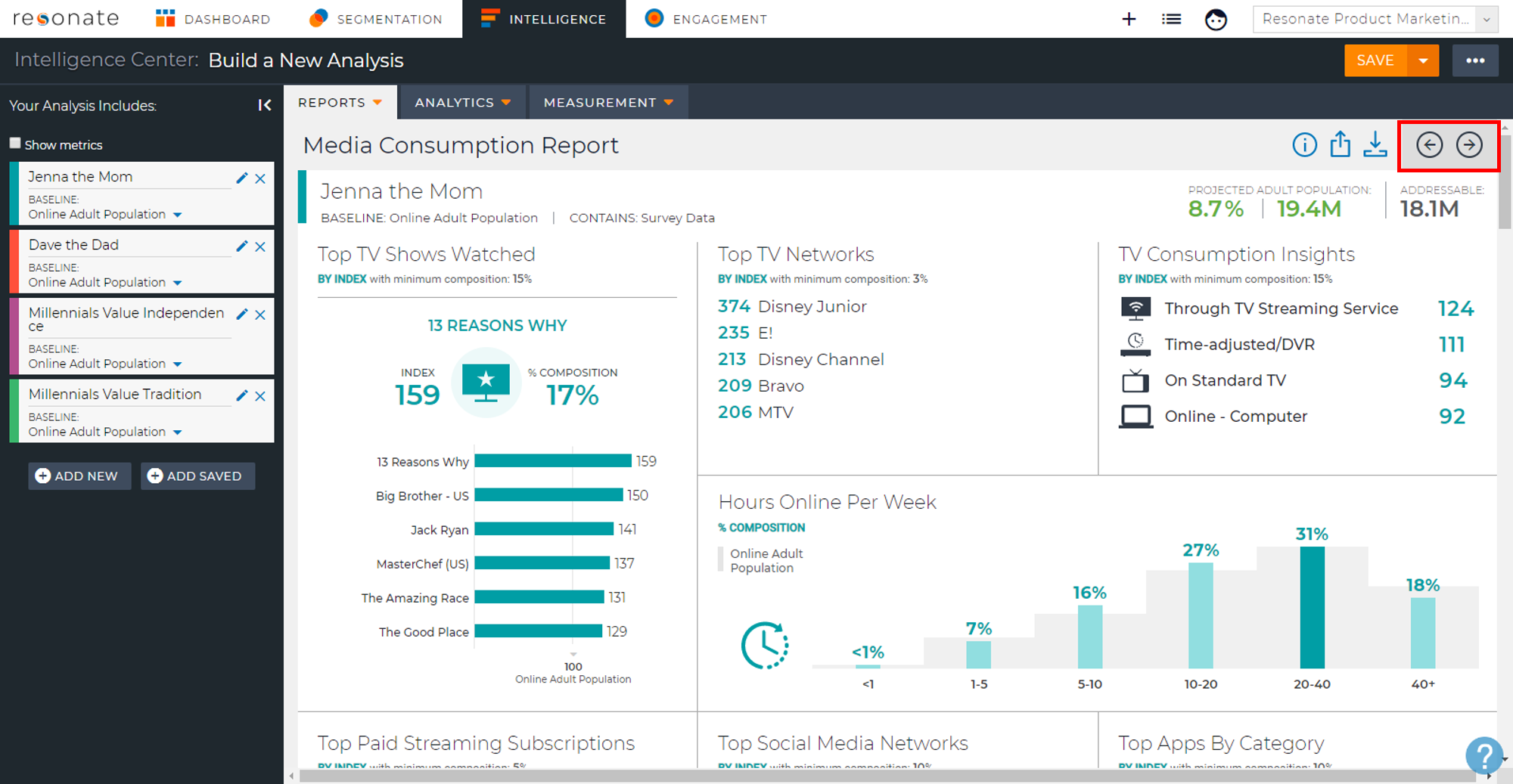 Benefits
Use this report to make better ad-buying decisions and gain a better understanding of your audience. Looking at the report above, you can make the following suggestions and observations:
Run our ad in Car and Driver, not in Rolling Stone.
We need to make sure LinkedIn is part of our social media marketing strategy…and that we tune down our efforts on YouTube.
People in this audience are using their mobile devices for finance/stocks/investments apps, but not for ordering food and playing music.
Instead of spending time on constructing reports and trying to understand what media your audience engages with, you can now switch to this report and immediately see a comprehensive view of your audience's media consumption habits. You will find that knowing exactly where to find consumers will make your targeting and ad-buying strategy more efficient, in no time.