To better reflect the value proposition of our custom offerings, we have renamed our Custom Data products. These names are now reflected in the Resonate Ignite platform.
So what's changed? We've rebranded Contextual Studies to Engaged Audiences and Custom Contextual Studies to Custom Engaged Audiences to emphasize the value you get from creating dynamic, in-market audiences on the fly of people who are engaging with your brand, to use for both insights and activation.
In addition to the name change, we are merging our Coronavirus Contextual Studies category into Engaged Audiences and removing ~100 unused Coronavirus topics.
We've also rebranded our Flash and Spark Studies to Custom Flash and Custom Spark Models, to emphasize the value they deliver beyond just providing answers to a custom study, as Resonate scales these answers to the entire online adult population for insights and activation.
Please be advised that none of these changes will impact your work. They are simply just name changes.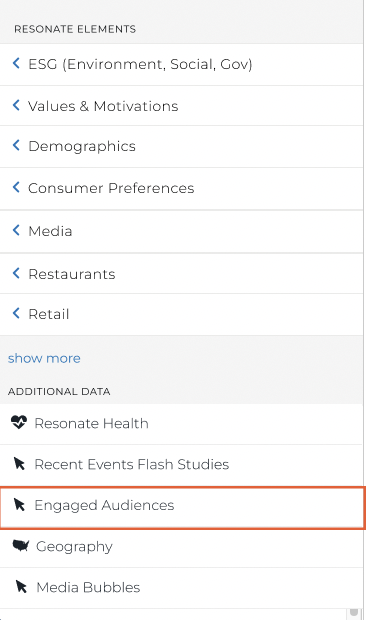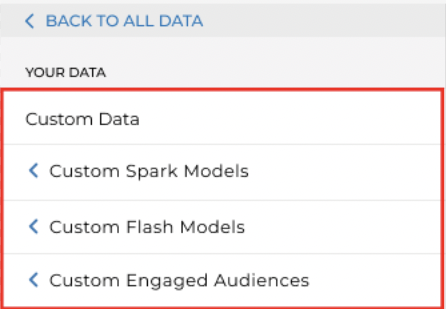 Engaged Audiences (formerly known as Contextual Studies) provide access to dynamic data fueled by over 30 billion daily online actions, offering detailed insights into hyper-relevant audiences, enabling personalized messaging based on consumer motivations and values, reducing high CPMs for contextual media buys, and delivering faster insights with fresher data. Every Ignite subscription is granted access to a diverse selection of over 500+ Standard Engaged Audiences spanning 27 categories, which are continuously refreshed and derived from the most recent 31 days of browsing behavior. We also offer Custom Engaged Audiences that are custom built by pulling keywords from singular URLs on ad supported sites and can help you answer specific questions for your business goals.
Want to learn more about Engaged Audiences? Click here.
Spark Models(formally known as Spark Studies), derived directly from our U.S Consumer Study, allow businesses to create custom data models scaled to the U.S. adult online population, leveraging a wide range of psychographic and behavioral attributes for refined market understanding and targeted messaging. Flash Models(formally known as Flash Studies) provide quick insights outside the core U.S. Consumer Study, enabling exploration of specific topics, audience targeting, look-alike modeling, and informed marketing decision-making based on Resonate's extensive 14K insights. 
Want to learn more about Spark & Flash Models? Click here.
For any questions or concerns, please contact your Customer Success Manager.