At Resonate, we understand that your company is unique and requires special data to give you deeper insight into the motivations of YOUR customers. That is why we offer Resonate Connected Research: to provide you with a strategic and specific data set through the lens relevant to your business. With Resonate Connected Research, you can get answers to questions on any topic or audience that is relevant to your business.
The following table summarizes the differences between these two powerful Resonate offerings: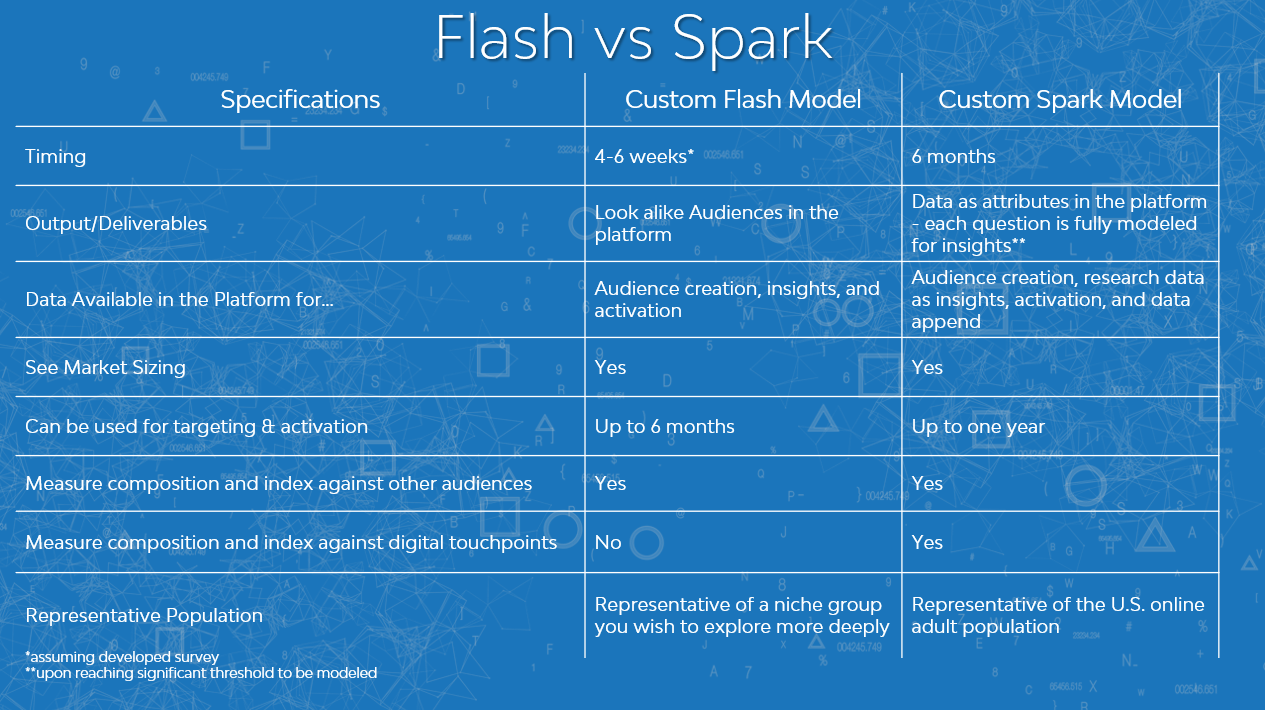 Flash Models (formerly known as Flash Studies) and Spark Models (formerly known as Spark Studies) both serve to answer specific questions and provide you with unique insights about your audiences, but these two solutions have different benefits and use cases. So, which of these models should you use?
Timing
While Flash Models are fielded in a standalone survey, separately from Resonate's core U.S. Consumer Study research waves, Spark Models are part of Resonate's core U.S. Consumer Study. Because Flash Models can run anytime, their turnaround rate is faster, making it possible for you to see results in 4-6 weeks after we begin fielding the survey, once the survey is developed. On the other hand, Spark Models are fielded within our core U.S. Consumer Study for about a month, then they go through extensive QA and modeling, making your data available in the platform 6 months after submitting the questions for your Spark Model.
Insights
Data resulting from Flash Models is loaded into your Resonate account as Tag audiences and is available for audience creation and activation only.  You will not be able to see your survey answers as insights in the platform. 
Data gained from Spark Models is loaded under Resonate Elements and is available for audience creation, activation, and will be available for insights against audiences.  
The resulting data from both solutions is tied to Resonate's 230M profiles and 14K insights, which allows you to refine and analyze your audiences, and target audiences at scale.
Measurement
You can measure your personas against Flash Model data, but you cannot measure them against digital touchpoints, nor can you trend them. On the contrary, Spark Models are perfect for measuring against your personas and digital touchpoints.
Representative
Another significant difference between our two custom research offerings is that Spark Models are representative of the U.S. online adult population, because they're fielded in our core U.S. Consumer Study research. On the other hand, Flash Models are representing a targeted group driven by your requirements (e.g. Smokers, Millennial Parent, etc.).