Now that you understand the Site Tag strategy and importance of a Dynamic Site Tag, you will need to create a new Dynamic Tag in Resonate using the steps below.
It is important to note that whether you are working with Google Tag Manager or Tealium, you must generate your Site Tag in the Resonate platform using the steps below. Please do not leverage the default tag Tealium offers in their platform.
From the Resonate Dashboard, click the + sign at the top of the page, then choose Create a Tag.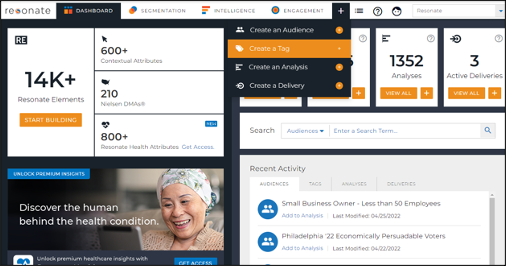 Select Create a Tag from Dashboard
Enter the following information for your new Dynamic Site Tag:
Give the tag a Name: We recommend creating a naming convention for your tags if you're likely to create several tags for different websites.
You may add a Description: This is optional but may help you define and further organize your tags.
Choose Tracker Type: Site
Click Associate a Campaign to assign a tag to a campaign: This will present a list of campaigns associated with your account. If you do not have a campaign to select, alert your Customer Success Manager.
Select a Campaign. Campaigns are an organizational mechanism for your Tags and do not interact with any platforms outside of Resonate Ignite. Reach out to your Resonate Customer Success Manager to create additional Campaigns. You can create multiple tags off a single basic campaign
Click Create to save the new Dynamic Site Tag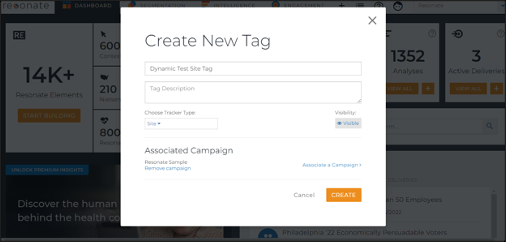 Enter the New Dynamic Site Tag Information