We commonly refer to various site sections and user events using the vocabulary found in the hierarchy outlined in Figure 1 - Site Strategy Example and detailed below. Please note, some websites may have further advanced features.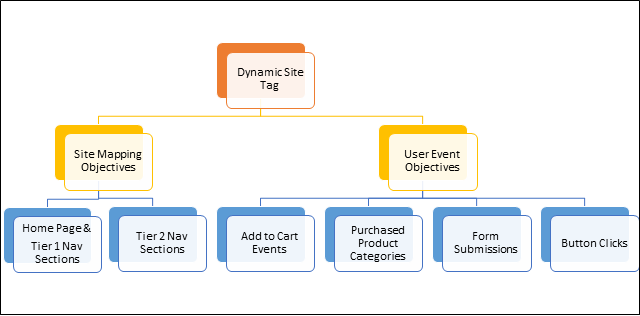 Site Tag Strategy Example
Dynamic Site Tag:Resonate will refer to a Dynamic Site Tag when we are speaking about a Resonate Tag placed on a specific domain that you wish to register through the tags. This could be a .org, .com, .net, .gov, .edu or other top-level domains.
Site Mapping Objectives: Resonate will refer to site mapping objectives to encompass determining what parts of your site you are interested in gaining insights on regarding user engagement.
A Homepage is the introductory page of a website, typically serving as a table of contents for the site. It can be beneficial to measure homepage traffic to understand who is initially visiting a site. This may be a different broader audience than individuals who navigate deeper into the site and there may be ways to use Resonate data to learn how to optimize this engagement and connect with these visitors. The following is the Resoante.com Homepage:

Resonate Homepage
Tier 1 Sections: Tier 1 Site Sections are often displayed on a website as the initial categories of content that a consumer could navigate to learn more information about specific topics. It can be beneficial to understand Tier 1 Site Section traffic because different types of consumers may visit different website sections, and this could be analyzed to achieve your business goals. The following is an example of the Resonate.com Tier 1 Site Sections:

Tier 1 Site Sections
Tier 2 Sections: Tier 2 Site Sections are commonly available as drop downs from the Tier 1 Site Sections. They may also be other pages displayed once a user has clicked through the initial Tier 1 Site Section Link. It can be valuable to measure Tier 2 Site Sections to attain an even more granular view of how consumers are engaging with website content. This is an example of the Tier 2 Site Sections nested within the Tier 1 Site Section of "Platform" on Resonate.com:

Tier 2 Sections within Tier 1 Platform on Resonate

User Event Objectives: Resonate will refer to user event objectives to encompass determining which user actions on your site you are interested in gaining deeper insights about. User events can be a series of events taken by website visitors engaging with your website content.
Add to Cart Events: On Ecommerce websites, users can add products to their cart in the check-out process. This can be beneficial to measure so that you may analyze the audiences that are adding items to their cart in the Ignite platform.

Purchased Product Categories: Visitors can also make purchases on the website. The Resonate tag may track the different product categories that are purchased on your site.

Form Submission: Some websites may support the ability to provide details to register, complete forms, or submit information to the website. This may be features like a newsletter, petition, or email sign-up sheet. In these instances, the Resonate tag can be set up to identify people who submit information. It is critical that no PII details be sent to Resonate via the tag but rather you can identify and analyze the overall audience who took this type of site action.

Button Clicks:There may be certain website features which are a button that customers can click on and users taking this action may be central to your business goals. Measuring visitors who engage with this functionality can enable you to learn more about the types of visitors taking these actions and we also highly recommend leveraging these audiences in our activation capabilities. For the Resonate.com website, the "Request Demo" button below is an example:

Request Demo Button Click