USCS Wave 2203 is now live in your account!
Wave 2203 of our U.S. Consumer Study was in field from May to June 2022. This wave focuses on Travel and includes updates to our core attributes.
Summary
With Wave 2203, you will get additional data on Travel, including:
Preferred airlines

Important hotel features for business

Types of leisure travel planned in the next year

Change in likelihood of traveling

Travel program relationship

New hotel/accommodations brands used (Airbnb, VRBO)

New theme park (SeaWorld)
A few general updates also include:
Likelihood to purchase from a Pro-Ukraine, Pro-BLM, Pro-Choice, or Pro-Life Brand

Reason for owning NFTs and NFTs purchase history & future intent

Types of snacks and time of day for snacks

Factors influencing who to vote for

Ways to help the environment

New platform used for podcasts (Audible)

New TV networks watched regularly (BritBox, AcornTV)
Additionally, Resonate has introduced a new category in our taxonomy called ESG, which stands for Environmental, Social, & Governance. We have recategorized some of our existing attributes into this category for audience building and will continue to add new metrics in future waves.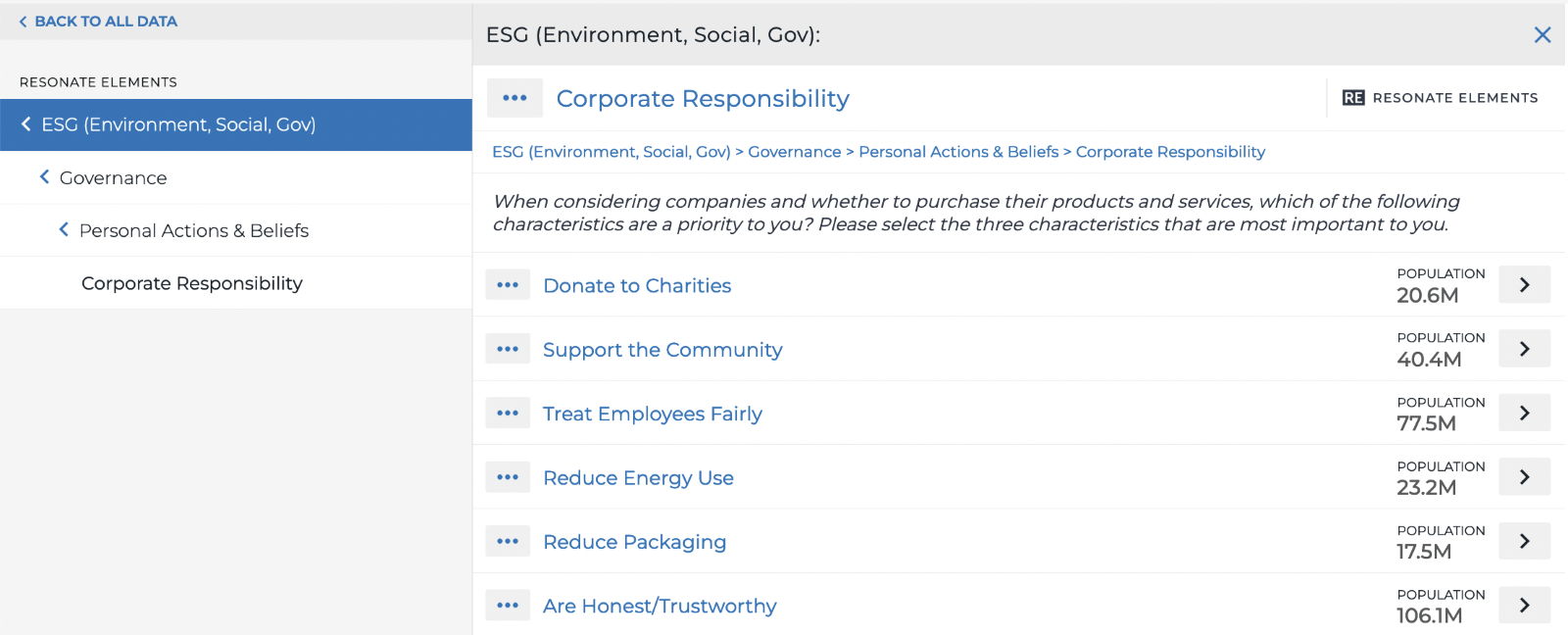 Deprecated and Inactivated Attributes
For USCS Wave 2203, we have inactivated approximately 400 previously available attributes. Please refer to the attached file for a complete list of attributes that are inactivated with USCS Wave 2203.
Update Saved Audiences
If you have any audiences saved with these inactivated attributes, we recommend you update the audience to remove or replace the attributes that are being inactivated so that you can still analyze or activate the audience. You will not be able to analyze audiences with inactive attributes and audience deliveries will no longer deliver as the original audience definition is not valid moving forward.
Suggested Replacements
For most attributes being deprecated or inactivated with Wave 2203, there are suggested replacements. Please be sure to read the suggested replacement survey question in full, and then consider using it to replace the inactivated attribute.  Please note that there can and will be intentional differences between the original and updated survey question. 
What's new with USCS Wave 2203:
Travel
Airlines
Usage

Preferred Airlines

Air Canada
Alaska Airlines
Allegiant Air
American Airlines
Delta Airlines
EasyJet
ExpressJet Airlines
Frontier Airlines
Hawaiian
JetBlue Airways
Southwest
Spirit Airlines
Sun Country
United Airlines
US Airways
Virgin America
Other
Attractions
General Behaviors
Booking Method & Travel Sites

Most Frequently Used Travel Site

Credit Card Travel Center/Program

Leisure Travel / Vacation

Change in Likelihood of Traveling (1 Year)

Much Less Likely to Travel/Vacation Now
Much More Likely to Travel/Vacation Now
No Change
Somewhat Less Likely to Travel/Vacation Now
Somewhat More Likely to Travel/Vacation Now

Factors Influencing Where to Go

Availability of desired hotel or resort

Reasons For Buying New Luggage

Need to Replace Worn or Damaged Luggage
Never Had Luggage
Other
Want New Luggage Features (e.g., Rolling Wheels, Trolley)
Want to Upgrade Luggage for an Upcoming Trip
Will Buy if I See a Good Deal

Transportation after Flying
Usage

Domestic Destinations

Arizona (Other Than Grand Canyon National Park)
Hotels
Business Travel

Bringing Family on Business Trip (12 Months)

Extremely Likely
Very Likely
Somewhat Likely
Not That Likely
Not at All Likely

Business Trips in Next 12 Months
Important Hotel Features - Business Trip

Business Facilities
Executive Bedrooms / Suites
Health and Fitness Amenities
Nearby Public Transportation

Leisure Travel

Important Hotel Features - Leisure Trip (Under 1 Week)

Nearby Public Transportation

Type of Leisure Travel Planned in Next 12 Months

Backpacking or Multiple Day Hiking Trip
Beach or Ocean
Cruise
International Sight-Seeing/Tourism
Lake, Cabin, or Fresh Water
National Park
Road Trip (Multiple Day)
RV Trip
Visiting a Theme/Amusement Park
Other

Usage
Travel: Purchase Drivers
Personal Values

Travel Program Relationship

Member of One or More Programs
Premier/Elite Status
Use Credit Card Points
Brand Loyal Unless Cost Prohibitive
Travel Programs Not Important
None of the Above
Consumer Preferences
Purchase Drivers
Inflation/ Supply Chain Shortages

Changes Made because of Price Increases

Buying Fewer 'Luxury' Items
Buying Same Products From Different Stores or Online
Demographics
Employment
Health Care Job Type
Doctor, Surgeon, Physician, or Practitioner
Licensed Therapist
Medical Administration
Medical Technician
Medical, Nursing, or Some Other Assistant or Aide
Pharmacist
Registered Nurse or Licensed Vocational Nurse
Other
Identity
Asian Ethnicity

Chinese
Filipino
Indian
Japanese
Korean
Vietnamese
Other South/Southeast Asian
Other
Don't Know or Unsure
Gender Identity
Intersex
Non-binary/Gender Fluid
Transgender
Transsexual
None of the Above
Hispanic Terms Used
Hispanic
Latina
Latine
Latino
LatinX
The Country/Countries My Family Is From
None of the Above
Lifestyle
Hobbies & Habits
Online Sports Betting Services Used
ESG (Environment, Social, Gov)
Social
Personal Actions & Beliefs
Likely to Purchase from Pro-Choice Brand

Much More Likely to Purchase From That Brand
Moderately More Likely to Purchase From That Brand
Slightly More Likely to Purchase From That Brand
Unchanged in Likelihood to Purchase From That Brand
Slightly Less Likely to Purchase From That Brand
Moderately Less Likely to Purchase From That Brand
Much Less Likely to Purchase From That Brand

Likely to Purchase from Pro-Life Brand

Much More Likely to Purchase From That Brand
Moderately More Likely to Purchase From That Brand
Slightly More Likely to Purchase From That Brand
Unchanged in Likelihood to Purchase From That Brand
Slightly Less Likely to Purchase From That Brand
Moderately Less Likely to Purchase From That Brand
Much Less Likely to Purchase From That Brand

Likely to Purchase from Pro-Ukraine Brand

Much More Likely to Purchase From That Brand
Moderately More Likely to Purchase From That Brand
Slightly More Likely to Purchase From That Brand
Unchanged in Likelihood to Purchase From That Brand
Slightly Less Likely to Purchase From That Brand
Moderately Less Likely to Purchase From That Brand
Much Less Likely to Purchase From That Brand

Likely to Purchase if Still Open in Russia

Much More Likely to Purchase From That Brand
Moderately More Likely to Purchase From That Brand
Slightly More Likely to Purchase From That Brand
Unchanged in Likelihood to Purchase From That Brand
Slightly Less Likely to Purchase From That Brand
Moderately Less Likely to Purchase From That Brand
Much Less Likely to Purchase From That Brand
Financial Services & Insurance
Credit Cards
Primary Card

Primary Credit Card Issued By

Goldman Sachs (Apple Card)

Investments

Account Characteristics

Current Firm
Alternative Investments

# of NFTs Purchased/ Sold Last 3 Months

More Than 6 Times
4 to 6 Times
3 Times or Less

Average Value of Each NFT Purchased/Sold

$5,000 or More
$1,000 to $4,999
$100 to $999
Less Than $100

Interested in Learning about NFTs

Extremely Interested
Very Interested
Moderately Interested
Slightly Interested
Not at All Interested

Knows What NFTs Are

Yes
No
Don't Know or Not Sure

Purchased/ Sold NFTs in Last 12 Months

Yes
No
Don't Know or Not Sure

Purchasing NFTs in Next 6 Months

Completely Likely
Very Likely
Moderately Likely
Slightly Likely
Not at All Likely

Reason for Owning NFTs

Ability to Make Transactions With Cryptocurrencies
Add to Retirement Savings
Diversify My Portfolio and Reduce Risk
It Is Expected to Appreciate in Value/Investment
It Is Fun
It Is Global
It Is More Stable Than Some Stocks and Countries' Currencies
It Is Not Controlled by a Government or Central Bank
It Is Not Correlated With Stocks, Bonds, Etc.
It Provides a Way to Pay For Products/ Services Anonymously
It Provides Protection Against an Economic Collapse
Other

Retirement Accounts

Current IRA Firm

Ellevest
SoFi Wealth
Wealthfront

Employer-Sponsored Retirement Plan Firm

Ellevest
SoFi Wealth
Wealthfront
Food & Non-Alcoholic Beverages
Food
Snacks

Frequency Snack as Meal Replacement

Always
Often
Sometimes
Rarely
Never

Frequency Snack Between Meals

Always
Often
Sometimes
Rarely
Never

Purchase Snacks
Reasons for Purchasing Snacks

Kids' Lunches
Kids' Snacking
Meal Substitute
Personal Lunches
Personal Snacking
Spouse's / Significant Other's Lunches
Spouse's / Significant Other's Snacking

Snack Alone or With Others

Always Alone
Mostly Alone
Mostly With Others
Always With Others
No Preference

Time of Day for Snacks

After Dinner
Before Starting Day / Breakfast Replacement
Between Breakfast and Lunch
Between Lunch and Dinner
Dinner Replacement
Lunch Replacement

Type of Snack - Early Morning/ Breakfast

Beef Jerky
Candy Bars
Cookies or Crackers
Energy/Protein Bars
Meal Replacement Bars
Nuts or Seeds
Popcorn
Pretzels
Salty Snacks
Tortilla Chips
Vegetables
Yogurt
Other

Type of Snack - Mid-Morning

Beef Jerky
Candy Bars
Cookies or Crackers
Energy/Protein Bars
Meal Replacement Bars
Nuts or Seeds
Popcorn
Pretzels
Salty Snacks
Tortilla Chips
Vegetables
Yogurt
Other

Type of Snack - Lunch

Beef Jerky
Candy Bars
Cookies or Crackers
Energy/Protein Bars
Meal Replacement Bars
Nuts or Seeds
Popcorn
Pretzels
Salty Snacks
Tortilla Chips
Vegetables
Yogurt
Other

Type of Snack – Afternoon

Beef Jerky
Candy Bars
Cookies or Crackers
Energy/Protein Bars
Meal Replacement Bars
Nuts or Seeds
Popcorn
Pretzels
Salty Snacks
Tortilla Chips
Vegetables
Yogurt
Other

Type of Snack – Dinner

Beef Jerky
Candy Bars
Cookies or Crackers
Energy/Protein Bars
Meal Replacement Bars
Nuts or Seeds
Popcorn
Pretzels
Salty Snacks
Tortilla Chips
Vegetables
Yogurt
Other

Type of Snack - Post-Dinner

Beef Jerky
Candy Bars
Cookies or Crackers
Energy/Protein Bars
Meal Replacement Bars
Nuts or Seeds
Popcorn
Pretzels
Salty Snacks
Tortilla Chips
Vegetables
Yogurt
Other

Types of Snacks Purchased

Beef Jerky
Candy Bars
Cookies or Crackers
Energy/Protein Bars
Meal Replacement Bars
Nuts or Seeds
Popcorn
Pretzels
Salty Snacks
Tortilla Chips
Vegetables
Yogurt
Other
Media
Media Consumption
Broadcast Television

Networks/Channels Watched Regularly
Music/Radio/Podcasts

Uses for Listening/ Downloading Podcasts
Politics & Advocacy
Commerce & Health Issues
Digital Policy

Reinstating Net Neutrality

Strongly Support
Somewhat Support
Neither Support nor Oppose
Strongly Oppose
Somewhat Oppose
Education Issues & Policies
Program Funding

Abolish Federal Department of Education

Strongly Support
Somewhat Support
Neither Support nor Oppose
Somewhat Oppose
Strongly Oppose
Energy & Environment Issues
Energy

Sacrifices to Become Energy Independent

$1 Trillion in Gov Spending for Renewable Energy
Allow More Offshore Oil Drilling
Allow Oil Drilling on Federal Lands
Does Not Think the US Should Be Energy Independent
Increase the Amount of Carbon Emissions
Not Willing to Make Any Sacrifices
Pay 25% More for Energy

Environment

Green New Deal

Strongly Support
Somewhat Support
Neither Support nor Oppose
Somewhat Oppose
Strongly Oppose
Do Not Know What the "Green New Deal" Is

Windfall Tax Oil Companies Excess Profits

Strongly Support
Somewhat Support
Neither Support nor Oppose
Somewhat Oppose
Strongly Oppose
Local Issues & Policies
Local Development
Land Use Plans

Allow for Some Growth
Allow Growth; promote roads and schools
Protect Rural Areas

Population Growth Plans

Limit Government Incentives for Companies
Make Development Difficult
Promote Affordable Housing
Security, Trade & Immigration
Foreign Policy
GOP and Russia

Pro-putin/Russia GOP Is Just the Media/ Dems Fear-Mongering
Pro-putin/Russia Wing of the GOP Has Taken Over the Party
Only Some GOP Members Are Too Close To/ Pro-russia
Don't Know Enough to Say

Impact of Russia Winning War

Russia Winning Poses a Serious Threat to Global Peace
Russia Winning Only Effects Neighboring Countries
Russia Winning Only Impacts the People of Ukraine
Don't Know Enough to Say
Immigration
Finish Border Wall

Strongly Support
Somewhat Support
Neither Support nor Oppose
Somewhat Oppose
Strongly Oppose
Social Issues & Policies
Abortion
Actions Taken if Roe v Wade is Overturned

Attend a Pro-choice Protest
Donate to a Pro-choice Group or Organization
Vote for Pro-choice Candidate in the 2022 Midterms
Not Vote at All in 2022
Vote for Pro-life Candidate in the 2022 Midterms
Donate to a Pro-life Group or Organization
Attend a Pro-life Protest
None of the Above

Concerns if Roe v Wade Overturned

Back-Alley Abortions Increasing Deaths from Botched Abortions
Dems Mobilizing/ Preventing GOP from Taking Congress in 2022
Rape/ Incest Victims Having to Carry Their Child to Term
Republicans Passing a Nationwide Ban on Abortion
SCOTUS Allowing Ban on Contraceptives (Birth Control/ Iuds)
SCOTUS Overturning Sodomy, Gay and Interracial Marriage
None of the Above

Overturning Roe v Wade

Strongly Support
Somewhat Support
Neither Support nor Oppose
Somewhat Oppose
Strongly Oppose

Vote Likelihood after Roe v Wade Overturned

Much More Likely
Somewhat More Likely
No Different
Somewhat Less Likely
Much Less Likely

Who Abortion Bans Should Punish

The Woman Getting the Abortion
Anyone Else Assisting
Doctors and Hospitals Providing Abortions
Nobody
Cultural Flashpoints
Ban US Military Diversity Trainings

Strongly Support
Somewhat Support
Neither Support nor Oppose
Somewhat Oppose
Strongly Oppose

Book Banning

Strongly Support
Somewhat Support
Neither Support nor Oppose
Somewhat Oppose
Strongly Oppose

Don't Say Gay/ Parental Rights in Education

Strongly Support
Somewhat Support
Neither Support nor Oppose
Somewhat Oppose
Strongly Oppose

Removing Demographics from Gov Forms

Strongly Support
Somewhat Support
Neither Support nor Oppose
Somewhat Oppose
Strongly Oppose

Schools Too Woke or Whitewashing History

Schools Pushing Woke Agenda - Much More Concerned
Schools Pushing Woke Agenda - Somewhat More Concerned
Equally Concerned or Don't Know
Schools Whitewashing History - Somewhat More Concerned
Schools Whitewashing History - Much More Concerned
Voting
2022 Elections
2022 Planned Vote Method

Vote at Election Office Before Election Day (Early Voting)
Voted at an Election Office on Election Day
Vote by Mail/Submit Ballot at Designated Location (Absentee)
Don't Know or Not Sure

Concerned Dems Closing Schools

Extremely Concerned
Very Concerned
Somewhat Concerned
Not That Concerned
Not at All Concerned
Influences
Factors Influencing Who to Vote For

Acceptance of Money from a Pacs by the Candidate
Acceptance of Money from Corporations by the Candidate
Advertisements Describing the Candidate
Comments from Family or Friends About the Candidate
Endorsements of the Candidate
None of the Above

Personal Characteristics of the Candidate

Political Party of the Candidate
Positions on Specific Issues Held by the Candidate
Values & Motivations
Life Stage
Distance Planning to Move

2,000+ Miles
1,000 to Less Than 2,000 Miles
500 to Less Than 1,000 Miles
250 to Less Than 500 Miles
100 to Less Than 250 Miles
50 to Less Than 100 Miles
30 to Less Than 50 Miles
10 to Less Than 30 Miles
Less Than 10 Miles