New 2022 General Voter Landscape
Throughout each year and each election cycle as the world around us changes, so does the U.S. voter. Resonate's AI-driven consumer intelligence gives you the most up-to-date and comprehensive view of voters with thousands of insights on over 230 million Americans, and this election season we have new data and new reports to inform your campaign strategy.
Resonate's General Voter Landscape provides an unparalleled understanding of the U.S. voter through AI-driven segmentation of voters into 10 discrete segments. Our Voter Landscape segmentation draws from political party, voting behavior, issue areas, values & motivations, recent events and more, to create unique personas that you can use for analysis and activation.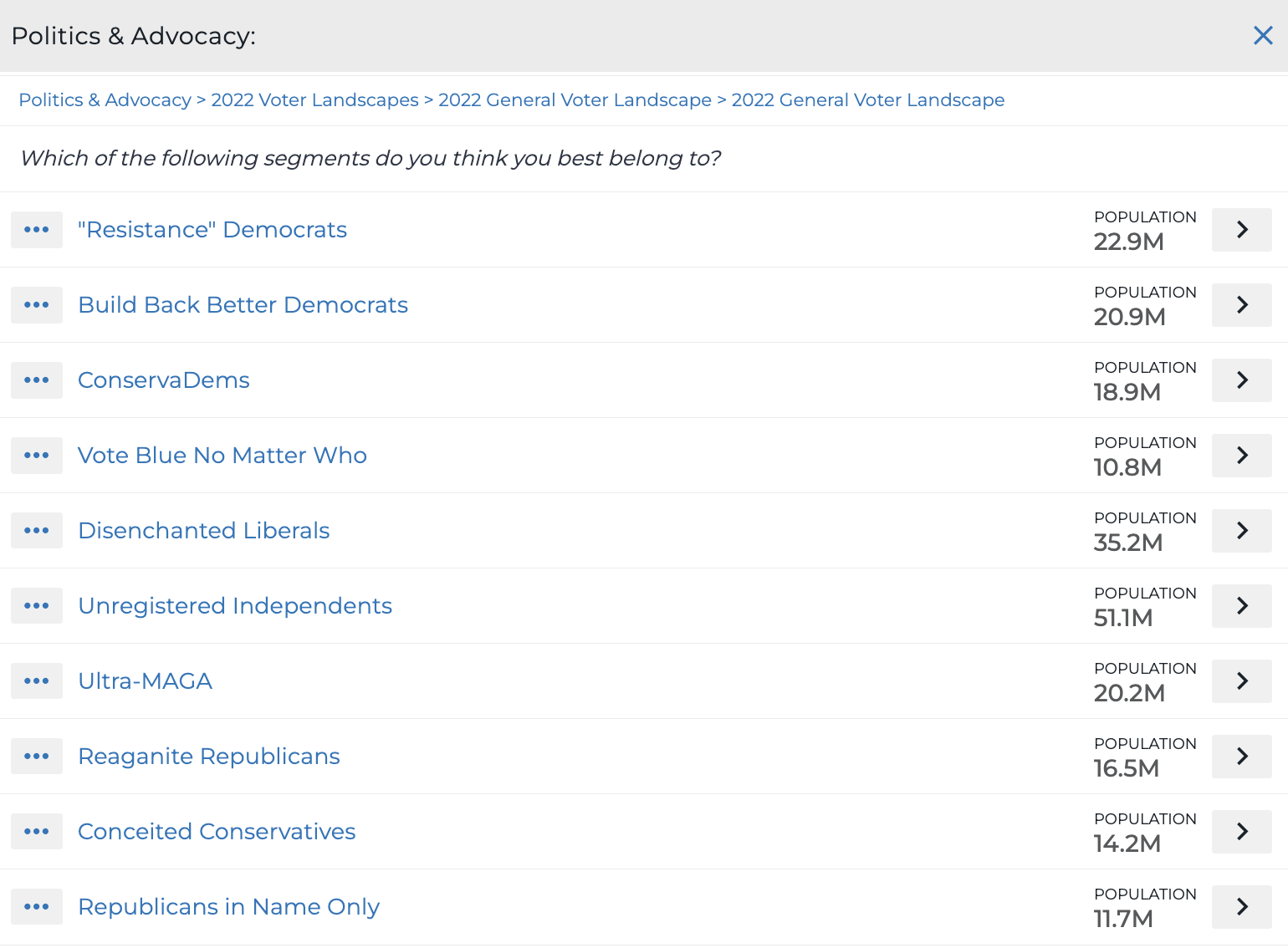 Use our Voter Landscape segments to understand the personalized difference on policy positions, values, motivations, candidate platform support, party affiliation, voting history, media consumption habits, and more.
Meet the Voters:
"Resistance" Democrats
Build Back Better Democrats
ConservaDems
Vote Blue No Matter Who
Disenchanted Liberals
Unregistered Independents
Ultra-MAGA
Reaganite Republicans
Conceited Conservatives
Republicans in Name Only
The 2022 Political Elections Report is also now updated with the General Voter Landscape segments. Our Political Elections Report provides a snapshot of your audience's beliefs and opinions on key issues to help drive your strategy for the 2022 Elections. You'll get a quick overview of where an audience falls into our Voter Landscape, their reasons for voting in 2022, and insights around voter trust.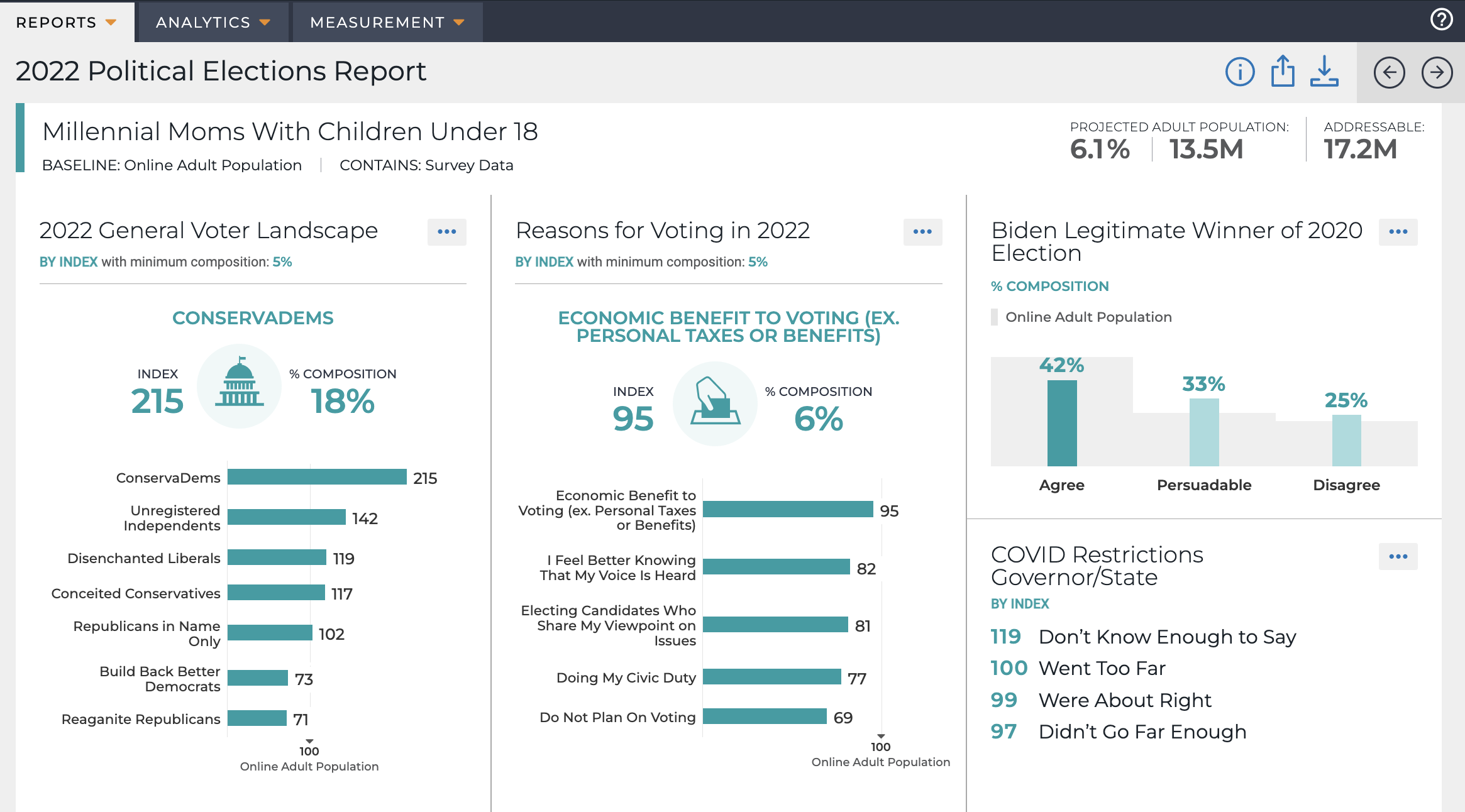 Audience Delivery Error Notification
With this release we have added notifications to the dashboard when an audience delivery is in error so that you can easily identify and fix the delivery.
Active Deliveries Block
We've updated the "Active Deliveries" block to include counts at the top of the Dashboard, displayed as a red alert notification with the count of active deliveries in error. This notification should only display if there are active deliveries in error status and should include the number of active deliveries in error. Clicking the notification takes you to the deliveries list page, which is filtered to deliveries with error status.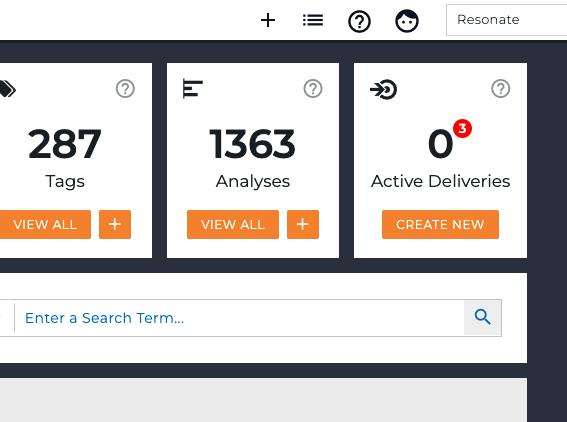 Recent Activity Tab for Deliveries
We have also updated the "Deliveries" tab in the Recent Activity section to display a red alert notification if there are active deliveries in error status. This notification, shown by a red circle without a count, should only display if there are active deliveries in error status. If this notification is clicked, it opens the recent activity tab and does not reroute to deliveries list with an error filter.