Now that you understand the Media Tag strategy, you will need to create a new Media Tag in Resonate using the steps below.
Create a New Media Tag
From the Resonate Dashboard, click the + sign at the top of the page, then choose Create a Tag.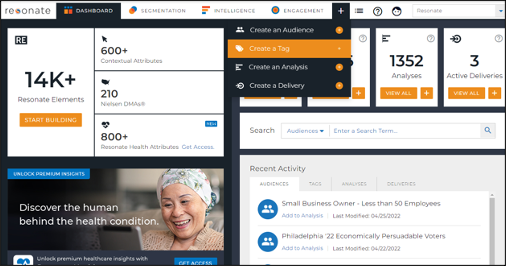 Select Create a Tag from Dashboard
Enter the following information for your new Media Tag:
Give the tag a Name. Names can include numbers and/or special characters. Example "Yahoo! Home Page Summer Promo Leaderboard."
You may add a Description (this is optional). Descriptions can include numbers and/or special characters. Example "For placement in Yahoo! Network on Summer Widget Promotion leaderboards."
Choose Tracker Type: Media
Select the appropriate Tag Type. In the Choose Tag Type drop-down list control select one of the Tag Type options. For Impression Tags, we recommend Impression - URL. For Click Tags, we recommend Click -Unencoded Redirect.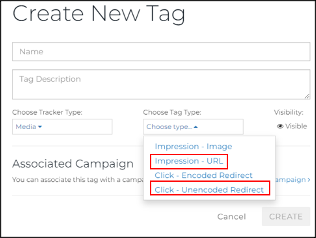 Click Associate a Campaign to assign a tag to a campaign. This will present a list of campaigns associated with your account. If you do not have a campaign, alert your Resonate Client Partner Manager or Customer Success Manager.
Select a Campaign. Campaigns are a foldering mechanism for your Tags. Reach out to your Resonate Customer Success Manager to create additional Campaigns.
Click Create to save the new Media Tag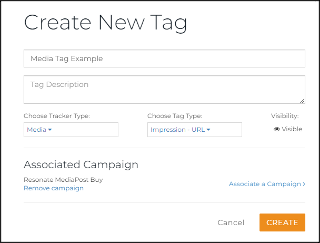 View your New Media Tag and Copy Code
On the Dashboard, click on the List icon - Tags.
The platform will navigate you to the Your Saved Tags page.
Your newly created Media Tag will be on top.
You can also Search for the Tag
If you have a list of Tags moving forward, you can filter your Tag list using the Project and Campaign drop-downs, in addition to searching for the name tag.
When you need to copy the Media Tag code:
click on View Details link, under the Project Name, to expand and display the code.
it changes to Close Details and the Tag details, type, and code are displayed (Please note that the figure below is just an example. You will need to copy the code from your Media tag that you create in the Resonate Ignite platform
click the Copy Code button