Resonate is unable to directly pixel/place a tag in a Twitter, Facebook or a YouTube ad on the impression. However, we can pixel users who click on outbound links from the ad (Standard Click-Through). Any ad linking to an exterior landing page is able to be tracked via a Resonate Click Redirect. In order to do this we use a standard Resonate Click Redirect tag.
Social Media Example
If the ad links to http://landingpage.com we would place a Resonate click redirect tag in front of the URL. A sample Resonate click redirect looks like this:
Placing both components together we get one continuous click path, which looks like this:
The complete URL with click tracking can then be placed directly into the Facebook or Twitter ad as the landing page URL. Alternatively, the entire URL can be inserted into Bitly or another URL shortener first (recommended for Twitter). The resulting shortened link can then be placed within the ad in either platform.
The net result of this process is that Resonate will be able to run analytics on any user that clicks an outbound link within Facebook or Twitter.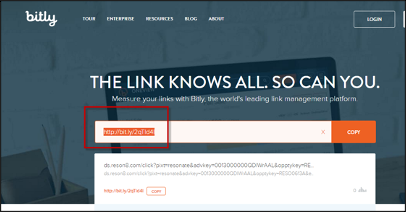 Bitly shortened link

Bitly link inserted into Twitter ads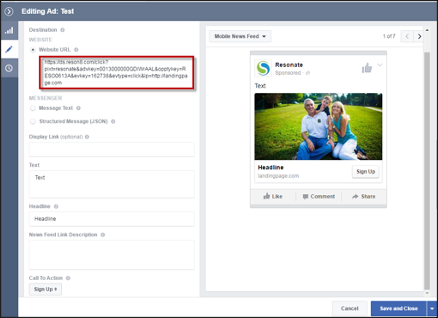 URL inserted into Facebook