What is the Card View?
Once you've included up to 5 audiences to analyze, you can use the Card View to see audience insights to better understand the motivations and values of those people within your audience.
Understanding the drivers behind your audience's decisions can help shape your messaging and creative for all your marketing initiatives - including digital advertising - and help ensure that you're targeting various segments with the right message via the right channel.
Default view
When you first load the Card View report, you'll see cards sorted by index average descending. You can sort ascending or descending by Insight Group, Taxonomical Order, Index Average, or by Composition. Click the header name to sort. The field being sorted on is denoted by an up or down arrow.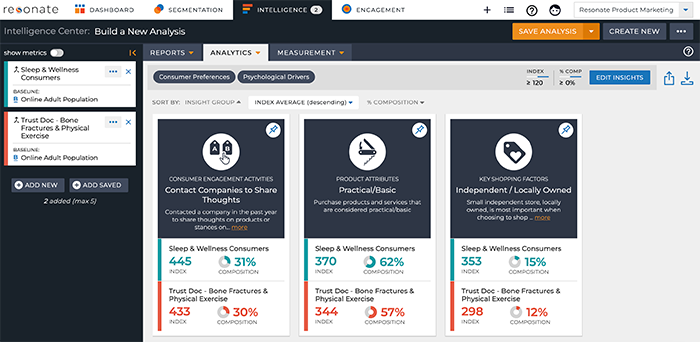 Pin Insights
You can pin insights that you find interesting in your analysis to curate the content that you care about most. Pins are specific per analysis and will be saved when you save your analysis. If there are certain insights you always want to look at when viewing an analysis, we recommend that you save those attributes to your collections.
Collapsible Navigation
Give yourself more real-estate on the screen and collapse the left navigation by clicking on the caret in the left sidebar listing your audiences. To expand it, click on the same icon again.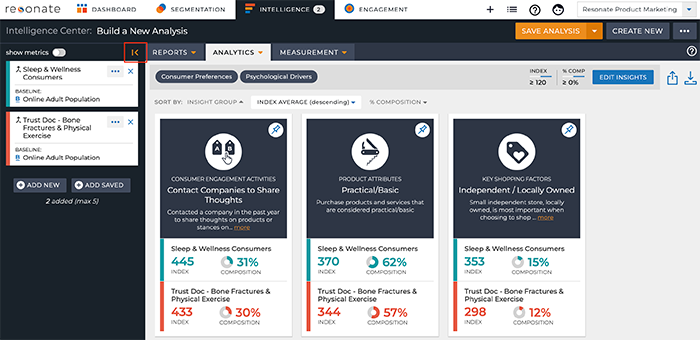 Edit an Analysis
To edit your analysis, click Edit Insights to return to the Insight Settings Panel.