What is a collection?
Think of collections like folders on your computer's desktop. You can organize and save audiences and attributes that are relevant to your work, research and target audiences. Just like with sub-folders on your computer, you can create sub-collections within collections.
So why are collections so great? We love using them as a way to save attributes we regularly use.
They're also a huge time saver and super powerful when it comes to analyzing your audiences. They allow you to build custom ways to dissect data in Resonate and to group insights into categories and sub-categories that make sense to your research. Simply save your favorite attributes to easily see them as insights when analyzing.
Add a New Collection
You can save any attribute to a collection; the entire attribute or individual attribute values alike. Navigate to the Audience Builder to create a new collection. Under Your Data, click Collections, then click on New Folder. The platform will prompt you to enter a new collection name. When you've done that, click on the check mark to save your new collection.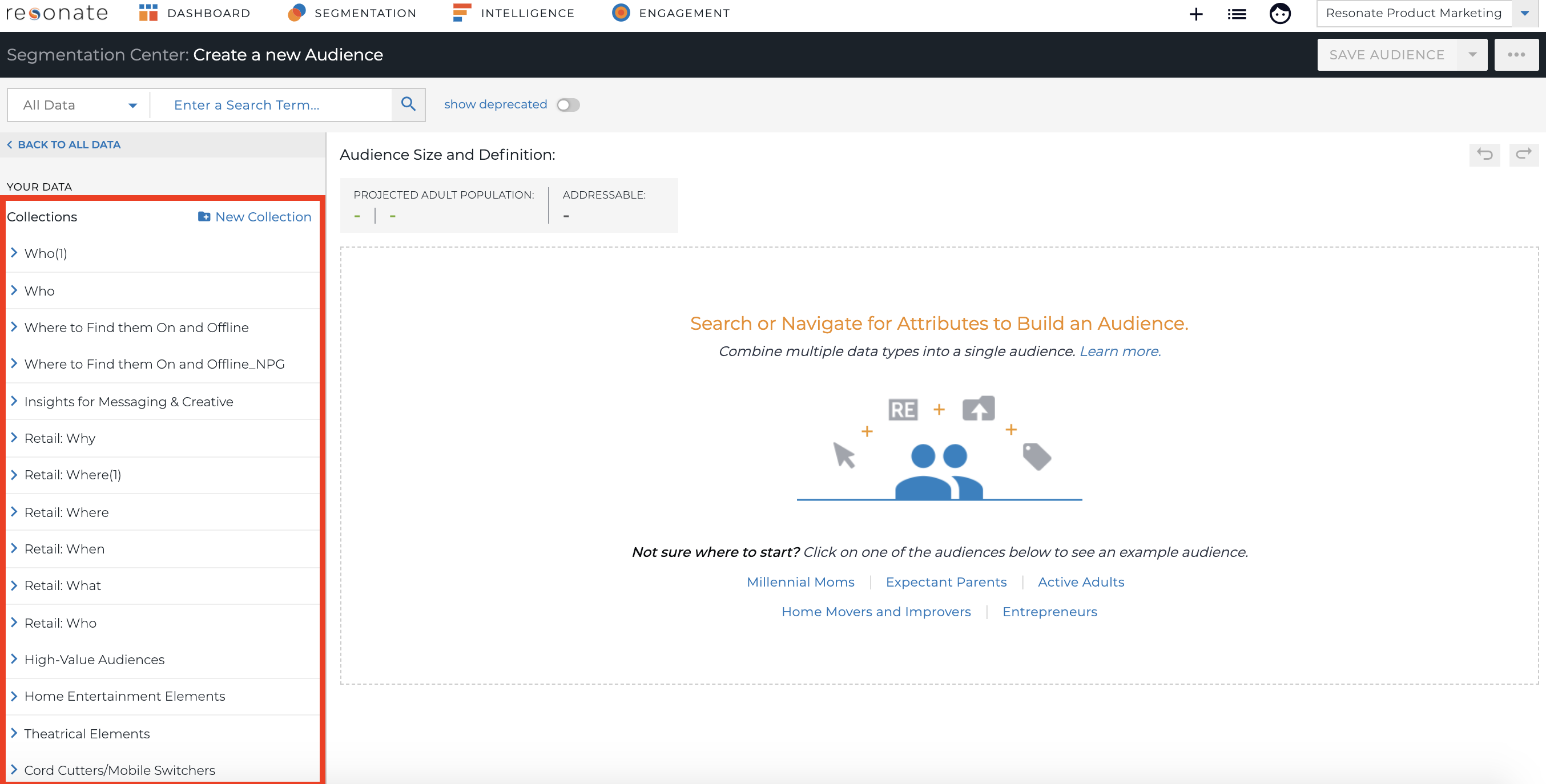 Give your collection a name, then save it. For example, let's create a collection of insights that will help answer where to find your audience online and offline. Let's name it "Where to Find On and Offline."
Pro Tip: Collections are shared across all users in your account!

Add Sub-Collections
Adding sub-collections help you further slice and dice your insights when analyzing. For example, let's add 4 sub-collections to Where to Find them On and Offline:
Magazines They Read
Newspapers They Read
Social Media Membership/Engagement
TV Networks Watch Most Often
To add a sub-collection, click the ellipsis icon (...) next to your newly created collection, and click Add New Subfolder. Add the above-listed sub-collections. Click Enter to save.
1.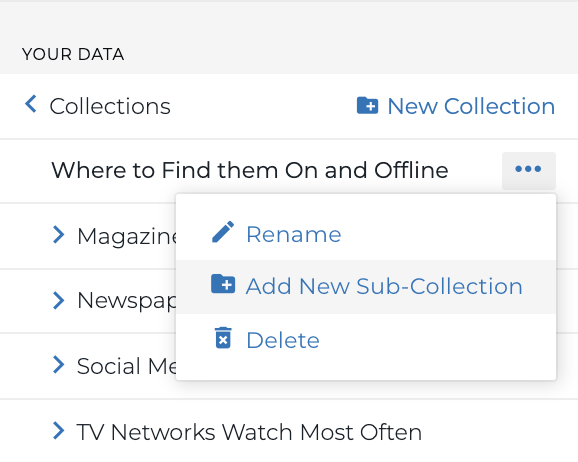 2.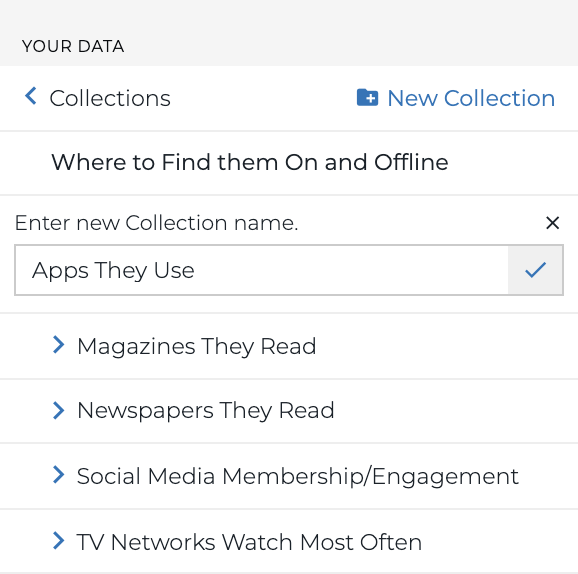 3.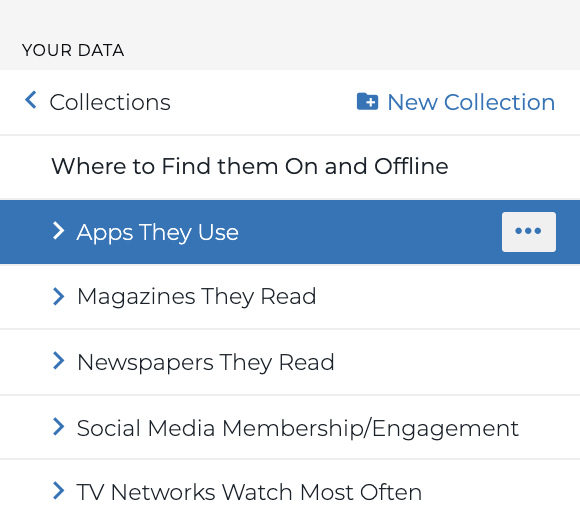 Save Attributes to Collections
Now that you have a collection with 4 sub-collections, you'll need to save attributes to those collections that help answer where to find them on and offline. Click Back to All Data to return to the default Taxonomy state. Now click Media – Media Consumption – Magazines – Magazines Read Regularly. Click the ellipsis icon by the attribute's name in the middle panel – click Save All to a Collection.

Choose the Where to Find them On and Offline collection, then Magazines They Read, then click Add Attributes. Repeat this for Newspapers and the rest of the attributes.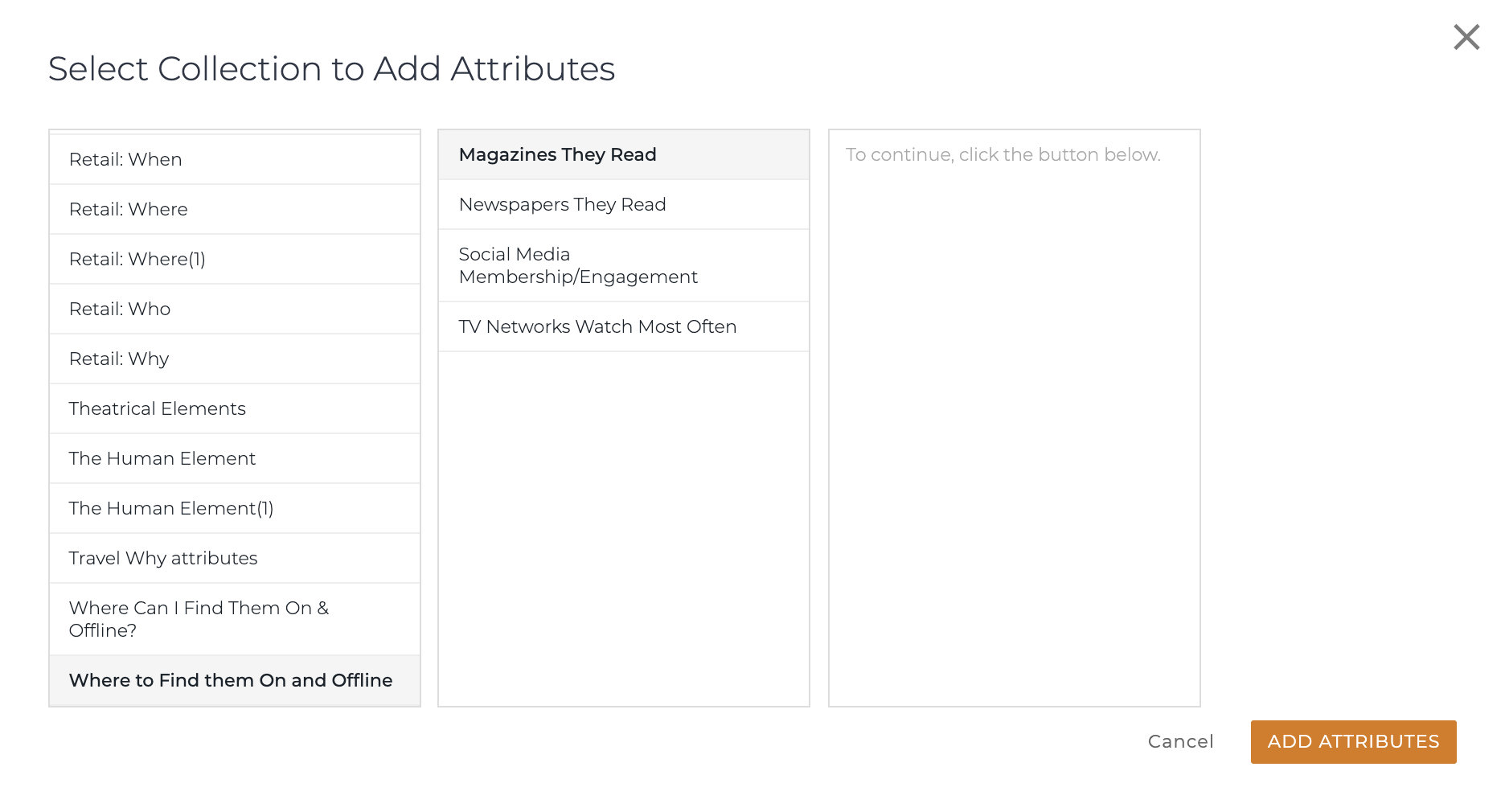 You can also add single attribute values to a collection. Click on the ellipses icon next to each individual attribute value, then click Save to a Collection to do this.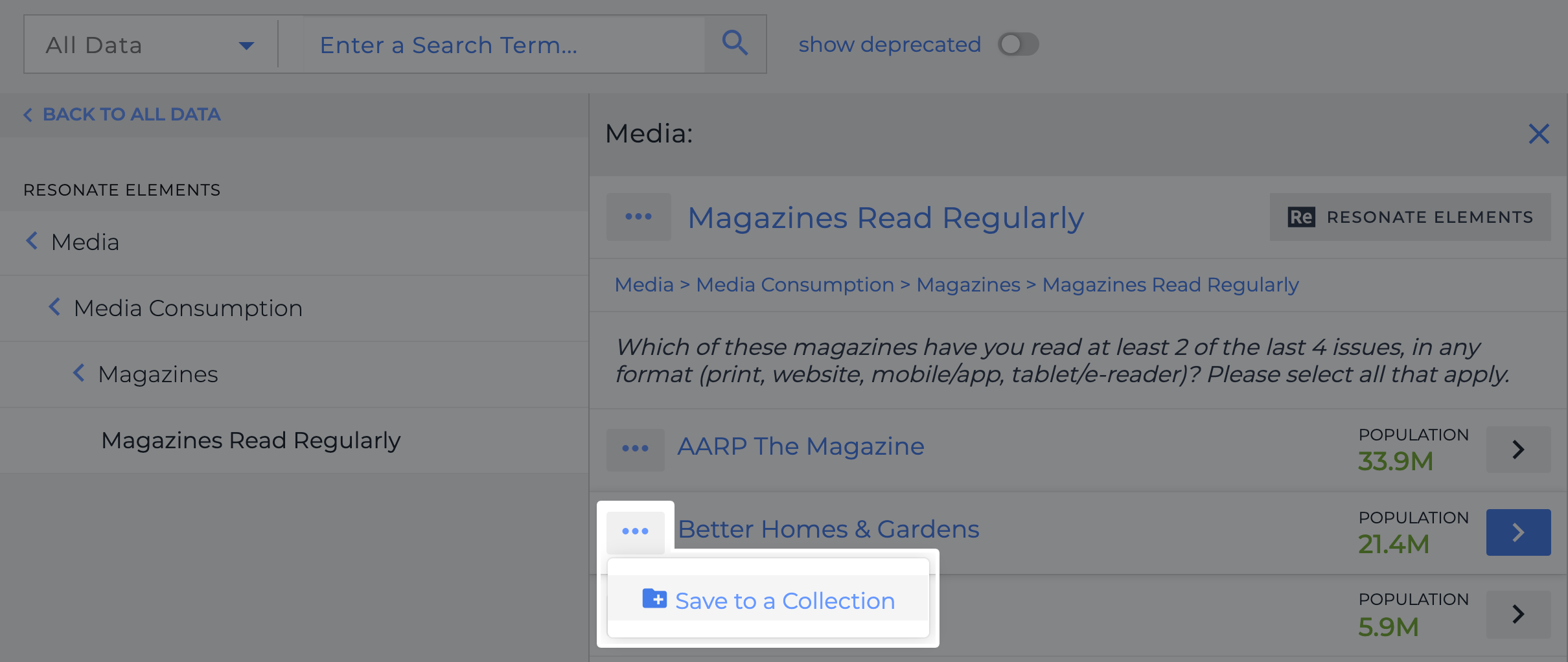 Use collections in Analysis
Use collections as a way to view insights when working with an analysis. This lets you build custom ways to cut through the data. Once you've created a collection, and added attributes to it, you can apply these collections of insights to your analyses.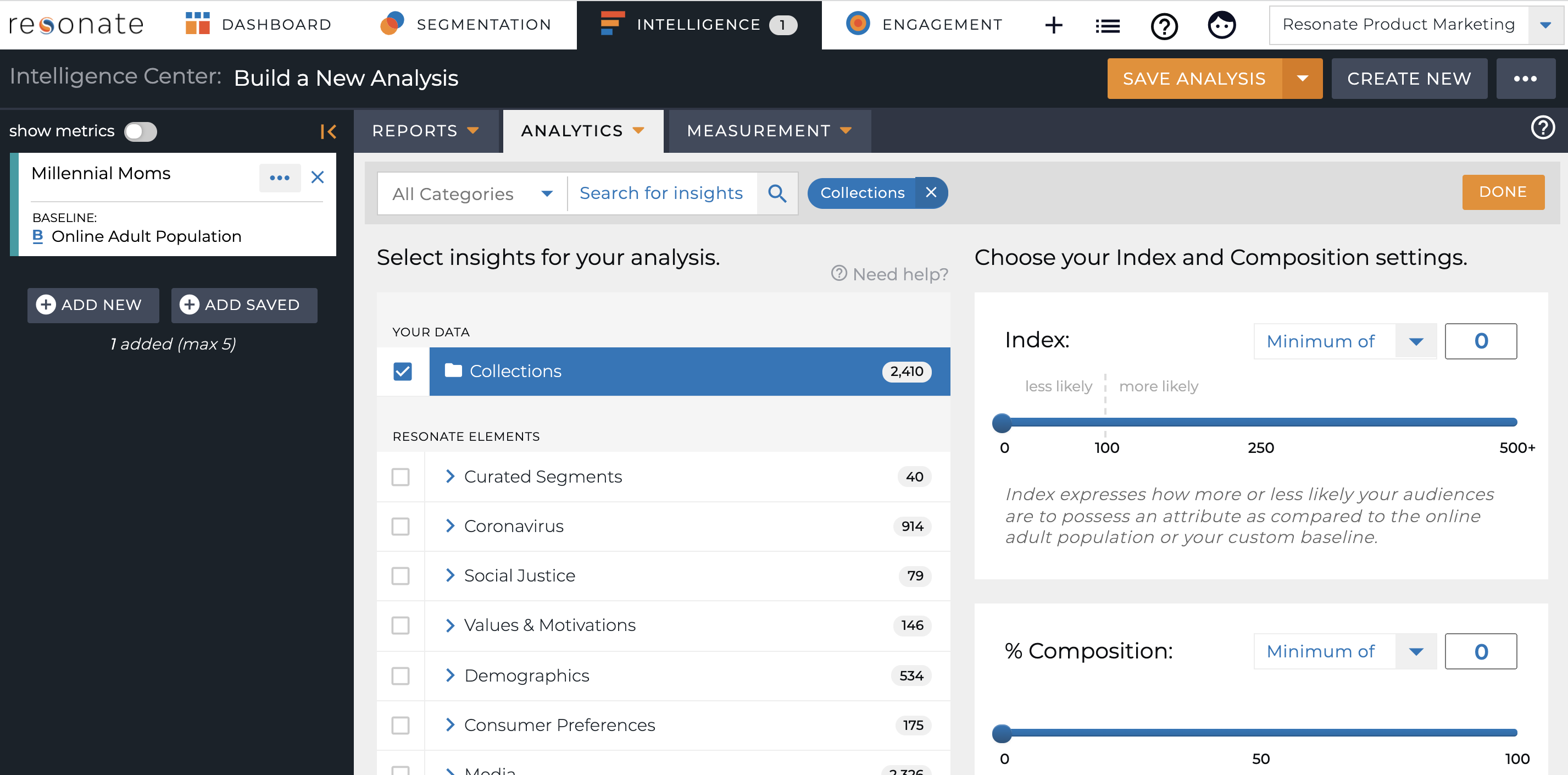 In the insight selector panel, you can click into Collections and browse for the collection you'd like to apply to your analysis. Alternatively, you can use the search box to find it. Click Done when you're ready.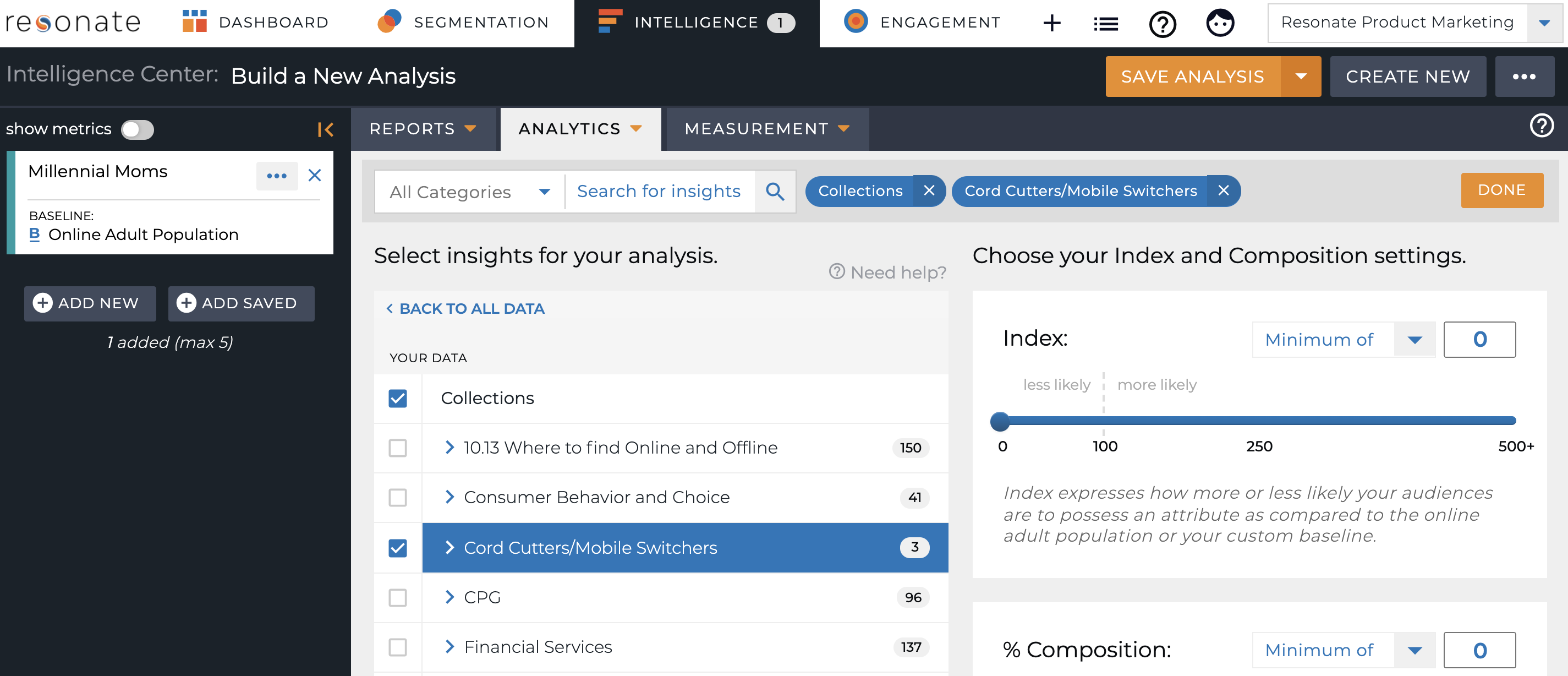 You will now view insights associated with the attributes and/or attribute values included in your collection.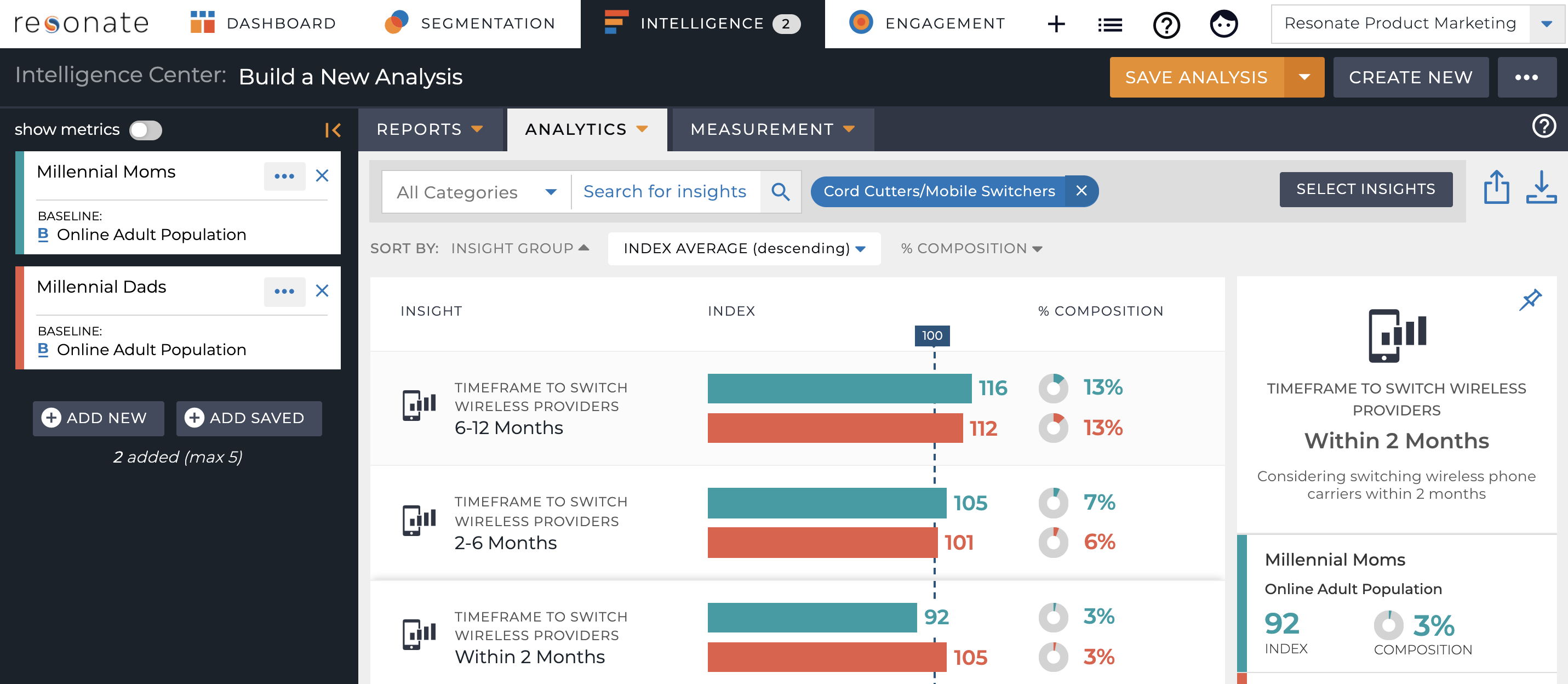 Saving Audiences to Collections
When you save an audience, you must save it to a collection. My Audiences is the default collection. This collection is all yours to rename, edit, and save.
Are collections different from pins?
Yes. Pinned insights are only saved for the analysis in which you're working. Pins don't carry over across analyses. Collections do. Collections are global, and able to be accessed across analyses. So think of collections like global favorites.