A Tag, sometimes called a pixel or beacon, collects data from digital properties, such as websites or digital ads. Resonate Tags play an integral role in providing you with deep insights to better understand and engage with the people interacting with your brand and digital footprint. Tags are key to several Resonate products, including the Resonate Platform, Individual Append and Intelligent Onboarding.
Client Administrator users and Analyst users in Resonate have the ability to create and manage their own Resonate Analytics Tags. These Tags can be placed on web and media properties.
By analyzing the data captured in Tags, you can then gain insight into the audiences that are visiting your site, as well as who is being reached and who is responding to your marketing campaigns. Read more about our recommendations for a Tag measurement strategy.
How are Resonate Tags structured?
There are six Tracker Type options to choose from – Click, Conversion, Custom, Impression, Media and Site.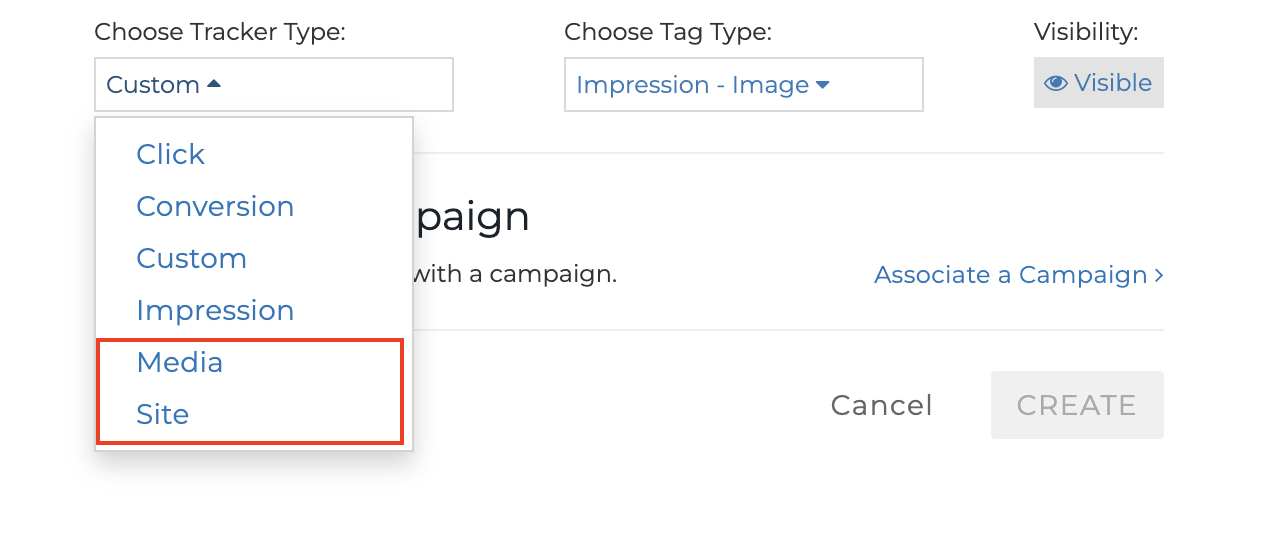 In most cases, to get the most value out of your tagging strategy with Resonate, we recommend that you choose our dynamic Site Tags and Media Tags. Dynamic tags allow you to define what information you'd like to send back to Resonate to create your own custom taxonomy within the Ignite Platform, so that you can build, analyze & activate engagement-based audiences.
For example, once you've created a Site Tag, you can edit the parameters to segment users by page events, such as add to cart or a form submission. Even if you do not plan to edit the customizable tag parameters, in most cases we still recommend you choose our Dynamic Site or Media Tags.
Let's first review Site and Media Tags so that you can understand how they can be used.
Site Tags
Site Tags are dynamic using javascript, and should be used to better understand visitors to your website. With the Dynamic Site tag, you can place one tag broadly across your site, then dynamically populate the tag based on how you'd like your data to appear in Resonate using the Track Method. For example, you can segment your website visitors by page events like add to cart or download, website sections or categories, or user information like age/gender, browser, and channel.
Media Tags
Media Tags are dynamic using javascript, and should be used to better understand people consuming your digital media. Resonate Media Tags are designed to leverage the common macro capabilities of the industry's most popular digital ad serving platforms.
We have four Tag Type options to choose from when creating a Media Tag – Impression URL, Impression Image, Click Unencoded Redirect, and Click Encoded Redirect.
Impressions Tags capture data about users who are exposed to your media. They can help you evaluate your targeting strategy to determine if you're effectively reaching the right people through all of your platforms.
Impression – URL

(Recommended): The URL of the pixel which can be used as a third-party tracking pixel in ad servers.

Impression – Image:

HTML tag which can be inserted into the raw HTML of the ad. Typically we find that just the URL is needed, so we usually don't recommend this option.
Click Tags give you the ability to learn more about the people who are actually engaging with your media. They can help you understand why they are engaging with your content so that you can find new audiences that share similar characteristics.
Dynamic Click tracking tags are similar to the impression tracking tag but add support for a redirect parameter which must come at the end of the tag code. You can create dynamic Click tracking tags for the click event in media campaigns and redirect the user to an advertiser landing page.
Click – Unencoded Redirect

(Recommended): Plain URL format, not encoded.

Click – Encoded Redirect

: Encodes the structure of the URL. Should only be used if you plan to use another third-party redirect on your click tracking.
After you've created a Media Tag, our dynamic parameters then allow you to pass additional data on Impressions and Clicks, like what creative, partner or campaign they were exposed to or engaged with. The dynamic parameters for use on Resonate Media Tags are:
Partner:

Used for tracking Partner where Media Tag is served. Recommend Platform Name or Partner ID.

Example: "Google" or "123-abc-456-efg"

Campaign:

Used for tracking digital advertising Campaign. Recommend Campaign Name or Campaign ID.

Example: "Summer Promotion" or "123-abc-456-efg"

Creative:

Used for tracking Creative ID which is served or clicked on. Recommend Creative Name or Creative ID.

Example: "Portrait" or "123-abc-456-efg"
Please note that the parameter fields are pre-named, but you have the ability to customize them if you would like to segment your users differently.
Custom, Click, Conversion and Impression Tags
The remaining four available Tracker Types (Custom, Click, Conversion and Impression Tags) are used less often. These are legacy tags and are typically not needed by our clients with the newer dynamic Site and Media tags as options.
Custom Tags should be used as a fall back option when a javascript tag is not supported – such as tracking an email open, or tracking video ads.
Click Tags are only used to track and build analytics on ad clicks. They are inserted in an ad click stream and redirect through Resonate's CDN (Content Delivery Network) servers before redirecting to the final ad landing page. The available Tag Types for a Click Tag are 'Click - Encoded Redirect' and 'Click - Unencoded Redirect'.
Conversion Tags should be created to track and build analytics on site based events that are the KPI of the client's ad campaign (e.g. get a quote, buy a product, sign a petition, etc.). Select 'Image' as the Tag Type.

Impression Tags

should be created only when the pixeled event is an ad impression. The platform can produce the URL of the pixel which can be used as a 3rd party tracking pixel in ad servers, or as an HTML Tag which can be inserted into the raw HTML of the ad.
How will Resonate Tags affect my site?
Resonate Tags do not alter your site visually and are invisible to users of your site. Resonate Tags can be served asynchronously and don't slow down how quickly your page loads. They won't affect your user experience or page load times.