Resonate Data Onboarding is the only insights to activation onboarding solution with unparalleled scale, precision, and speed.
Onboarding with Resonate allows you to gain insights on your most valuable audiences, such as the people in your CRM file, mobile audiences, your CTV viewers, your website viewers, and more. By onboarding your audiences to the Resonate Ignite Platform, you get over 14,000 meaningful insights and targeting attributes on those individuals and can activate your audiences directly from Resonate.
When you onboard your data to the Resonate Ignite Platform, you can send your data to us directly or indirectly depending on the data you have available.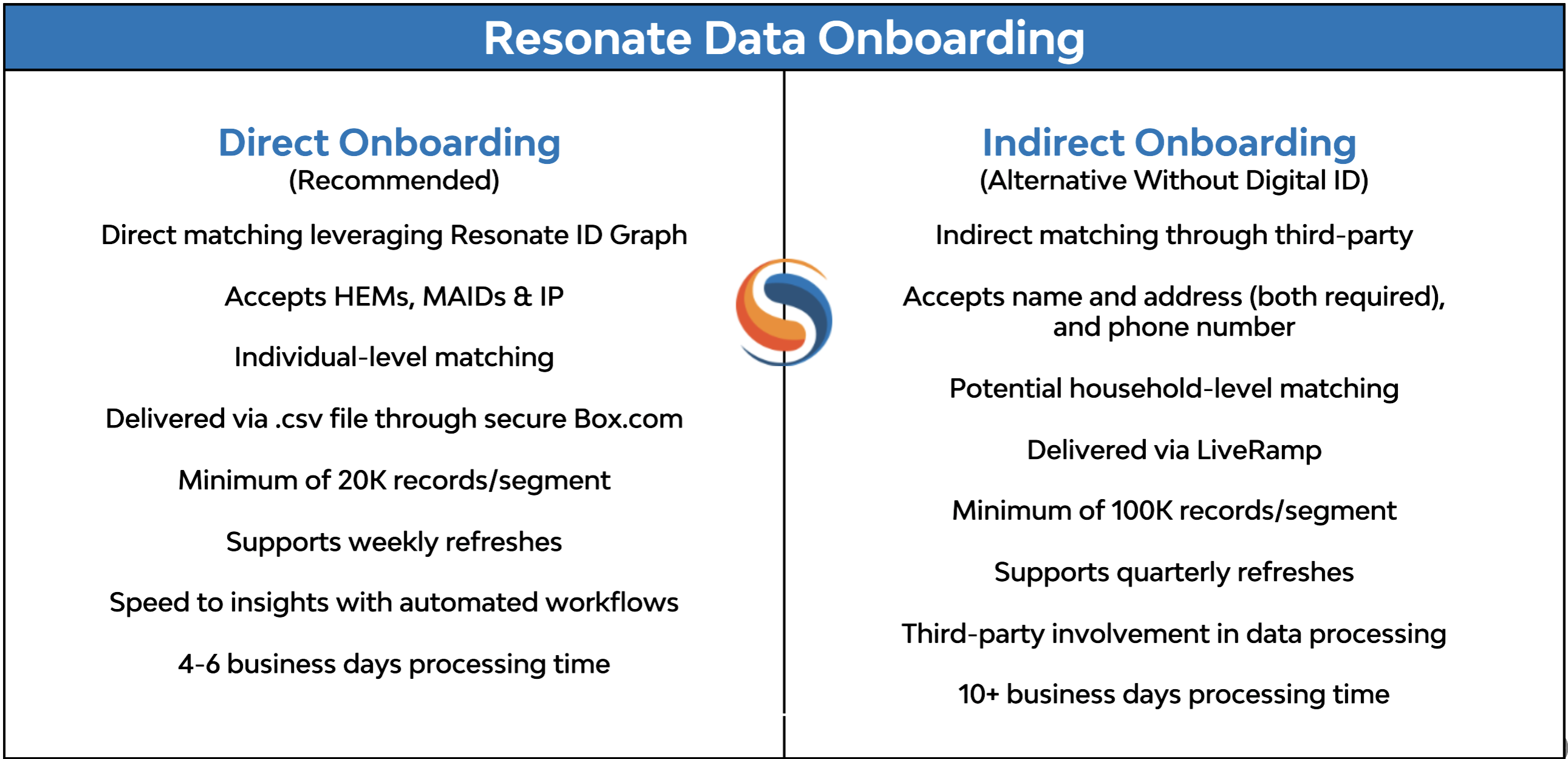 Direct Data Onboarding
If you have hashed emails (or regular emails you can hash), MAIDs, or IP addresses, we recommend Direct Data Onboarding. Onboarding directly to Resonate is a one-step matching process by matching your IDs (HEMs, MAIDs, and IPs) directly to Resonate IDs. This means you can expect precise, individual-level insights and higher match rates. When onboarding directly with Resonate, audiences will be available in the Resonate Ignite Platform within 4-6 business days after confirmation of successful data upload. The speed of onboarding and refreshing your data is faster than onboarding indirectly since there is no third-party involvement– allowing you to get the most up to date view of your audiences.
Indirect Data Onboarding
If you do not have access to emails, MAIDs or IP addresses, we recommend Indirect Onboarding via LiveRamp. Indirect Onboarding is a great solution if you have traditional personal information such as name and address (both required), and phone number. With Indirect Onboarding, LiveRamp matches your records to their own database of online users and then links their records to known Resonate IDs.
Due to the two-step matching process and LiveRamp's matching methodology, there is more potential for your IDs to be matched at the household level and for lower match rates. To ensure that your onboarding project is successful and worth the investment, we require that you onboard at least 100,000 records. Smaller files will not generate insights and will result in a lower match rate.
Both Indirect and Direct Data Onboarding provide powerful insights on your most valuable audiences, however due to the faster processing time, higher match rates, and high-quality individual level insights – we recommend Direct Data Onboarding if you have those IDs available.
Learn more about onboarding your data to Resonate's Ignite Platform here.