Primary Geography Use Cases
Our observed Geography Data - including all 210 DMAs® as both attributes and insights - is now available. Geography data of this scale has never been available before, giving you the unique ability to dissect your audiences with incredible precision. Of course, there are several use cases, but we see 5 primary use cases.
Use Case 1: Geofence Digital Footprint
Geofence your digital footprint and learn insights by specific DMAs® This is immensely valuable! While you can geofence your website pages in web analytics providers such as Google Analytics, you can't learn 14k insights from Google Analytics.
Include Tag + DMA in your audience definition and view 14k insights.
Ex: Segment your homepage visitors into two different DMAs to understand if they have different purchase behaviors.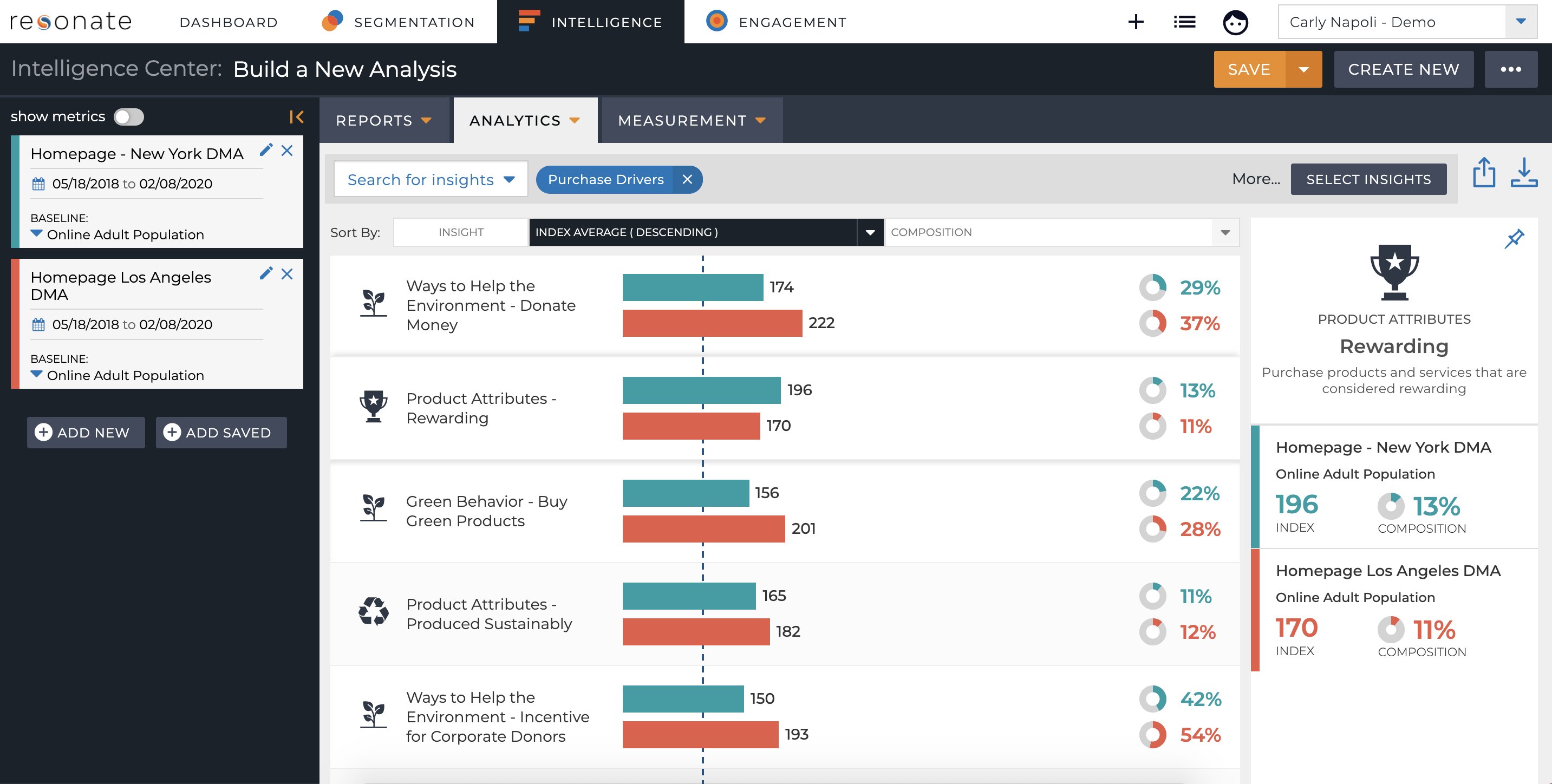 Use Case 2: DMA Insights on Digital Footprint
View DMA insights on your digital footprint and tags - such as your website, digital media, etc.
Include a Tag in your audience and understand where people interacting with your digital footprint are located.
Ex: Are people coming to your website homepage more likely to be in LA or San Francisco?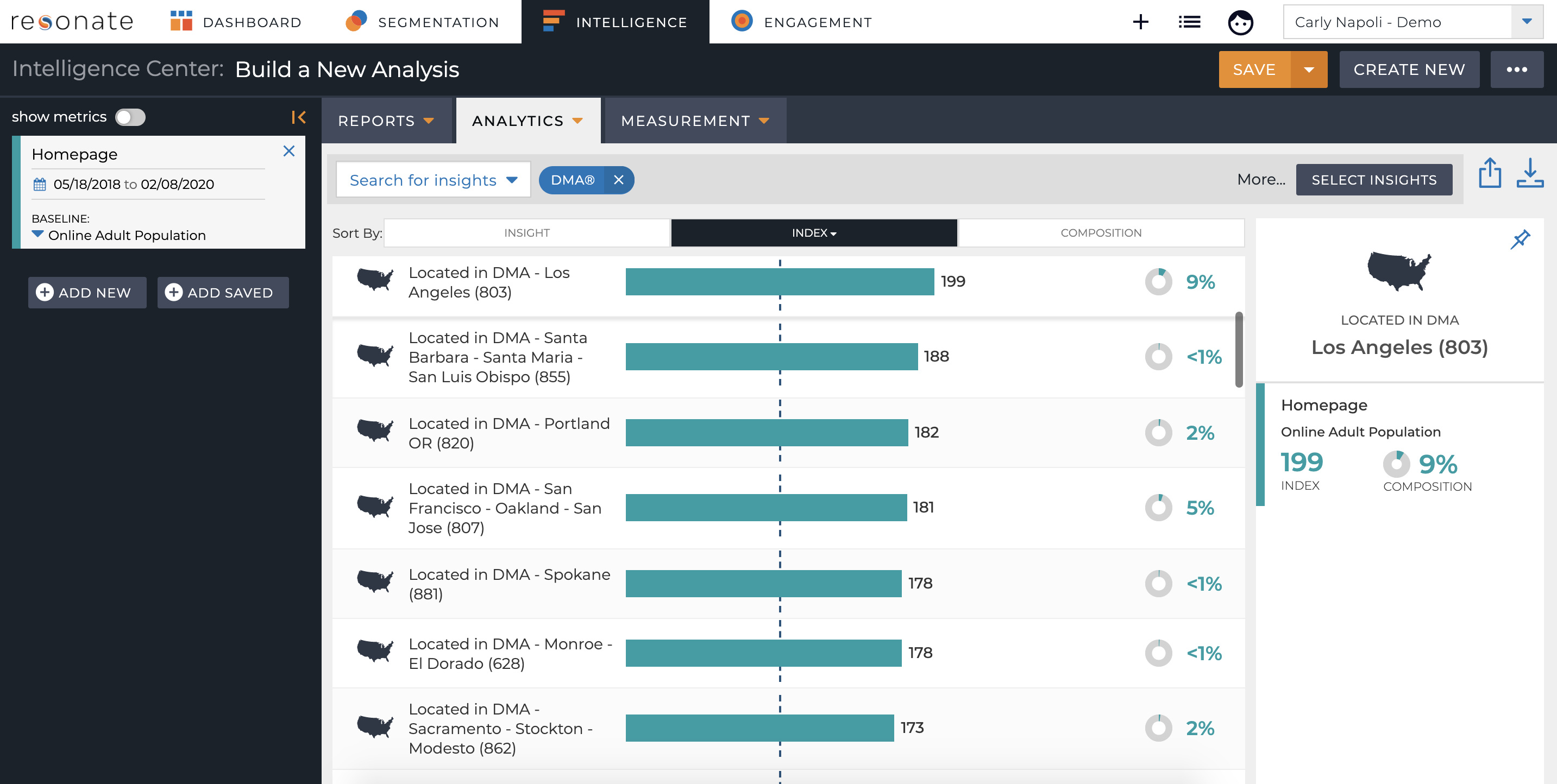 Use Case 3: View 14K attributes by DMA
View our 14k attributes by DMA
Include DMA(s) in your audience and view up to 14k insights to understand more about people located in that DMA.
Ex: What people in the Atlanta DMA are like?
Use Case 4: DMA Insights by Attribute
View DMA insights by 14k attributes
Include a Resonate Element in your audience and view insights by DMA to understand where people with that attribute are located.
Ex: See where are Bank Switchers located, so you can focus your marketing efforts.
Ex: Which DMAs over-index for organic shopping moms, so you can understand where to double down on plum organics distribution.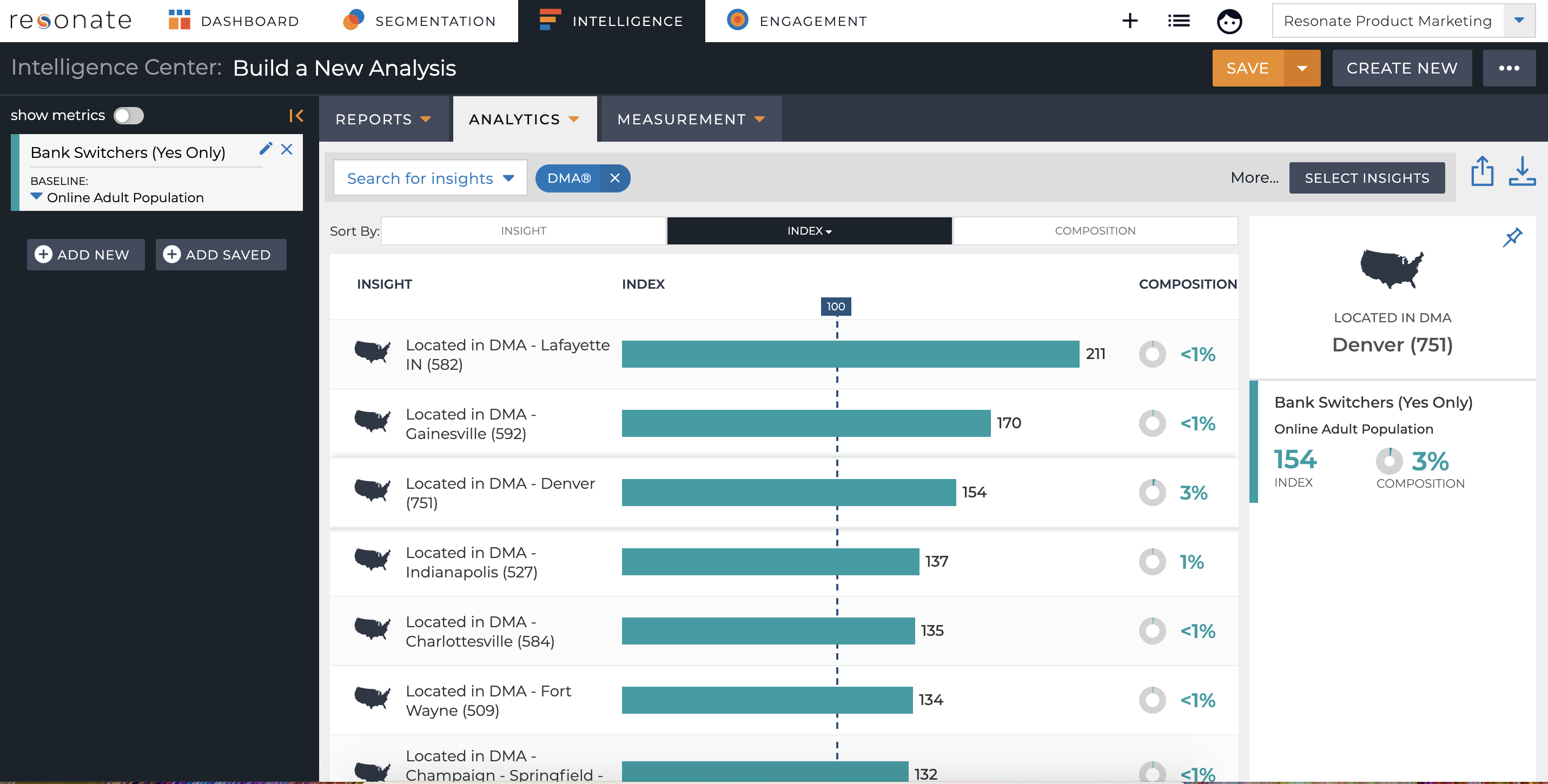 Use Case 5: Survey Insights on a DMA + Survey Audience
View Survey insights on a DMA + Survey audience
Include a DMA in your survey audience and understand your audience in the DMA you operate
Ex: Learn more about Macy's shoppers in New York

* It's important to note that as you add more attributes, your audience size gets smaller which can cause greater variances in the data. Also keep in mind that insights within the DMA will be modeled on an attribute-by-attribute basis within that DMA.
Locating the Geography Data in the Taxonomy
To find the DMA* Geography data in the Resonate Taxonomy - click Segmentation. You'll see Geography data under Additional Data.
Once you click into Geography, you'll see Local Markets.
In Local Markets are Nielsen DMAs*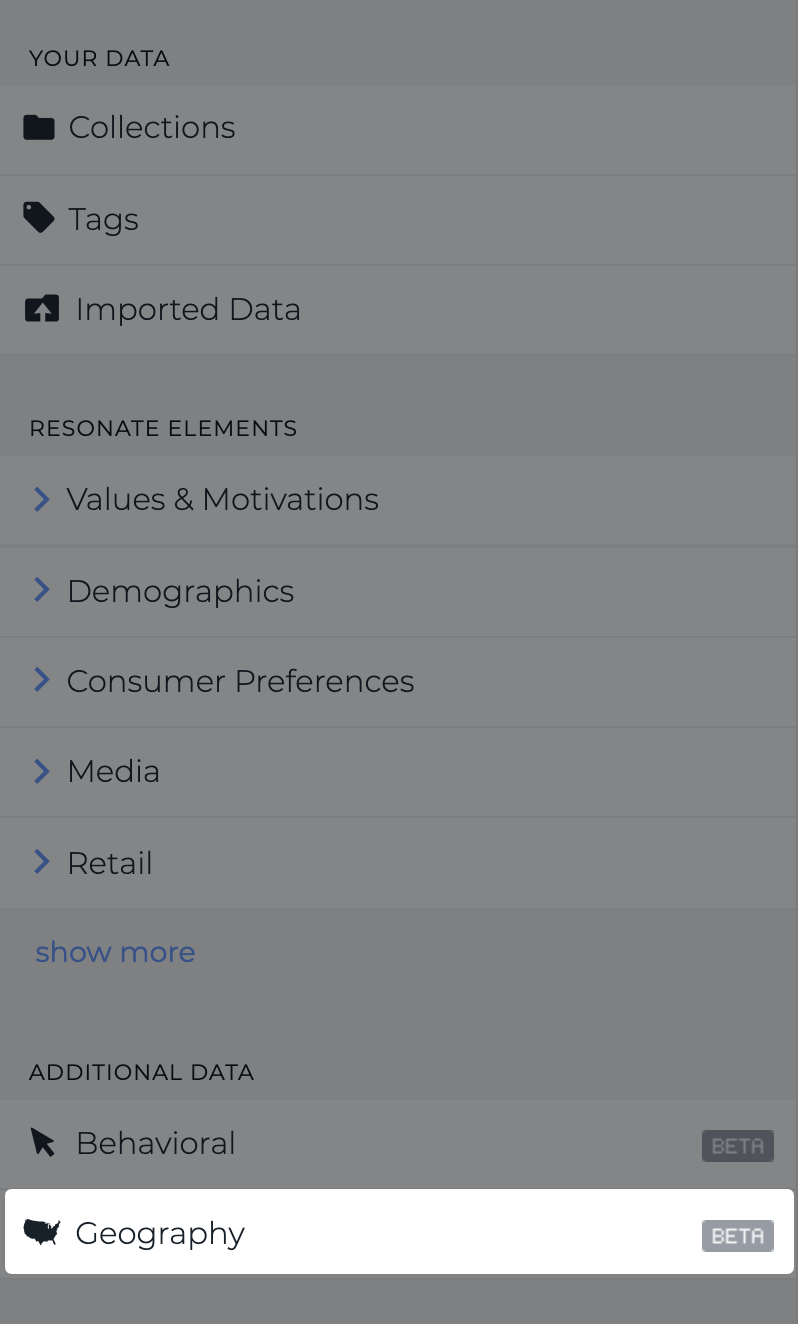 To find Region and State geography data, look in the Resonate Elements taxonomy under Demographics - Demographics - Geography.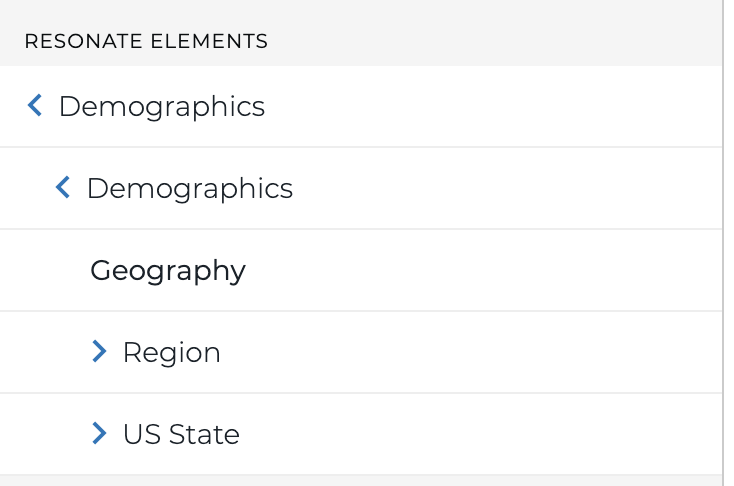 You can use Resonate's Geography data in the platform to:
Build audiences by DMA for Analysis

Ex. Build an audience of people who are in DC Metro Area, and analyze them.

Analyze & Filter audiences by DMA

Ex. Analyze an audience of Millennials, and understand if they're more likely to be located in Boston or New York.

Combine with geography data with tag data, Resonate Elements, and behavioral attributes, then Analyze
Usage Considerations
You cannot save a DMA attribute in an audience that you wish to use in Audience Crosstab.
You cannot combine DMA Geography Data with limited attributes. This means if you have a limited attribute (such as individual age, etc) in your audience definition, you will not see Geography data (DMA) as insights.
We want to call out that our Geography Data can help with sizing guidance, but should not be used for precise sizing. This is due to a couple of reasons:
Our Geography Data is based on the number of modeled devices observed for people in that geographic area as of last night, based on IP address. It will not match up with Census data.
Data is a predicted estimate of the DMA + Insights. It is not weighted to the local online adult population and may not reflect the exact size of a region, or of a specific audience within the region.
If you are trying to understand sizing, use our Region and State data from our Resonate Elements - which we weight to be representative of the U.S. adult online population! Just remember, DMA and Region & State data will not match up because they are from two different data sources. Region and State is stated data from our National Consumer Study, which is weighted and DMA data is granular, observed data.
Activation Considerations
You can build an audience using a Geography attribute and you have the ability to activate that audience. However, we recommend you use the geo-targeting capabilities in your advertising platform for the most timely geo-targeting.
Learn more about the different Geography data types available to Brand, Agency and Media & Entertainment clients, as well as Politics & Advocacy clients.
*The DMA® information is used pursuant to a license from The Nielsen Company. Any use and/or reproduction of these materials without the express written consent of The Nielsen Company, is strictly prohibited. The DMA® information is valid for the period 2022 - 2023.