Overview
With Facebook's removal of third-party data via Partner Categories, marketers are looking for an efficient and cost-effective way to reach their valuable audiences on Facebook. By using Facebook's Custom Audiences, Resonate customers can activate audiences directly from our platform and into the Facebook ecosystem keyed on mobile advertiser IDs (MAIDs).
Here are some basic instructions for using Facebook's Custom Audiences feature. We also recommend reviewing the Facebook's Best Practices Guide for Customer Lists to become familiar with the capability.
Resonate tends to see an average match rate ranging up to 60% to 80% for Facebook.
Please note that you may need to adjust the file size to adhere to Facebook's Custom Audience upload specs, which change regularly.
Facebook Ad Manager Steps
Log into your Facebook account and navigate to the Audiences page from the Ads Manager

.





Click on hamburger Icon the left side and click Audiences.





Click "Next" on below screen.



Click "No" and then next on below screen.


Select Customer list as the Custom Audience source
Click upload to ingest MAID file, Name Audience and then click next on below screen.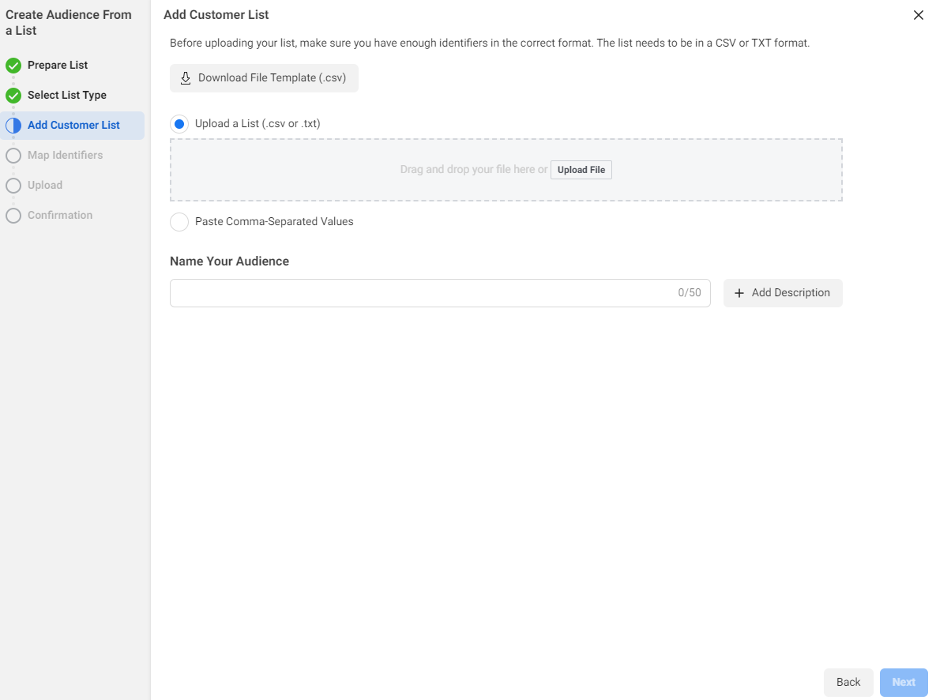 7. Click Import & Create below.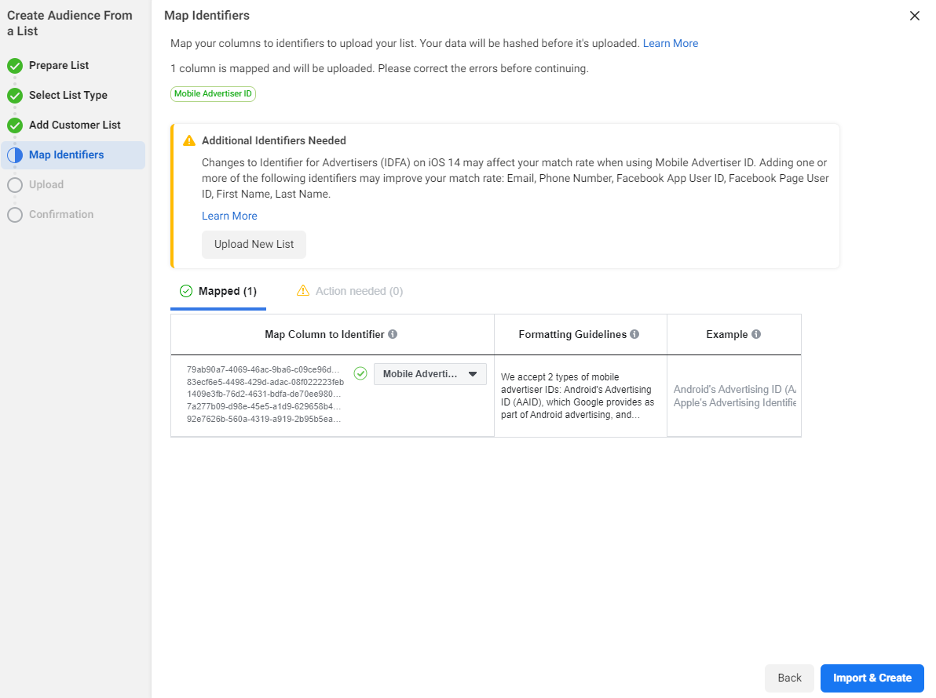 8. It will take a bit to upload, but do not close below window while uploading. Wait while the file uploads. Larger audiences can take several minutes to complete. DO NOT CLOSE the browser window until the upload is complete.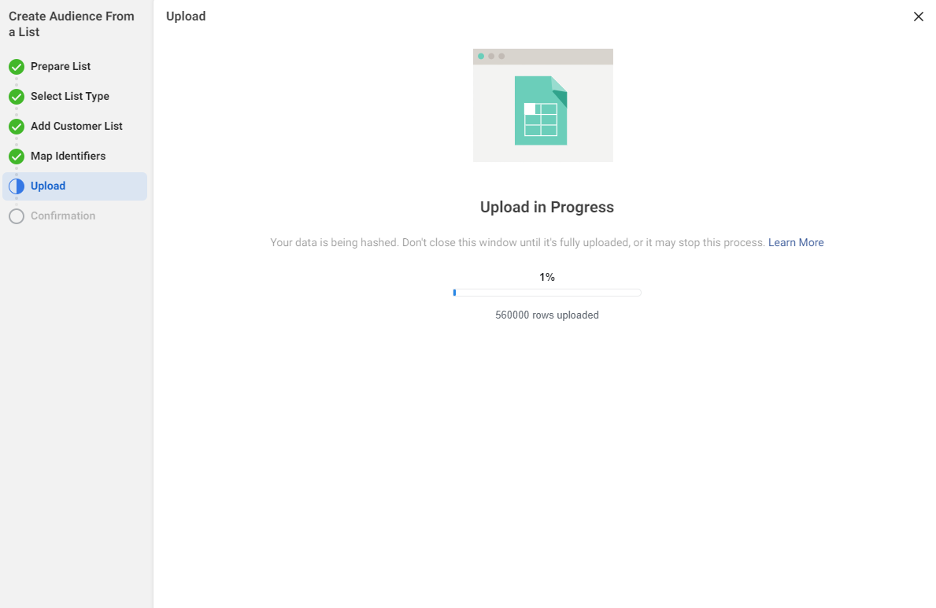 9. Confirmation: You should see a message that the list is uploaded. The step confirms all the IDs have been ingested. Then, click on "Done".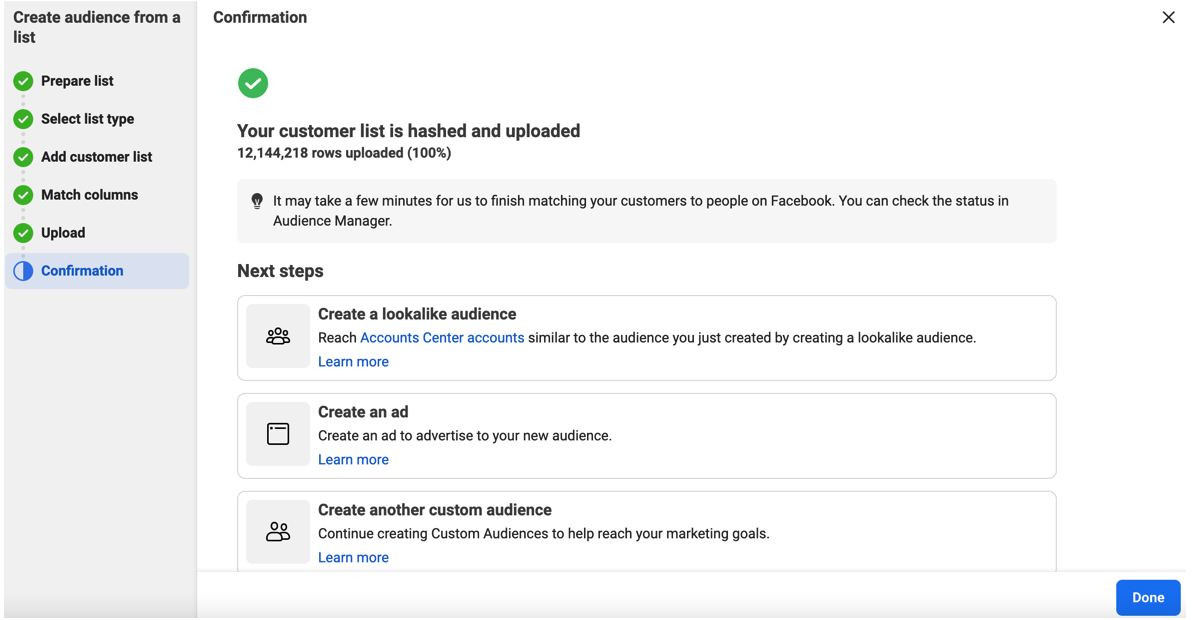 10. Populating the audience: Once the audiences are ingested they start populating the Audience size. Do not use this audience on the campaign until the "Availability" status changes to Ready.

11. Confirm the Availability status changes to "Ready"

Error situations: Depending on the size of the file and your internet connection, the file upload may fail.
The page looks like a crashed browser

Note: Even though the file upload failed, the partial audience is still available in the audience section; just with partial data. The audience may look like it is uploaded but in reality ONLY includes partial data. So, step 9 above is important to make sure ALL the IDs from the file are ingested.

Note: Resonate has contractual terms in place to ensure proper compliance and representations of the source and acceptable use of this data and its compliance with all applicable laws, regulations, and industry guidelines. Resonate Insights are created and curated in-house through proprietary, anonymous and consumer-friendly methods. Our survey respondents are double opt-in participants and are anonymously processed with data consumer behavioral insights.