For decades, Resonate has been a leader in AI technology with our proprietary neural network, also known as rAI, which powers the creation of Resonate data. And now, with AI Insights by rAI, we've created a new way to expedite your analyses and expand your audience understanding leveraging this state-of-the-art AI technology.
AI Insights by rAI saves you hours of time by leveraging AI to interpret and extract actionable insights. It significantly enhances your data analytics capabilities by analyzing, categorizing, and summarizing key insights about your audiences so that you can work more efficiently.
HOW IT WORKS
1. Choose your audience. To get started, you're going to create or select the audience you want to analyze. AI Insights works with any data type, so you can build your audience using Resonate Elements, 1st party CRM or Site Visitor data, Custom Data, or Engaged Audiences.
2. Select between approximately 200-1,000 insights on the AI Insights tab in the Intelligence Center. Now that we've selected our audience, we can go to the AI Insights tab in the Intelligence Center to select the insights that we want to analyze. For more focused results, select insights from similar categories.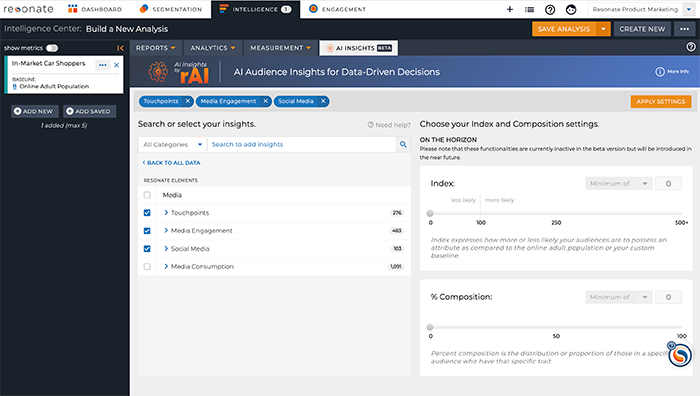 3. rAI scans hundreds of insights to concisely summarize the top results. rAI analyzes your selection to identify the top statistically significant insights by calculating their composition relative to the baseline.
4. Your AI Insights report is generated. Your AI Insights report will provide a written summary of your audience and a breakdown of each insight category including a description and bar chart of the supporting data.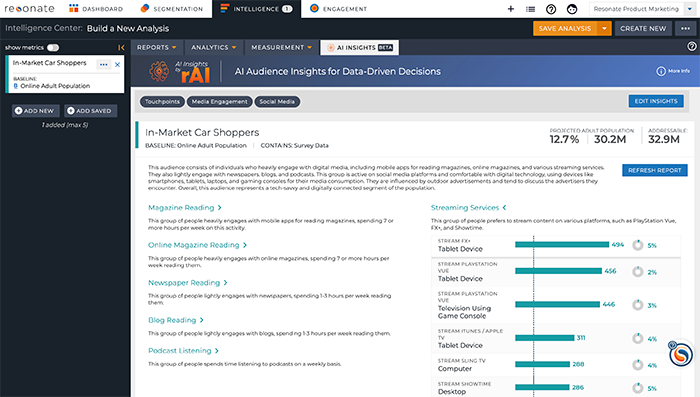 AI Insights helps you get to the insights that matter, faster. This can help you with more efficient media planning, creative & messaging strategy, persona creation, and more. Discover how to use AI Insights across your most common use cases here.