Discover the Human Behind the Health Condition
Resonate Health gives you access to premium healthcare insights linked to over 230 million U.S. adult profiles. This hyper-relevant, proprietary data set is developed by Resonate for the healthcare marketer, allowing you to make decisions based on insights and take action to reach your target consumers most effectively.
Resonate Health offers you premium healthcare insights from both survey and Engaged Audiences. Health & Pharma Resonate Elements allow you to build your audience using over 700 topical survey-based attributes from our U.S. Consumer Study (USCS), including healthcare conditions, management, and even caregiving. With these Resonate Elements, and the over 14,000 other insights we have on the U.S. consumer, you can build robust, 360-degree audiences to understand their status and intent when it comes to their health.
Dive even further into your audience building capabilities using all new Health Engaged Audiences. These insights are generated using consumers' online browsing behavior, signaling what content they're consuming online and what healthcare conditions and topics they're reading about. This up-to-date understanding on not just who the consumer is, but what they consume online in their free time, will help you build your audiences with consumers engaging most intimately with healthcare topics that align with your business goals.
Using a combination of Health & Pharma Resonate Elements and Health Engaged Audiences gives you the ability to uncover the human behind the health condition. Inform your next healthcare marketing strategy with privacy-safe, relevant data on today's consumers without the hassle of clinical research costs and acquisition.
Privacy-Safe, Actionable Health Data
Traditionally, informing your campaigns with healthcare data meant utilizing clinical research as a part of your strategy. This costly, difficult to acquire and often narrow understanding of healthcare consumers does little to efficiently generate useful insights and can be difficult, if not impossible, to activate audiences due to the walled garden of private patient data that informs the research.
Resonate Health overcomes this walled garden, allowing you to build and activate audiences around niche, sensitive healthcare topics that aren't traditionally asked about in surveys.
Health & Pharma Resonate Elements
Resonate Elements provide over 14,000 insights on the U.S. consumer using our industry-leading USCS survey. Of these 14,000 insights, we've packaged all of the Health & Pharma attributes into our Resonate Health offering to inform your healthcare campaigns efficiently alongside our Health Engaged Audiences.

Use these insights to build audiences around individuals with specific health conditions, with or without health insurance, or even those who give care to healthcare patients.

Health Engaged Audiences
Using a Natural Language Processing (NLP) algorithm, Resonate discovers what content consumers are viewing online by crawling thousands of web pages daily and using the context of those pages to label individual consumer interest in topics that typically can't be asked about in our survey. These webpage crawls create our Engaged Audiences, and with Resonate Health you can unlock Health Engaged Audiences that let you home in on specific healthcare topics and conditions that are rarely found outside of the walled gardens of clinical research.  
You can use these Health Engaged Audiences to build audiences around niche topics like "flu" or "nutrition." This expands your opportunity for audience building by defining attributes based on consumer behavior, taking you beyond the survey and allowing you to unlock insights about your target market through the content they are consuming online. This real-world understanding of your audiences creates opportunity for enhanced segmentation and targeting when you prepare your next marketing campaign.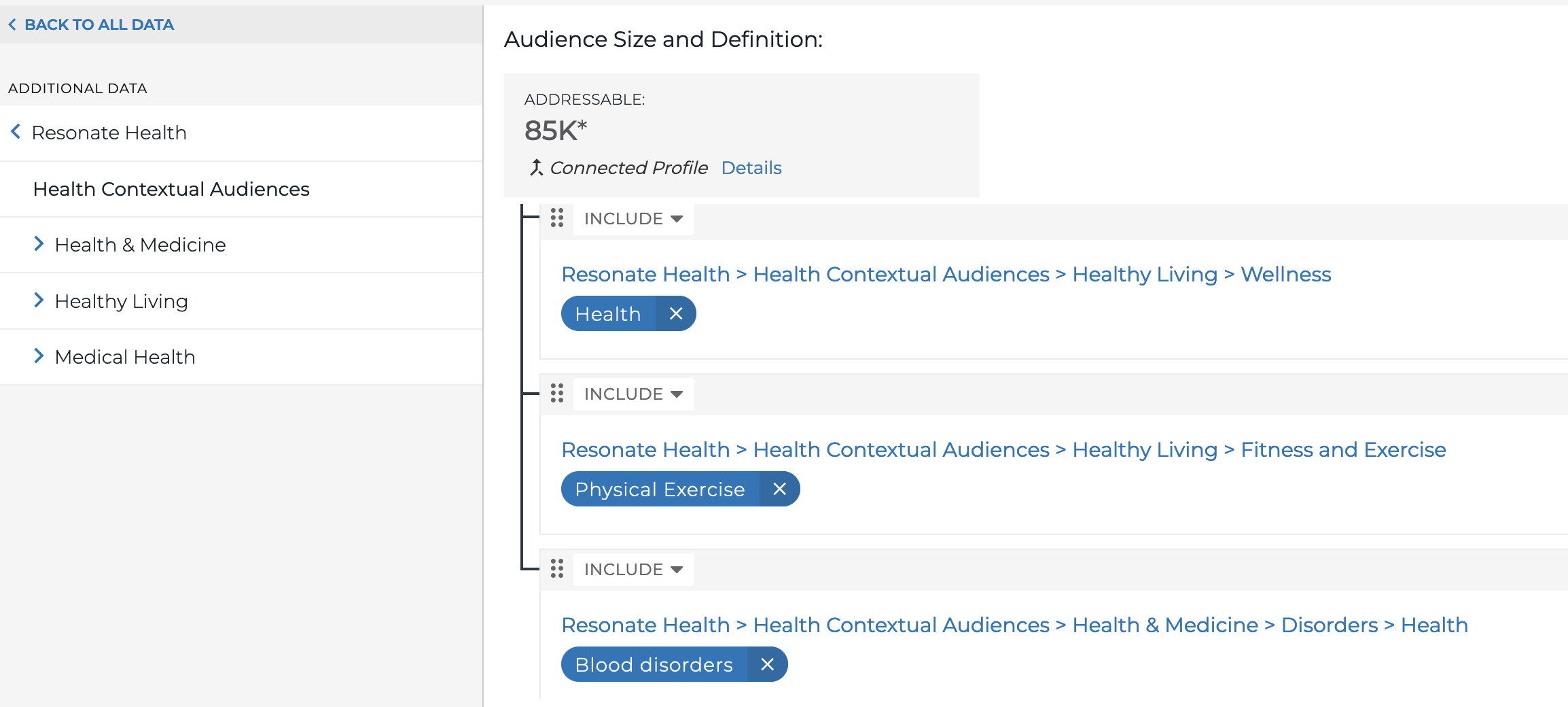 Resonate Health In-Platform
Accessing Resonate Health in the Ignite Platform is as easy as finding any other attribute when building your audience.
In the Segmentation Center, you will notice a change on the left-most panel with all of your data. Under "Additional Data" you will now find a Resonate Health option. This will expand into options for Health & Pharma Resonate Elements and Health Engaged Audiences.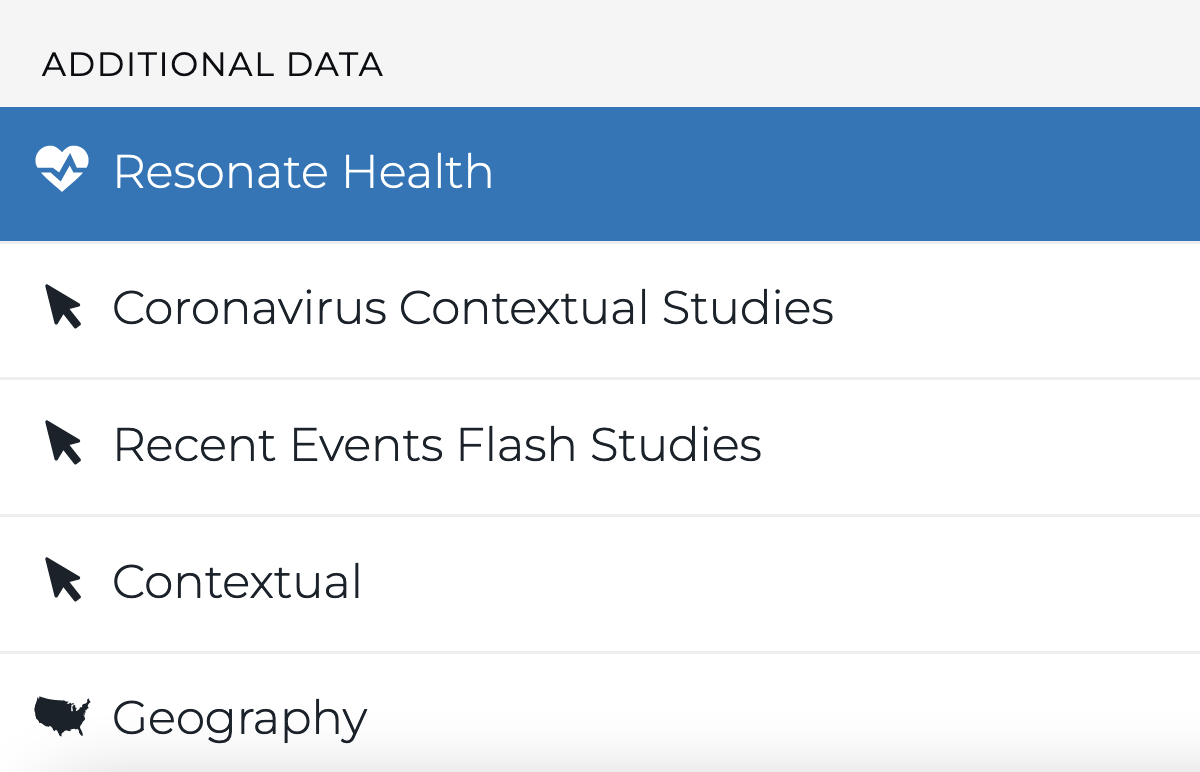 If you haven't upgraded your account to include Resonate Health and you click on this new section, you will notice a new panel in the audience builder that indicates your current level of access to Resonate Health attributes. Learn more about what upgrading provides to your insights and use the "Request Access" link to contact Resonate about upgrading your account.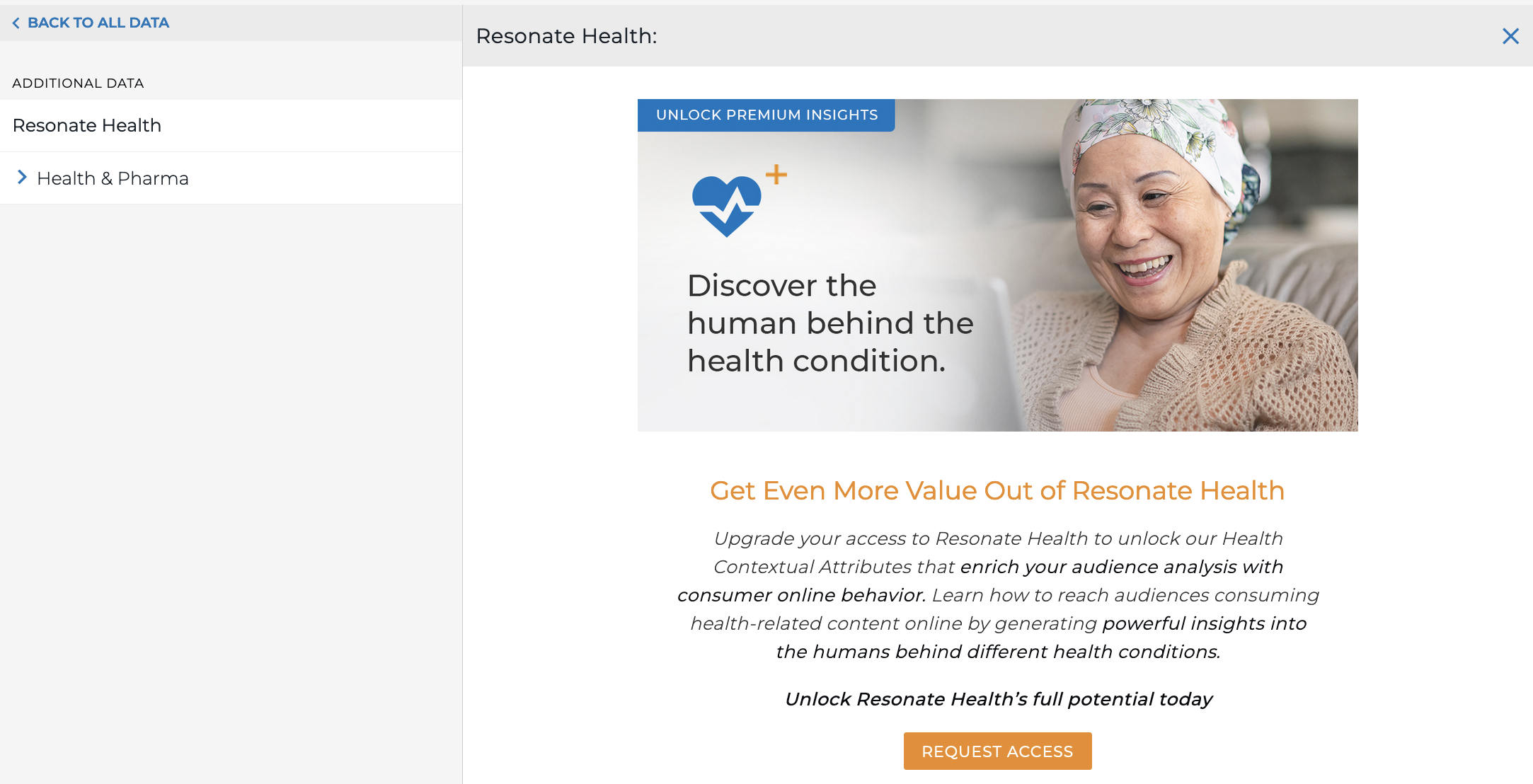 Don't miss out on these new, premium healthcare insights. Visit the Resonate Health page to contact Resonate and upgrade your account today!