I'm creating an audience that represents 100% of the Adult Online Population and I'm not seeing insights baseline at all 100 as I'd expect. Why is that?
When an audience that represents the entire Adult Online Population (AOP) is created, all its characteristics (demo's, behaviors and propensities) are expected to be those of the AOP. This includes indices for insights expected to be at 100. For example, if you build an audience with each of the 4 segments of people that reflect their readiness to reopen amidst the Coronavirus situation, this would be an audience that represents the entire AOP.

Resonate's systems dynamically compute data for thousands of survey respondents across multiple waves of our survey and enable almost limitless cardinality of data within the Ignite Platform. Output for computations for dynamic attributes in some situations may show indices that are +/-5 points above or below 100. See example below: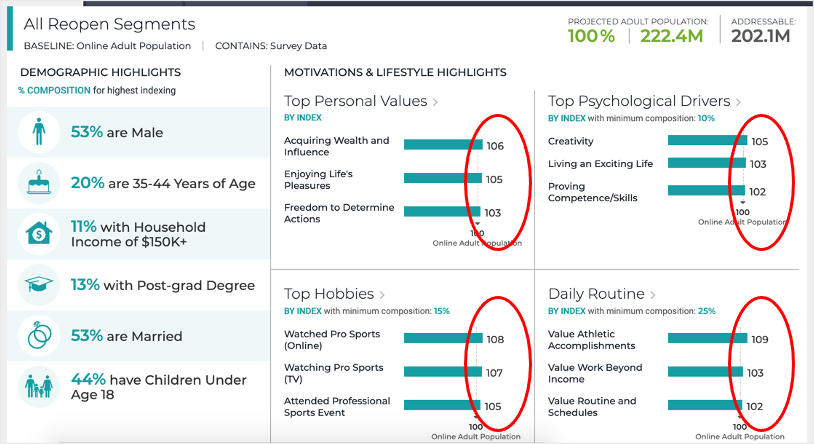 This is due to the small margin of error inherent in any computation of this volume of data. While our survey and data projection methodologies have mechanisms to minimize this variation through controls on quota, rotation logic and data processing, it is almost impossible to entirely eliminate a small margin of error.
Our data science and engineering teams are constantly iterating to reduce this further as we continuously strive to improve data quality. If you have further questions about this, please do not hesitate to reach out to your Resonate Customer Success Manager.