What is iOS 14.5?
As of April 26, 2021, Apple requires that all apps notify users of their intention to collect user or device level data, and gain opt-in consent from consumers to do so. This release is a continuation of Apple's privacy-first mantra by requiring consumer permission for tracking within and across apps. IDFA stands for Identifier for Advertisers. MAID stands for mobile app ID.
What

is

changing

and

when?
Starting in Q1 2021 with the roll out of iOS14, consumers will see a request for permission to allow tracking on all apps that seek to collect user or device level data. Consumers will see a message per app like the one below. This became a requirement for all iOS apps as of April 26, 2021.
Mobile app developers will be able to use the purpose string in the system prompt to explain why they would like to track the user.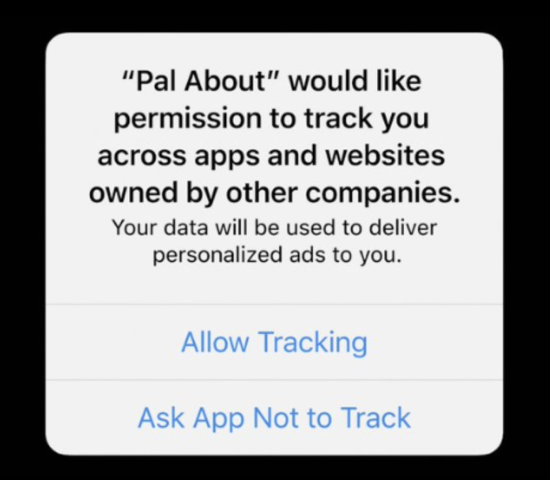 Why is Apple making these changes?
These changes are in the spirit of consumer privacy and allows the consumer to choose whether or not to opt into targeted advertising.
What percentage of the market is iOS

and what is the projected adoption curve

?
Approximately 60% of consumers in the U.S. have an iOS device. Based on historical trends of iOS upgrade adoption, approximately 60% of the iOS market updates the operating system within 60 days of launch, 80% by 120 days. There is no comparable historical data available to predict the rate of opt-in, but researchers are predicting 70% will deny access.
What does this mean for marketers?
The industry is anticipating that the majority of consumers will not opt-in for ad tracking with this change. This means marketers will have fewer mobile device IDs, and therefore less mobile "signal" for their consumers who use iOS. This will hamper the ad industry's ability to target and attribute ads on these devices. Marketers can still use MAIDs from their mobile Android consumers, and of course any IDFAs from iOS consumers who do opt-in for ad tracking.
How does this affect Resonate products?
We'll continue to support all our functionality around IDFAs and MAIDs, namely onboarding MAIDs and using MAIDs in social activation.
How does this affect Resonate social targeting?
Since the consent is obtained by users at the app level, there can be instances where Resonate will have access to MAIDs that are not consented to on other social platforms. This could lead to us being unable to match the MAID from our systems to a social platform for targeting. As consumers continue to make their consent decisions, we expect these match rates to continue to change over time.
Will Resonate still generate lists of MAIDs where you have consent?
Yes, we use external providers for our Resonate ID to MAID match. We are able to provide MAID level files based on devices where our providers have obtained consent.
If a social platform does not get consent, will they still be targetable?
No, if consumers decline content on activation partners, they will likely not match to our MAID files and will not be targetable.
We're seeing a range of responses on impact depending on the partner and their reliance on MAID. How reliant is Resonate on MAID?
We are not reliant at all on MAID for the creation of our data asset, the National Consumer Study & Connected profiles. Clients are still able to build, analyze, and activate audiences. The only impact to our current business as a result of the MAID changes is the ability to deliver audiences to those MAIDs that have declined consent at our identity graph suppliers or at the activation platforms.