What

was

A

pple

's IDFA

announcement

?
At this year's WWDC conference Apple announced consumer privacy enhancements that will be included in the next major iOS release, scheduled for Q1 2021. Apple will require that all apps notify users of their intention to collect user or device level data, and gain opt-in consent from consumers to do so. This release is a continuation of Apple's privacy-first mantra by requiring consumer permission for tracking within and across apps. IDFA stands for Identifier for Advertisers.
What

is

changing

and

when?
Starting in Q1 2021 with the roll out of iOS14, consumers will see a request for permission to allow tracking on all apps that seek to collect user or device level data. Consumers will see a message per app like the one below.
Mobile app developers will be able to customize the text consumers see in the "Allow Tracking" and "Ask App Not to Track" buttons to inform the user why the app is requesting permission.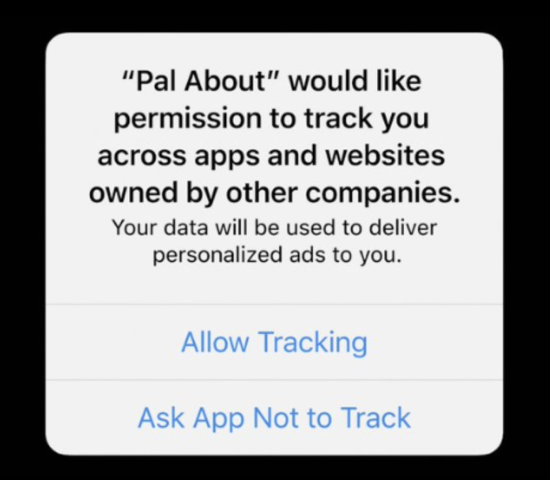 Why is Apple making these changes?
These changes are in the spirit of consumer privacy and allows the consumer to choose whether or not to opt into targeted advertising.
What percentage of the market is iOS

and what is the projected adoption curve

?
Approximately 60% of consumers in the U.S. have an iOS device. Based on historical trends of iOS upgrade adoption, approximately 60% of the iOS market updates the operating system within 60 days of launch, 80% by 120 days. There is no comparable historical data available to predict the rate of opt-in, but researchers are predicting 70% will deny access.
What does this mean for marketers?
The industry is anticipating that the majority of consumers will not opt-in for ad tracking with this change. This means marketers will have fewer mobile device IDs, and therefore less mobile "signal" for their consumers who use iOS. This will hamper the ad industry's ability to target and attribute ads on these devices. Marketers can still use MAIDs from their mobile Android consumers, and of course any IDFAs from iOS consumers who do opt-in for ad tracking.
How does this affect Resonate products?
We'll continue to support all our functionality around IDFAs and MAIDs, namely onboarding MAIDs and using MAIDs in social activation. We are closely watching this space to see how the new way of doing things unfolds, and rest assured that we will quickly iterate and enhance our product offering as new tracking and targeting methods become available.