Self-service activation allows you to activate directly within Resonate. Before you can enjoy the benefits of this feature, make sure that the Activation module is available for your account and, if so, you have the self-service activation feature enabled. Your Resonate Customer Success Manager will be happy to set it up for you. (Additional costs will apply.)
If you see a page like this when you click on the Engagement center from the top navigation, then you have self-service activation enabled.

How to Activate an Audience?
From the Engagement Center, click on the Activate an Audience button on the top right of the page.
This will bring you to the Your Saved Audiences page. You can also navigate directly to the Your Saved Audiences page from the List Menu - Audiences from the top navigation.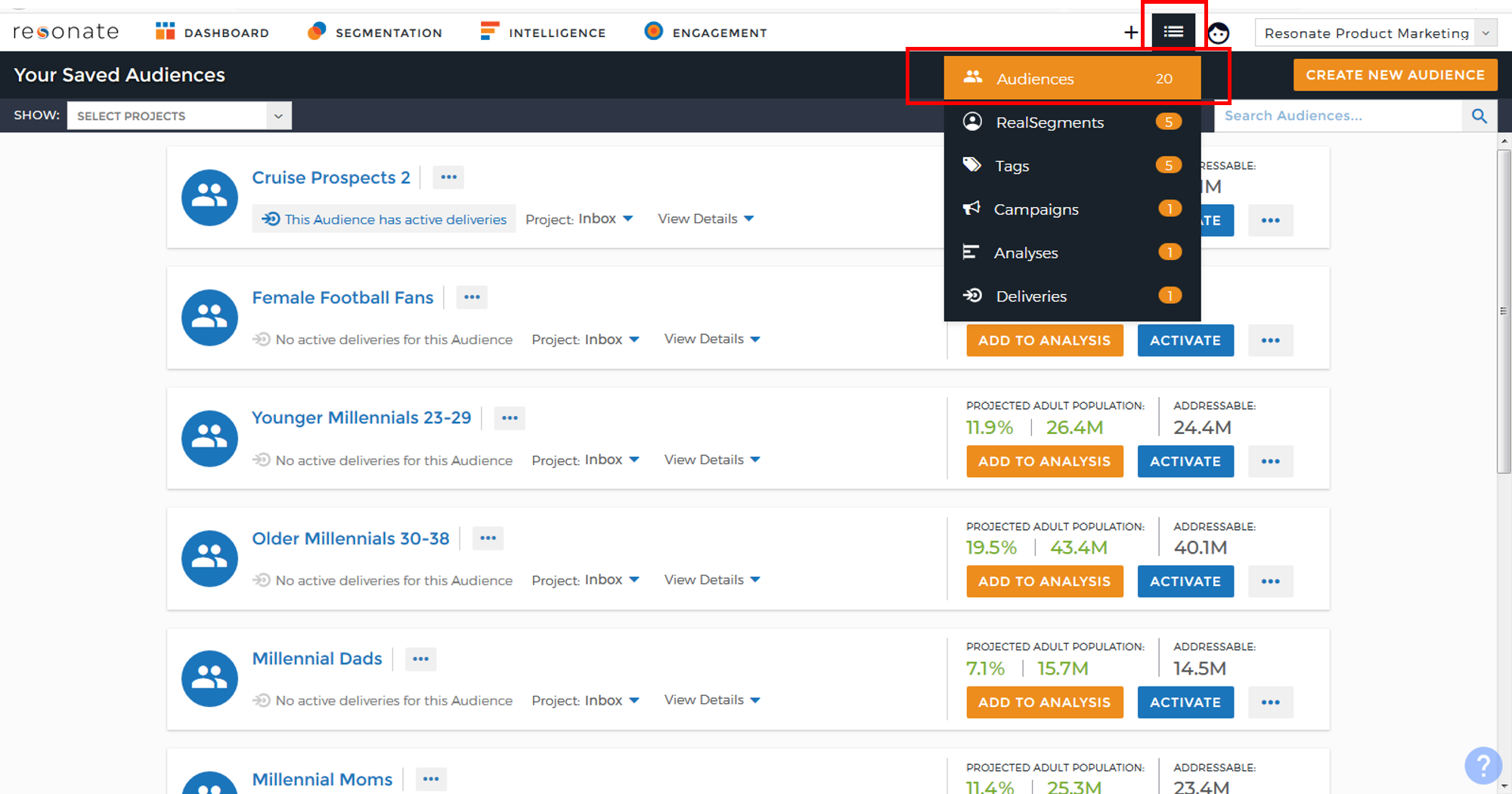 From the Your Saved Audiences page, find the audience you wish to activate, and click the Activate button.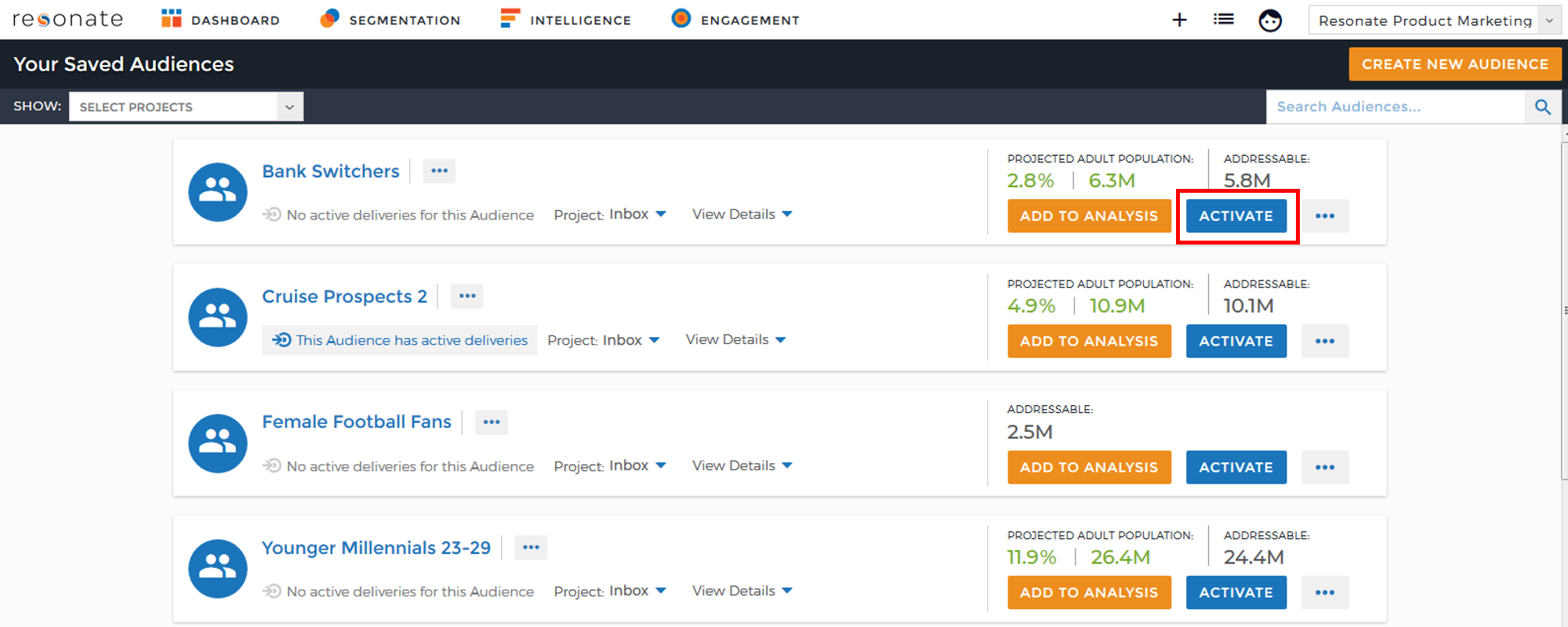 Configure Delivery Schedule Page
Clicking Activate will bring you to the delivery configuration page.
If you are activating to Amazon, Amobee DSP, Display & Video 360, Google Ad Manager, or Roku via LiveRamp, select the destination with the via LiveRamp option from the dropdown. If you are activating to a LiveRamp destination that is not in the dropdown, select Other - via LiveRamp.


Pick your delivery start and end dates. The end date will automatically be configured to two weeks after the initial start date entered. This will be the default setting. If you choose to select your own end date, you will be able to pick an end date up to a year in advance.

Depending on the activation partner you chose, you might have to enter your Segment ID as well. This is a unique identifier assigned to this audience delivery. We recommend that you use the unique Audience Target Key, which is assigned to the audience delivery by default and listed under the Audience name. You can simply click "copy" next to the Audience Target Key and the number will be populated for you.

Once you're happy with the partner and dates, click the button to Start Delivery. Note that destinations activated via LiveRamp may require up to 7 additional business days of processing time.
The Deliveries Page
Once you've started a delivery, you can view and manage (pause, resume or restart) all your deliveries from the Deliveries page. There are three ways you can navigate here:
From the Engagement tab in the top navigation - then click the View All Deliveries button on the top right.

2. By selecting Deliveries under the List icon in the top navigation



3. From the Saved Audiences page, by clicking on the deliveries of an audience.

When you click on This Audience has active deliveries from the Your Saved Audience page, you'll be brought to the Deliveries page and it will be filtered for the selected audience, and will only show deliveries pertaining to that audience.

On the Delivery List page, you will find all the relevant information pertaining to your deliveries, including their:
Audience name

Date range (which you will find is editable)

Destination name

Data type(s) in the audience (see below for definitions)

Delivery method

Creator

Modifier

Delivery status

Last/Next Delivery date
The "audience contains" field makes it easy to identify the types of data in your activated audience. The values and their definitions are:
First Party -

Site Visitor Insights (via Site Tag)
Media Engagement Insights (via Media Tag)
Custom Data (via Flash, Spark,

Engaged Audience

)

CRM Insights -

Direct CRM batch file upload via Resonate
Indirect CRM batch file upload via LiveRamp

Resonate Elements - Includes Resonate Elements and Standard

Engaged Audiences

Premium - Premium data sets that are purchased separately as an add-on to your account, including:

Resonate Health
Politics & Advocacy

Geography - Premium Geography Data that is based on observed location data
We differentiate between six delivery statuses:
Error
Delivering
Pending
File Ready
Paused
Complete
Should you have errors in your delivery, Resonate will let you know by bubbling the errant delivery to the top of your list. For example, if you have an error because your audience has an inactivated attribute value, you will be prompted to fix your audience's definition.

Finding a delivery is very easy on this page. Simply filter your deliveries by status, or destination, on the top part of the window, or enter your delivery's name in the search box.

Click on the View Details button to get more information about a delivery.
Delivery Details Page
Similar to the Configure Delivery Schedule page, the Delivery Details page provides you with information about a previously triggered delivery, such as the:
Audience name

Audience target key

Any other deliveries with this audience (where you can also create a new delivery)

Delivery Partner
Status

Start and End Dates

Last and Next delivery

Creator and Modifier

Segment ID

if applicable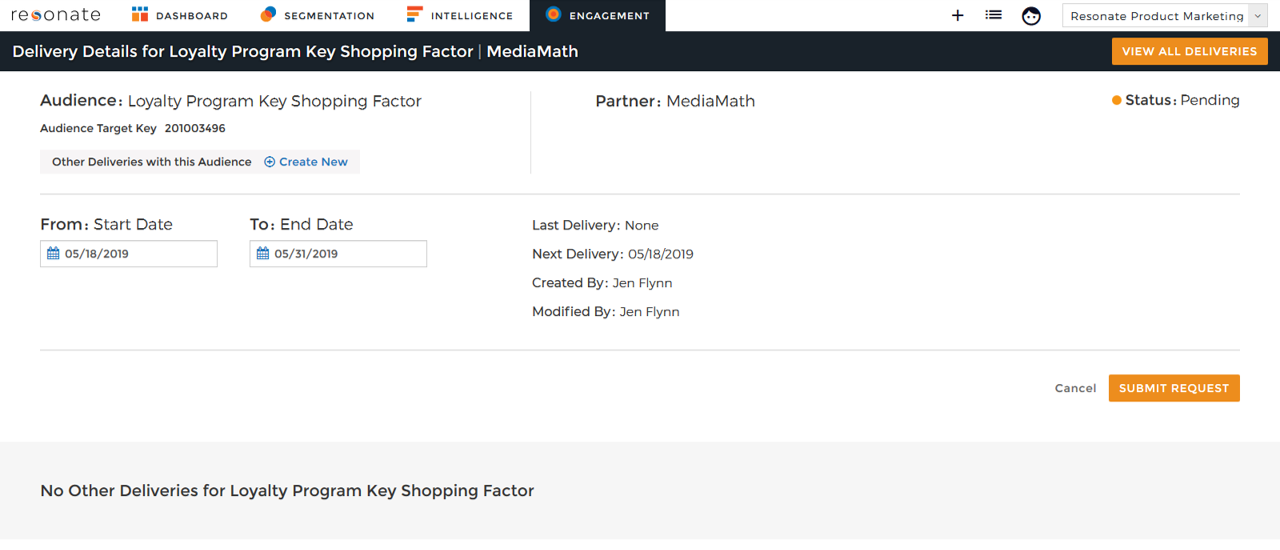 At the bottom of the page, you will find a list of your other deliveries for this audience. If you want to pause or resume delivery, click on the button in the bottom right corner of the window.
To exit and return to the list of all your deliveries, click on the View All Deliveries button in the top right corner again.
Benefits
Self-service Activation allows you to activate to top Social Networks and DSPs, directly within Resonate. This way you can immediately respond to opportunities by activating audiences when you need to. You can also monitor delivery status and manage audience deliveries in real-time. Simply put, Self-service Activation makes your work quicker and more effective.
A Note About Payment
When you activate audiences with Resonate, you are responsible for paying Resonate the contracted CPM for the audiences you activated. The media inventory costs will be paid directly to your activation platform, whether that be a social platform, DSP, DMP, or other media aggregator. Resonate counts an impression every time an advertisement is served against a Resonate audience. There are no restrictions on the types of ad served (display, video, mobile, native, social, etc.) as long as the platform accepts Resonate's cookie audiences for that type of inventory.
Learn More About Activating
When you're ready to activate, and you're looking for more information about choosing your destination - check out this article.