Resonate constantly evaluates and updates Resonate Elements to ensure relevancy and accuracy of data, powering Resonate's fresh strategic insights and actionability. As such, Resonate is now allowing for both insights and distribution of segments to be possible on an expanded list of medical conditions.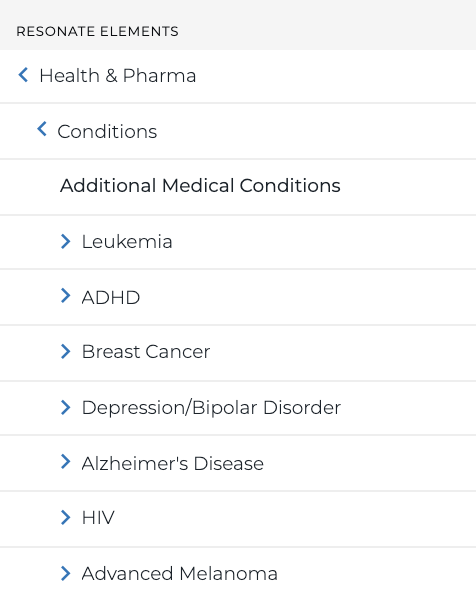 Resonate's reporting originates from opt-in anonymous survey research that is modeled to our full, anonymous device pool to be representative of the US population. Through this extrapolation, data continues to be anonymous, with no links between our devices and PII or PHI, and any segment must have at least 5,000 unique devices or be further enhanced with a look-alike model approach to ensure privacy of consumer segments. Resonate continues to conform with DAA standards – advertising activation based on these attributes will be dependent on the destination advertising platform's (i.e. the DSP's) acceptance of audiences with these modeled attributes and the other typical concerns, such as creative treatment and content.
This change allows our clients to better understand and reach patients & caregivers in a privacy first model that respect consumer privacy and the sensitivity of health condition marketing practices.