Great news! Resonate is now using Snowflake to fulfill our Data Append product.
There are various ways in which you can send/receive data via Snowflake. These steps cover the most preferred method by Resonate, which is to send us your data via Snowflake via Data Sharing. Please get in touch with your Resonate Customer Success Manager if you prefer a different option.
Important Notes:
These steps use the "data sharing" option in Snowflake (vs the cleanroom option) to share the data back and forth
These steps assume your Snowflake account is in Region = US East (N. Virginia)

If thats not the case, please follow Snowflake's guidance to create a new database in Region = US East (N. Virginia) and then follow the process below.
Overview
Overall, there are 5 steps you'll follow to share and receive Resonate Append data via Snowflake:
Confirm your Resonate Data Append Cluster selection
Create a table using the Resonate prescribed format in your Snowflake account
Send the data to Resonate
Resonate processes the file and creates output within SLA timeframe
You receive the deliverables from Resonate.

Output file on Snowflake
Definition file from Resonate customer success
*Repeat steps 1-5 for each Data Append refresh
Detailed Steps
Step 1: Confirm Your Resonate Append Cluster Selection
Work with your Resonate CSM to select the Resonate Data Append clusters that include attribute values which fulfill your business needs.
The Resonate CSM team will happily guide you through the Cluster selection process.
Finalize your clusters and make sure your Resonate contact is aware of your selections.
Step 2: Create a table your Snowflake account
In your Snowflake account, create the table of the IDs that you want to enrich via Resonate Append
The table must be created using the Resonate prescribed format as detailed below

Resonate accepts multiple types of IDs: Hashed Email(HEMs) and Mobile Ad IDs(MAIDs). Please see below for the full list and confirm that you have one of the following.

HEMs

MD5(preferred)
SHA-1
SHA-256

MAIDs

The Table must contain

Column 1 Header: ID Type
Column 2 Header: ID

Once you have your two columns with headers, follow the instructions outlined below to fill out the information needed for each column.

For example:

Step 3: Send the Data to Resonate
Share the table with Resonate once the data is loaded into the Snowflake table.
There are a few different ways in which you could share the data. Our preferred method is as follows

In Snowflake, navigate to the "Private Sharing" option in the left navigation menu

Click on "Share" and select "Create a Direct Share"

Select the Data Table you want to share and click Done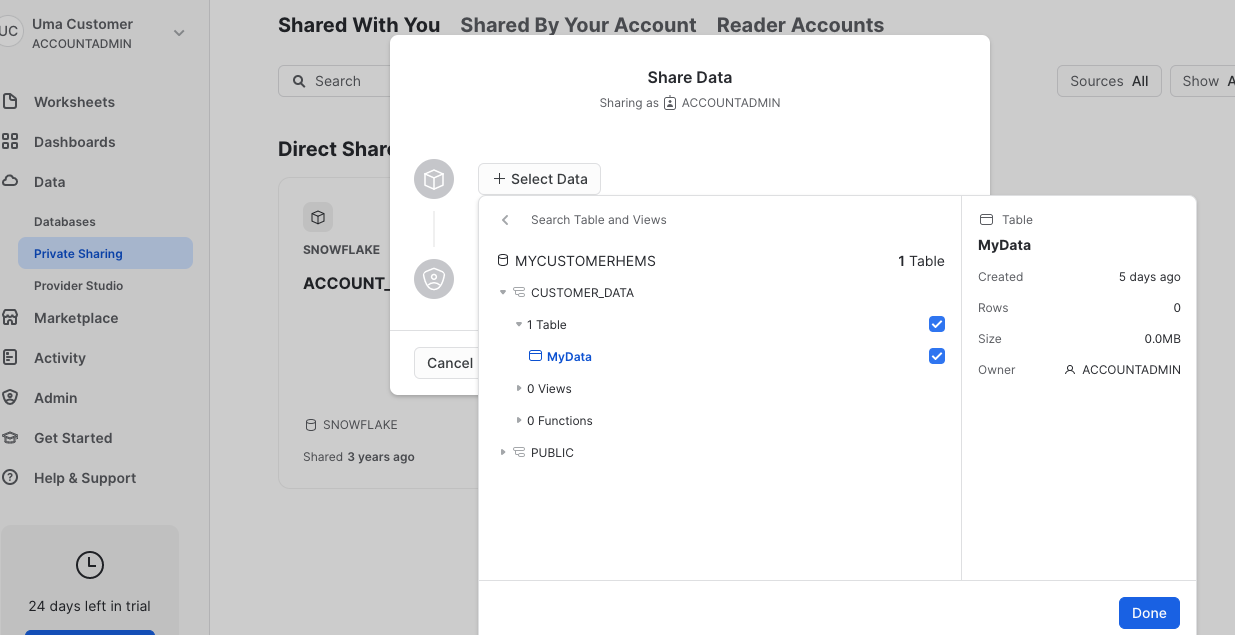 Add

"HDB08375"

in the Add accounts & click "Create Share"

NOTE: Snowflake is able to find

HDB08375 ONLY

when your account is in Region - US East (N. Virginia)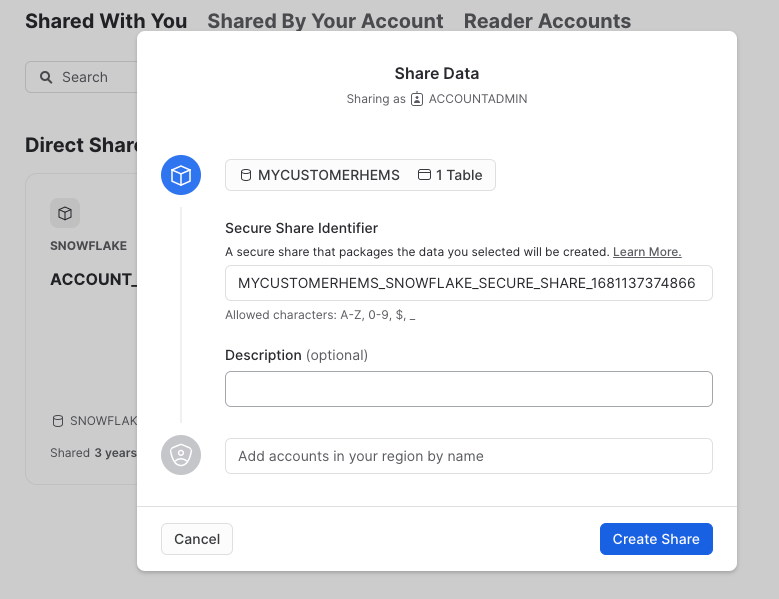 At this point you have successfully shared the data with us!
Step 4: Resonate will process the data and create an output table for you in the expected SLA timeline.
Please contact your Resonate Customer Success Manager and let them know that the data has been shared.
Step 5: You will receive 2 deliverables from us
Output Table - your Resonate Customer Success Manager will notify you once the output file is shared with you
In Snowflake, navigate to 'Private Sharing' on the Snowflake account you initially shared the file from
You will notice a new file shared by Resonate
Get the table. The file should look like

Definition file - You will also a definition file

This file will be manually shared with you by Resonate Customer Success.

It is a spreadsheet that lists a human readable translation of the AV keys found on output table

Read more here to understand your output file.

The Data Share is now complete!