Overview
Resonate Dynamic Media Tags are built specifically for trafficking in digital advertising platforms through the inclusion of dynamic variables. Resonate Media Tags are designed to leverage the common macro capabilities of the industry's most popular digital ad serving platforms.
Usage
Resonate Dynamic Media Tags provide three customizable variables designed to dynamically track the digital advertising:
Partner Name or Partner ID
Campaign Name or Campaign ID
Creative Name or Creative ID
Once trafficked, Resonate Media Tags capture advanced details of your digital advertising campaign and will be displayed in the Resonate taxonomy. Once your Tag has seen 2,000 uniques per attribute, you will see those attributes in the Resonate taxonomy under "My Tags."
Creating and trafficking a Resonate Media Tag is simple. Use the following steps to generate a Resonate Media Tag and then use the tag code provided as you configure digital ads in your favorite ad server. In most cases, you will want to rely on the built-in macro capabilities of your ad server to dynamically replace the placeholder values found in our Media Tags with the actual values from your traffic.
Available Parameters
Resonate Media Tags support three parameters that can be captured dynamically and three fixed parameters that must not be modified. The two fixed parameters that must remain unchanged are sourcekey and event. The dynamic parameters for use on Resonate Media Tags are:
Partner
Campaign
Creative
Note: Each of these 3 custom parameters allows for 100 unique values to be passed. After 100 values are passed, new unique values will not be shown in Resonate. After 100 unique values are passed, we will still count the tag hit but you won't be able to see it in Resonate. You can't see the 101st value.
Impression & Click
Resonate offers Dynamic Media Tags for impression tracking and click tracking.
Impressions Tags capture data about users who are exposed to your media. They can help you evaluate your targeting strategy to determine if you're effectively reaching the right people through all of your platforms.
Impression – URL

(Recommended): The URL of the pixel which can be used as a third-party tracking pixel in ad servers.

Impression – Image:

HTML tag which can be inserted into the raw HTML of the ad. Typically we find that just the URL is needed, so we usually don't recommend this option.
Click Tags give you the ability to learn more about the people who are actually engaging with your media. They can help you understand why they are engaging with your content so that you can find new audiences that share similar characteristics.
Dynamic Click tracking tags are similar to the impression tracking tag but add support for a redirect parameter which must come at the end of the tag code. You can create dynamic Click tracking tags for the click event in media campaigns and redirect the user to an advertiser landing page.
Click – Unencoded Redirect

(Recommended): Plain URL format, not encoded.

Click – Encoded Redirect

: Encodes the structure of the URL. Should only be used if you plan to use another third-party redirect on your click tracking.
Getting Started
Before you begin generating Resonate Media Tags it is important that you take a moment to familiarize yourself with the general documentation regarding Resonate Tag Generation.
STEP 1: Create Tag
Log into your Resonate Analytics account and click the + icon in the top navigation, then select Create a Tag. Alternatively, select the [+] symbol next to the Tags Deployed area while on the Dashboard.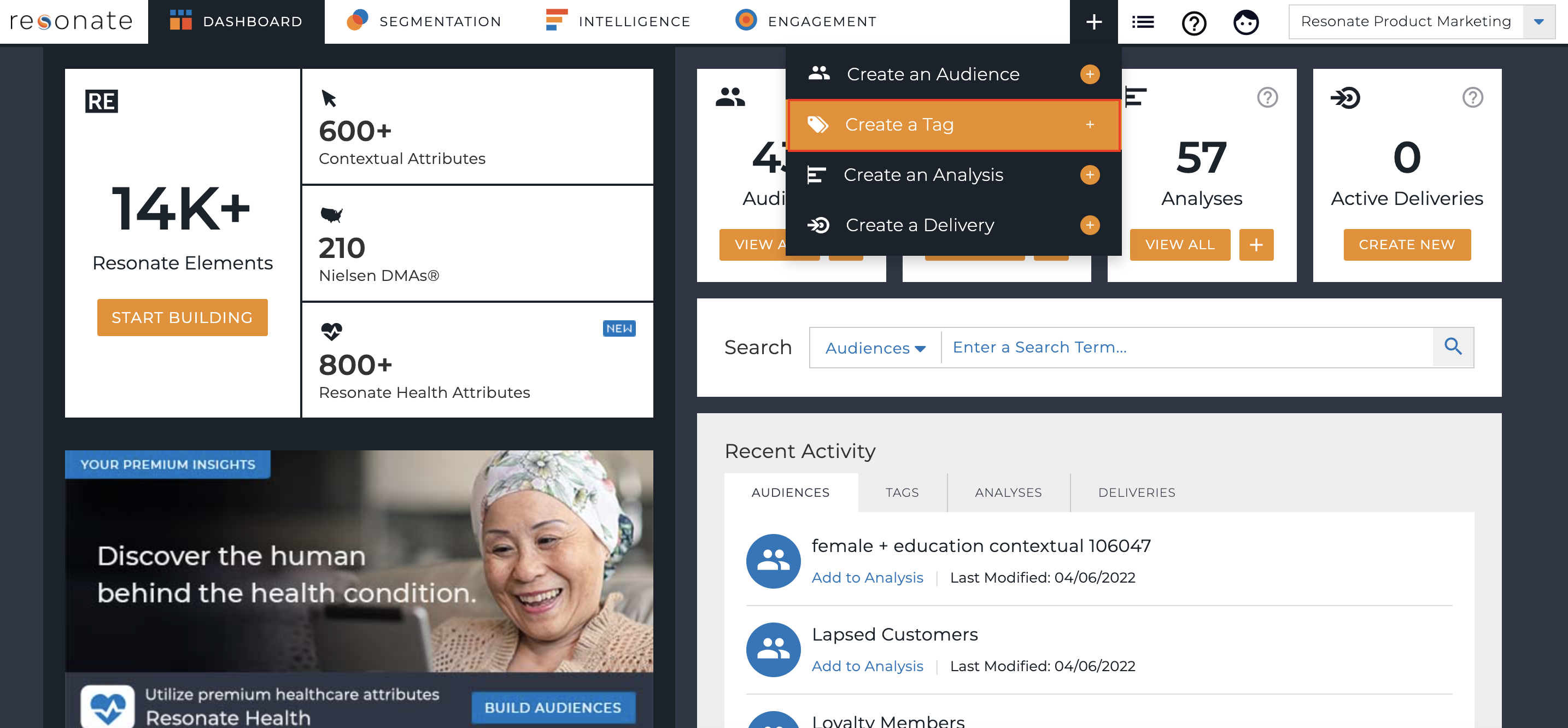 STEP 2: Select Tracker Type Media
After selecting Create Tag you will be presented with the Resonate Tag Generator screen seen below.
Assign a unique and informative name to your new Media Tag with up to 50 characters. Names can include numbers and/or special characters. Example "Yahoo! Home Page Summer Promo Leaderboard."
Assign an optional description to your Media Tag in the space provided with up to 300 characters. Descriptions can include numbers and/or special characters. Example "For placement in Yahoo! Network on Summer Widget Promotion leaderboards."
In the Choose Tracker Type drop-down list change the default to Media.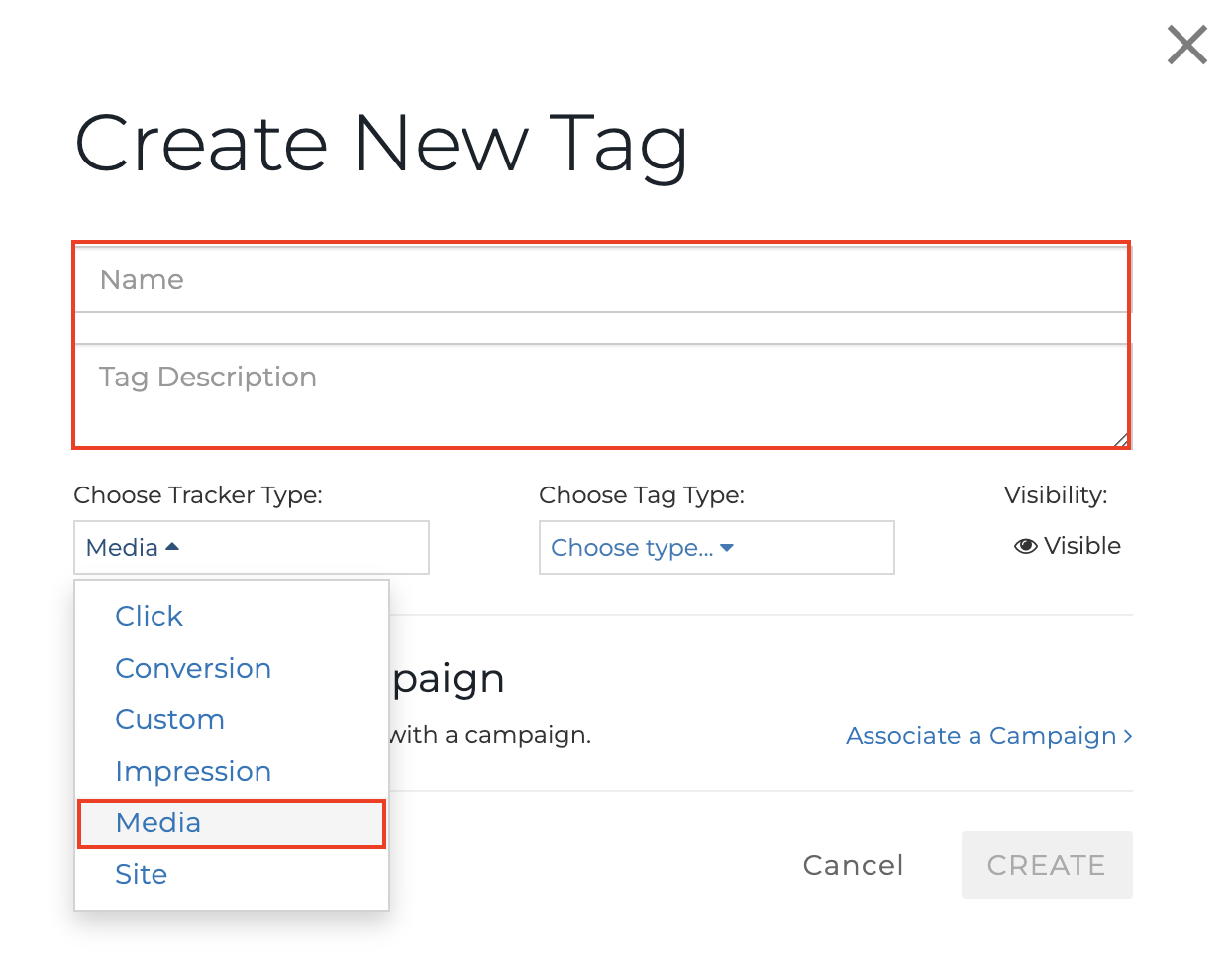 STEP 3: Choose Tag Type Image
While still in the Resonate Tag Generator screen, continue to configure your new Media Tag by selecting the appropriate Tag Type.
In the Choose Tag Type drop-down list control select one of the Tag Type options. For Impression Tags, we recommend Impression - URL. For Click Tags, we recommend Click -Unencoded Redirect.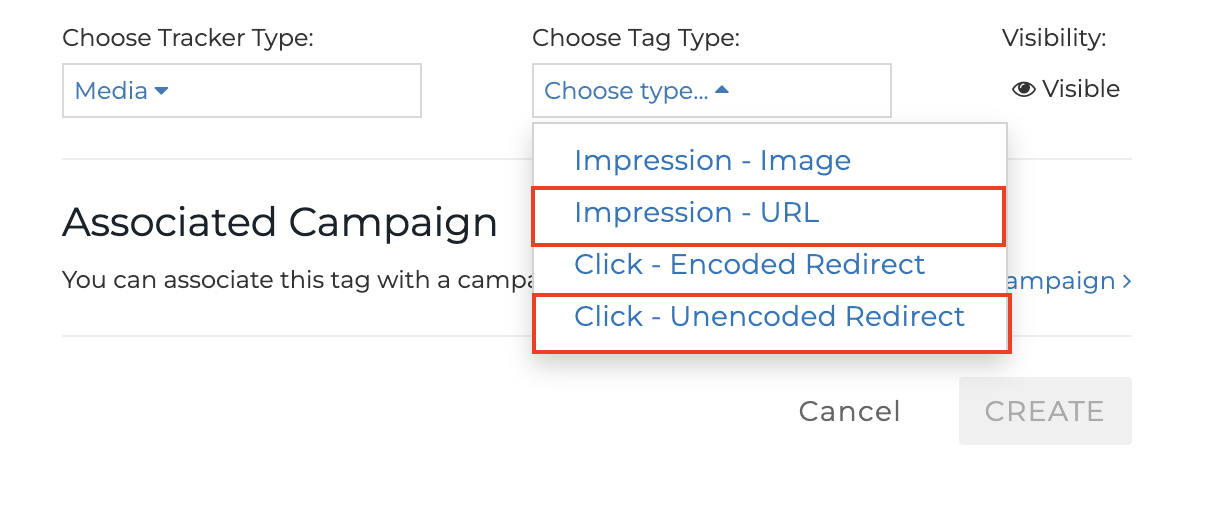 STEP 4: Associate a Campaign
Click the Associate Campaign link in the bottom right of the Resonate Tag Generator screen. To associate your Resonate Media Tag with a campaign, you must first create a Campaign in the Resonate Analytics platform. Keep in mind that Resonate Campaigns exist to manage multiple tags and are very different constructs than your media campaigns. See Campaign Overview and Create Campaigns for more detail on Resonate Campaigns.
Choose the blue Select button next to the Resonate Campaign name for which you would like to associate this Media Tag.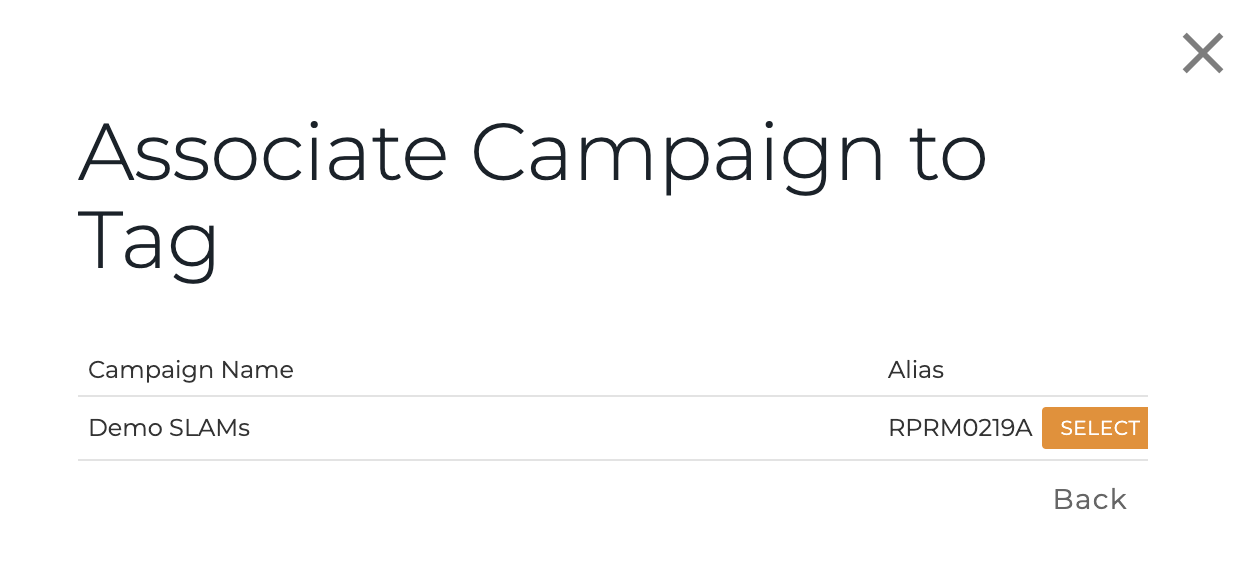 STEP 5: Create
After completing the previous steps, your Resonate Media Tag is ready to be generated. The screen shot below depicts a completed tag ready for generation. When you are satisfied with your configuration, review your settings and select the CREATE button in the bottom right.
After clicking the CREATE button you will be returned to the Resonate Tag home screen. The Tag home screen is where you can review and edit the details of your tag or copy your tag code for trafficking in your ad server of choice.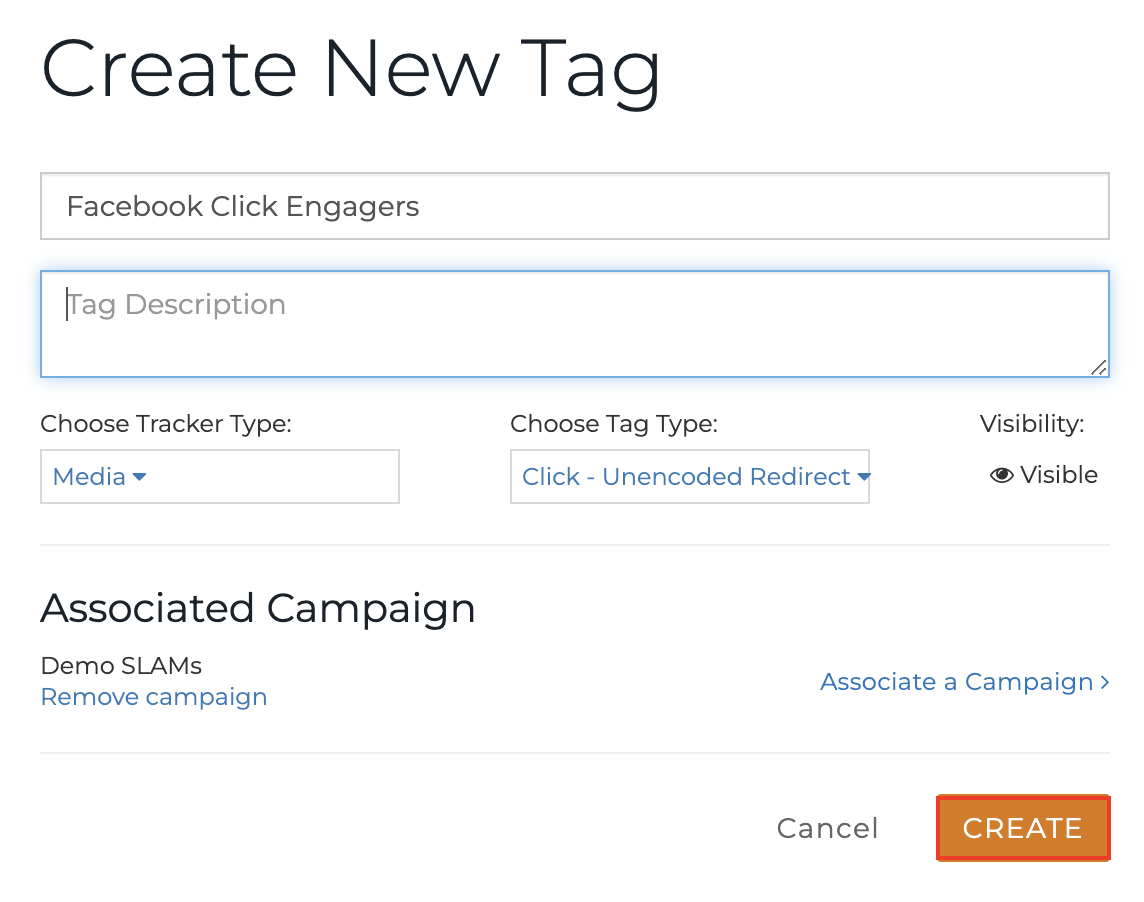 STEP 6: Copy Code
After you've created your Tag, you'll be redirected to the Your Saved Tags page. From here, you can easily get a copy of your tag code for trafficking.
Click the View Details down arrow to expand your Media Tag. In the expanded grey preview window, you will find the details for your tag along with a COPY CODE button.
Click the COPY CODE button to copy the code to your clipboard. The default is a secure tag based on HTTPS. See also How Do I Create a Tag for My Website for more detail on secure versus non-secure tags. Now you can easily paste the Resonate Media Tag code into your ad server.

Media Tag Example
The Resonate Media Tag example below highlights the three custom parameters available for tracking the dynamic values of your media campaigns. This is an example tag only and must not be used for actual tracking purposes.
Resonate Media Tag Example Code
<IMG SRC="https://ds.reson8.com/sources/pixel/v1/track?cachebuster=[cache_buster]&sourcekey=165320&event=media&partnerid=[partner_id]&campaignid=[campaign_id]&creativeid=[creative_id]" WIDTH=1 HEIGHT=1 BORDER=0>
Media Tag Parameters
The following describes the parameters you will find on every Resonate Media Tag. Please familiarize yourself with these parameters and especially the notes for each regarding their customizable nature.
Cachebuster = [cache_buster] (optional)

Optional parameter provided to make Media Tag event unique
Prevents browser from using local copy of Resonate pixel
Dynamic, replace with ad server macro or random number generator

Sourcekey = 165320 (fixed, required)

Similar to Resonate Event Key or EVKEY
Unique ID for your Resonate Account and Media Tag
DO NOT MODIFY

Event = media (fixed, required)

Identifies Resonate Tag as a Media Tag type
DO NOT MODIFY

PartnerID = [partner_id] (recommended)

Used for tracking Partner where Media Tag is served
Dynamically replace with ad server macro for Partner
Recommend Platform Name or Partner ID
Example: "Google" or "123-abc-456-efg"

CampaignID = [campaign_id] (recommended)

Used for tracking digital advertising Campaign
Dynamically replace with ad server macro for Campaign
Recommend Campaign Name or Campaign ID
Example: "Summer Promotion" or "123-abc-456-efg"

CreativeID = [creative_id] (recommended)

Used for tracking Creative in which Media Tag is served
Dynamically replace with ad server macro for Creative
Recommend Creative Name or Creative ID
Example: "Portrait" or "123-abc-456-efg"